16 August 2015
Words by Alexandra Sims
Cramped aircraft journeys could be a thing of the past thanks to a new "legroom adjustable" plane seat, which can be moved backwards or forwards depending on your height.
The revolutionary seat designed by B/E Aerospace, who describe themselves as a "world leading" manufacturer of cabin interior products, has adjustable wheels that sit on tracks in the cabin floor.
The device enables the seats to be pushed backwards or forwards meaning that long-legged passengers may gain a few more inches of much needed leg room if they are sitting in front of a child or shorter-legged person, the London Telegraph reports.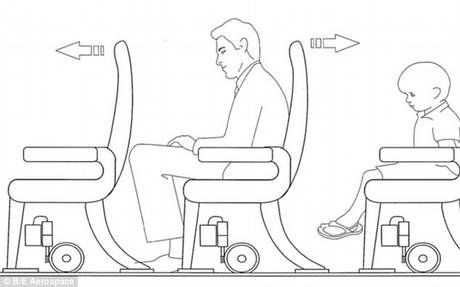 Cabin crew will control the movement of seats, most likely with a tablet or smart phone, while passengers would need to inform airlines of their height at check-in.
In plans submitted to patent the idea, designers have said that a "one size fits all" attitude to airline passengers is outdated.
In their patent application, the designers said: "The one size fits all seating arrangement can cause discomfort for tall passengers, while a child or relatively small adult may be seated in an identical seat with more than ample leg room and in relative comfort."
"Even a relatively small incremental increase in seat spacing for tall passengers can provide additional comfort with no loss of comfort to the much smaller passengers seated in front of the tall passengers."
The invention will come as relief to taller passengers, after plans released last month by manufacturer Zodiac Seats France showed seats arranged in a hexagonal pattern in which the middle seat of each row faces backwards allowing more customers to be packed into the space.
This article was written by Alexandra Sims from The Independent and was legally licensed through the NewsCred publisher network.
Other Travel Articles You Might Like...