13 April 2016
Words by Carlie Tucker
Working fitness into your day when you have a full time job can be difficult. Add in frequent business travel and you've got a sure fire way to kill any inkling of sticking to a regular routine. Nevertheless, maintaining your health is one of the best ways to ensure the stresses of business and travel don't get the better of you. So, to help you achieve your fitness goals, here are a few sneaky 'deskercises' you can do no matter where you happen to be: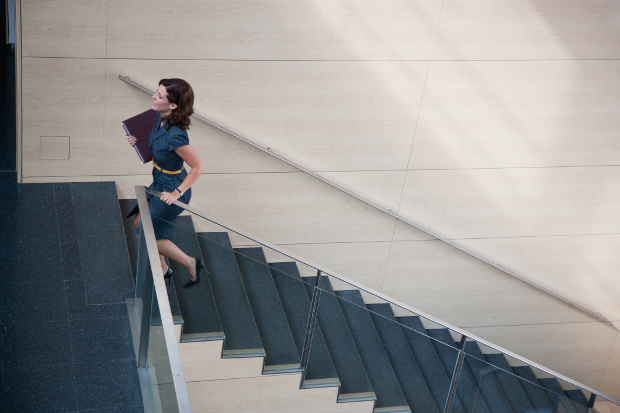 High Knees Up Those Stairs
Perhaps the easiest way to inject a little fitness into your daily routine, skip that elevator and head straight for the stairs. Climbing stairs is a great way to secretly burn a few calories. Add a little challenge by speeding up the pace or raising your knees a little higher with each step.
Simply Stand
If you're stuck in the sitting position for the majority of your day, you'll probably love this exercise. Just stand up. Find reasons to stand throughout your day, whether it's while you're taking a phone call or reading a report. It's an effective way to stretch out those muscles and make them work just a little bit harder.
Calf Raises
With all of this standing around, it's a perfect opportunity to add calf raises to boost your burn. Put one foot behind the heel of the other and raise up onto your toes. Repeat 10 times before switching feet. Easy and discreet, this is a great move to pull out while you're waiting for the printer or making your morning tea.
---
Looking for more on-the-go workouts? 5 Easy In-Room Exercises
Or some travel-friendly equipment? Top Fitness Equipment For Busy Travellers
---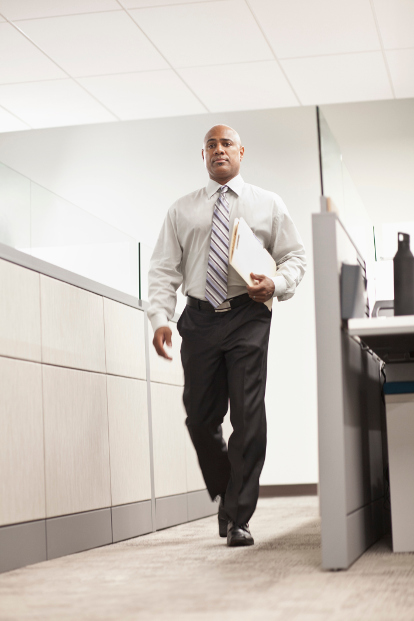 Office Hot Laps
Right up there with taking the stairs, walking around the office is a simple and effective way to get in some cardio while you work. What's better is that no one will suspect that you're actually exercising. Just carry a pen and notepad and everyone will think you're rushing off to a meeting. Simply plot out a route around the office and set out for a few laps!
Toe Twirls & Taps
Should you find yourself actually stuck to your desk with a mountain of work to get through, not to worry! You can get the blood flowing with a few twirls and taps of the feet. Start off by slightly lifting your foot and rolling it in a complete circle. Repeat with the other foot. This will get the blood flowing and prep those tootsies for a few fast paced taps. Sitting up straight and your feet slightly apart, tap your toes as fast as you can. Maintain your taps as long as you can before stopping. Then repeat. 
The Secret Leg Raise
Another sneaky under the desk move, the leg raise is an easy and effective way to work your core and your legs. While sitting up straight with your legs slightly apart, tighten your core and lift your left leg perpendicular to your desk with your toe pointed up. Hold for 10 seconds before repeating with the right leg. For an added challenge, put one leg over the other for a bit of resistance. Just make sure you watch that core.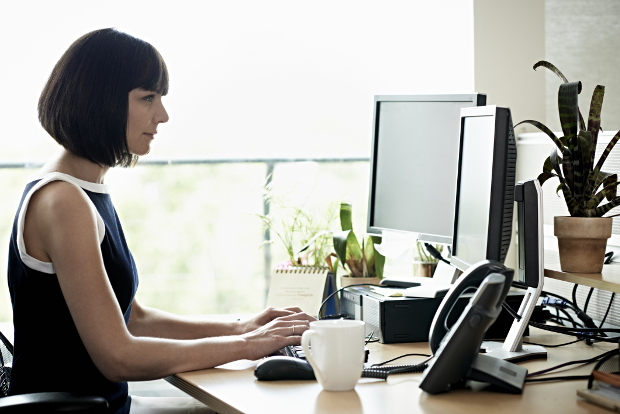 Ab & Butt Squeeze
This exercise is almost imperceptible to the unknowing eye, which makes it perfect for crowded office spaces. While sitting at your desk (keep that back straight!) slowly tighten your abdominal muscles and hold for 10 seconds. Start off with 10 reps and increase as those muscles start to tone up. After completing your ab squeeze, focus on your derriere. In the same sitting position, slowly tighten those buns and hold for 10 seconds. Again, start off with 10 reps and increase over time.   
Shoulder Shrugs
You can pull this one off anywhere in the office, whether you're sitting at your desk or doing a few of those hot laps (see above). All you have to do is shrug your shoulders. It's great for working the kinks out of a tired neck and upper back muscles. Try five sets of 10 to start and increase as required. If you're not worried about a few strange looks, grab a couple reams of printer paper in each hand and hold them at your sides while you shrug for an added challenge.
The Core Swivel
Don't let that swivel in your chair go to waste, staring straight ahead at your computer screen all day. You can use it to strengthen your core and inject a little fun to your day. The core swivel isn't nearly as discreet as some of the others on this list, so only proceed if you don't mind a question or two from curious co-workers.
Sitting up straight, put one ankle over the other and raise your feet off the floor. This in itself will warm up those abdominals. Keeping your core tight, use it to swivel your chair from left to right. Beginners can try 10 swings, pause for a few seconds and repeat for five sets.  
Images courtesy of Getty
Other Travel Articles You Might Like...