21 October 2016
Words by Renae Spinks
I've tried to meditate for several years. I'm what you might call a serial beginner. I just can't seem to tame my monkey mind and the process is so excruciating that I last no longer than two minutes on the mat. Talk about a mental workout.
I've tried breath-awareness meditation in a Buddhist gompa; third-eye meditation with a Chinese acupuncturist; chakra meditation with a Zen Shiatsu practitioner; and investigated with some hope the Jerry Seinfeld and Ellen DeGeneres-endorsed Transcendental Meditation (until I learned there was a cost). I have finally hit a positive place with my recent attempts at mantra meditation.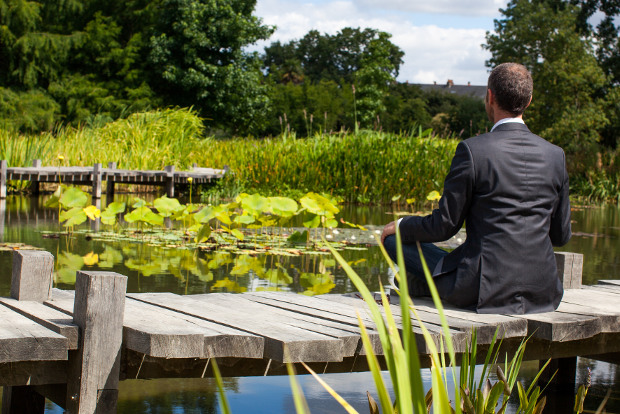 And I just can't ignore the benefits any longer. I feel clearer, calmer, and can sail through my work day, no matter what frustrations may crop up.
Why Meditate?
When you're on the road, frustration can be a constant travelling companion, and it's difficult to wind down at the end of your day. This is precisely why meditation is key to your mental health. And you don't need to book a seat for your guru – keep him or her in your pocket with one of any number of meditation apps.
Not-for-profit organisation Smiling Mind provides free mindfulness meditation programs through its app and website. CEO Dr Addie Wootten says business travel is notoriously stressful.
"We're often focusing on work, or travelling, or eating out and doing things that are not necessarily that healthy, so it's easy to slip out of a routine for good healthy, physically and also mentally," Dr Wootten says.
"Fatigue also plays a big role in travel for business people – they're getting up much earlier and going to bed much later," she says.
"Finding a way to bring a mindfulness practice into your life while you're travelling really helps you manage all those stresses – the fatigue, meeting new people, managing a new environment and a new language. It's looking after your mental health to cope with all those increased stresses and stimuli."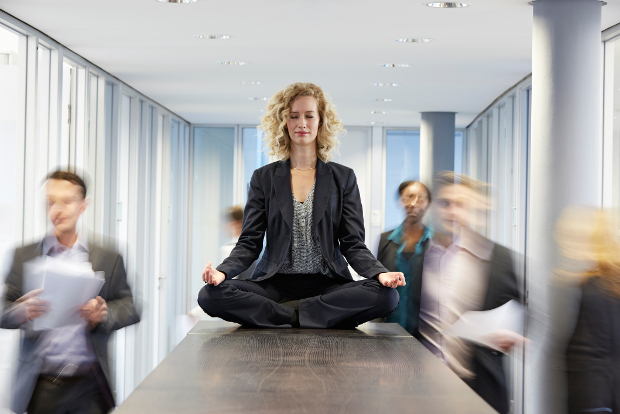 And it's not just about managing stress – meditation can help your work performance, too.
The free Headspace app – which describes itself as your very own personal trainer (for the mind) – lets you learn to meditate in 10 minutes a day, anywhere you like.
According to Headspace, meditation can also jumpstart creativity, promoting divergent thinking, generating new ideas, and aiding problem solving. It can also help you focus and stay on task longer, and reduce worry and anxiety.
---
Freshen up your thinking: Work Outdoors To Think Outside The Box
Working on the fly: 5 Easy Ways To Beat Stress
---
When & Where?
Dr Wootton says there is no right or wrong time to meditate. "The most important thing is to find time, even if it's five minutes whenever you can. Getting into a routine is probably more important than the time of the day. I think in the mornings people often find meditation easier because they're less fatigued."
Having a consistent, daily practice can actually change the structure of your brain. So when you're at home give it a go regularly. You don't need any special equipment, but a nice cushion or chair in a dedicated spot will help you make it an everyday occurrence.
Smiling Mind also has a specialised 'mindfulness in the workplace' program. The company says one in five Australian employees has taken time off in the past year due to feeling mentally unwell. It says mindfulness awareness training can cut sick leave and stress claims, increase engagement and morale, help staff be more focused, and boost collaborative teamwork.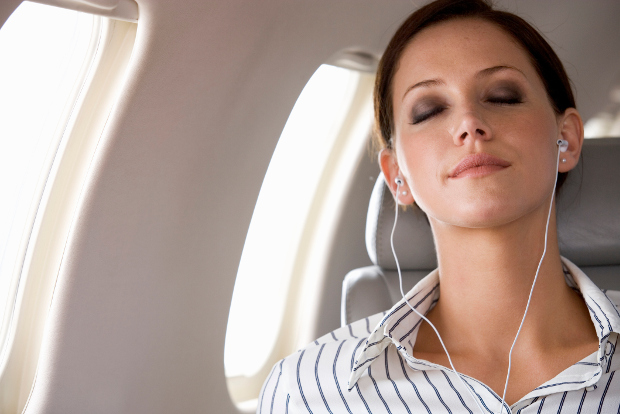 If you're harbouring any anxiety about flying, or your upcoming business meetings, meditating on the plane is a great way to drop the worry.
"Our programs are designed so that they're short, which means they can be integrated wherever you are," Dr Wootten says. "On a plane you can pop your headphones in and use them there; ducking from meeting to meeting or travelling in a taxi – you can use them in that space as well. They're designed to be used on the go, which is good for travellers."
Some hotels even offer meditation sessions. Four Seasons Bali At Sayan, for instance, offers 30 and 60-minute meditation sessions. The Standard New East Village in New York hosts meditation sessions in conjunction with The Path. But even if your hotel does not provide a guided dose of Zen, you can still pull up a cushion in your room and go it alone.
If you've got some time to kill before your flight, see if the airport has a meditation room – you can find them at San Francisco International Airport, Dallas-Fort Worth International Airport and a handful of others in the US; as well as Schiphol International Airport in Amsterdam; and London Heathrow Airport.
A world of peace awaits.
* Images courtesy of Getty Images.
Other Travel Articles You Might Like...
Request an appointment with a Business Travel expert