18 May 2015
Words by Carlie Tucker
Regular business travellers can often find it hard to stay fit while on the road. Busy schedules combined with unfamiliar territory, and days or weeks of eating out can wreak havoc on your fitness routine. But it doesn't have to be that way.
With a new destination at your disposal, there is no better way to see the sights than a morning or afternoon run. It's a chance to get out of the hotel, experience the local vibe and get your heart rate up. So, here are five running routes around Sydney that not only showcase the city's best assets, but will also help you stay fit on the road.

Image courtesy of DiscoverParramatta.com
Parramatta Lakes (various distances)
Known by many local runners as the Easy West track, Parramatta Lakes provide joggers with a variety of options set amongst the beautiful bushland of Western Sydney. Choose from 1.5 kilometre, 2.4 kilometre or 4.2 kilometre trails that will take you through the natural beauty of the bush with native flora and fauna all around. You could even be accompanied by local birdlife or reptiles as you make your way along your route.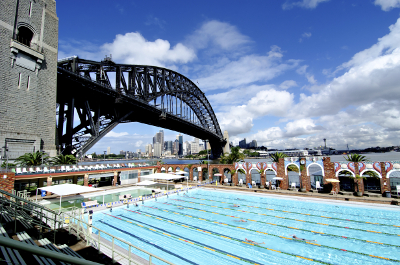 Pool to Pool  (6kms)
If you've never been to Sydney, this run encapsulates some of the city's most iconic sights and is a perfect chance to see the city while you break a sweat. Lace up your trainers and get yourself to Olympic Pool in North Sydney; then it's a short jaunt over the Sydney Harbour Bridge, which provides elevated views of the Opera House. Then it's on to Mrs Macquarie's Chair before crossing the finish line at Andrew Boy Charlton Pool. If six kilometres isn't quite enough to test your abilities, double back the way you came to up it to 12.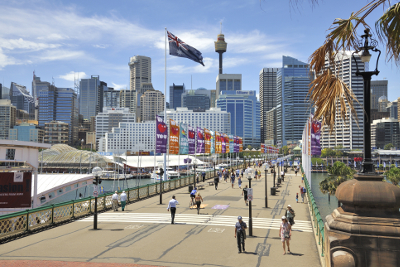 Darling Harbour Circuit via the Botanical Gardens (12kms)
This is another run that provides visitors with a new perspective of some of the city's main sights. Start things off in Circular Quay, head along the pedestrian walkway toward the gleaming white sails of the Opera House. From here, take the stairs for a little extra challenge and the route through the Botanic Gardens.  Through Domain and Hyde Park, right on Liverpool Street, you'll cross the Pyrmont Bridge and take a left on Sussex Street where you will eventually return to Circular Quay.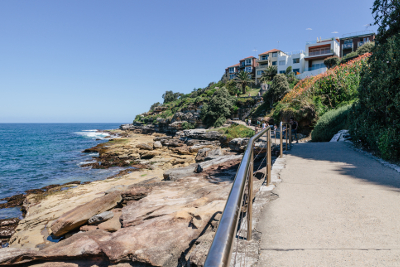 Bondi to Coogee (14kms)
Beach bums can get their fill of coastal beauty on this run that encompasses Sydney's most famous stretch of coastline. Running along designated pedestrian paths, you'll start off at Bondi Beach and head along the coastal path of MacKenzie's Bay. Continue on to Bronte through Tamarama before finishing at Coogee Beach. While this running route is satisfying at any time of the day, sunrise or sunset runs are especially picturesque.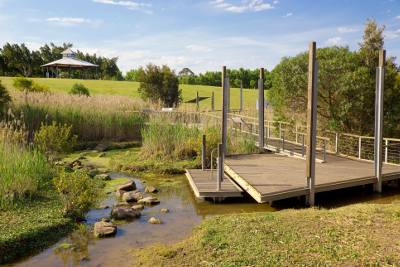 Olympic Park (various distances)
If you're a running enthusiast, Olympic Park provides a fitting backdrop to your morning jog. Once the hub of the 2000 Olympic Games, this complex has been transformed into a top spot for outdoor activities. Along with shops and cafes, there is over 35 kilometres of running routes through the surrounding 425 hectares of parkland. Run along the Badu Mangrove Boardwalk where local birdlife provide a welcomed distraction, or try one of the riverside walks, which all commence at the Newington Armory dates.
Images courtesy of Getty unless otherwise noted.     
Other Travel Articles You Might Like...