6 July 2016
Words by Carlie Tucker
The capital city, live music capital of the world, hippie haven ... Austin plays plenty of roles in the great state of Texas -- all of which bodes well for business and leisure travellers heading to the city for any amount of time. There are sights aplenty to see, landmarks galore to visit and hotels in quantity. No matter how you decide you spend your stopover, it's bound to be a rootin' tootin' good time, but to help you narrow things down, here's a snapshot of where to eat, play and stay when you're in Austin.   

Image courtesy of bouldincreekcafe.com
Where to Eat
Austin was known as a bit of a hippie hangout through the 1970s, which comes as good news when it comes to choosing a healthy start to the day. There are plenty of eatery institutions leftover from those days still serving up delicious fare. Heath-conscious travellers will have their pick of places to get the day going. Bouldin Creek Coffeehouse is one such location. The menu is meat-free but hearty plates are easy to find. Potato leek omelette, sweet potato pecan tamales or zucchini migas, anyone?
Or you could skip breakfast to make room for a big BBQ lunch courtesy of famous Franklin BBQ. The lines are long so you'll have to get there early to save your spot. You're bound to make a new friend as friendly locals are all to happy to laugh and chat as they set up chairs and pull out eskis in preparation for the wait ahead. Service starts at 11am and lasts until the food is sold out, so get there early to ensure you get a taste. If you'd rather a quick lunch, Royal Blue Grocery meets the bill, offering no less than five locations in the downtown area. Diners are treated to fresh sandwiches, pre-made tacos and salads. There's also a variety of light snacks available.
If you'd rather save your BBQ-fix for dinner, head straight to Cooper's Old Time Pit Bar-B-Que, another Austin food institution. There are two floors of seating, with smoked meats galore served cafeteria-style with drinks and free beans! You can't beat that. Plus, an ultra convenient downtown location means you won't have to search too far out of the way for some quality grub.  
---
Looking for more great hotels in Austin? 5 Great Austin Hotels For Better Business Travel
Or more fun in Texas? Stopover Guide: 24 Hous In Dallas
---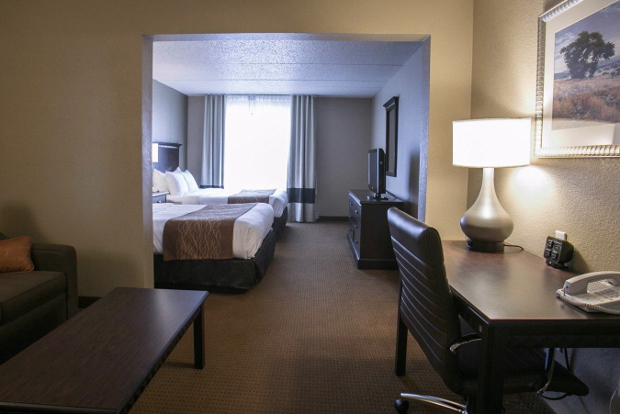 Where to Stay
Like the city itself, the hotel offerings in Austin are varied. It doesn't matter what you're looking for, you'll be able to find a stay to suit your style. Though, if your time in the city is limited to just 24 hours, a hotel near the airport may be just the ticket. The Comfort Suites Austin Airport offers easy access to the Austin-Bergstrom International Airport yet remains only 15 minutes from Austin's downtown area. It also happens to be within minutes of such other sightseeing highlights as the Lydon Baines Johnson Library and Museum and Circuit of the Americas.
It also happens to be a SmartSTAY hotel, which means you can receive a number of value adds when you book through your FCBT Travel Manager. This includes complimentary WiFi access and breakfast as well as fast track to Diamond Status with 4,000 bonus points when signing up to the Choice Privileges program. 
Each room is classified as a suite, with different bedding configurations to suit your needs. Comfortable beds, private bathrooms and a designated work desk come standard as do such business-friendly amenities as AC and USB outlets and guest laundry facilities. The hotel itself also offers an exercise room, jogging trail, outdoor tennis court, and access to printing, faxing and copying facilities.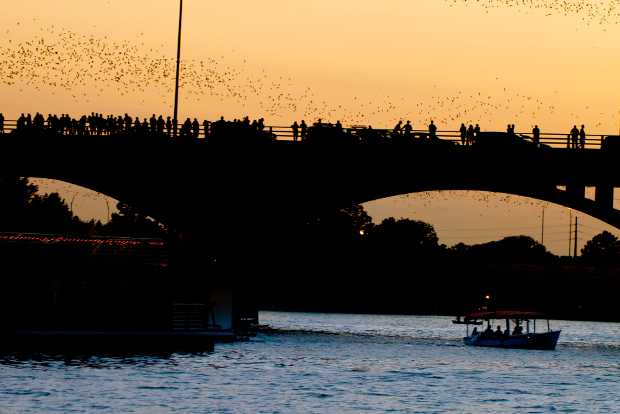 Where to Play
Kick off the morning with a sunrise stroll around Lady Bird Lake on the Hike & Bike Trail. This city centre body of water is a popular spot for locals and makes for a serene start to your day of all things Austin.  Just make sure you don't linger too long because a morning visit to the Bullock Texas State History Museum means skipping the crowds at this popular Austin landmark. Learn all about Austin and Texas history before delving into the curious oddities over at Uncommon Objects. This unique shop is all about quirky antiques that likely won't be found anywhere else. Pick up a one-of-a-kind souvenir or simply browse the impressive collection.
As the afternoon rolls around, the University of Texas campus is a worthy stroll. This is especially true if you're visiting during football season. If there's one thing that Texas takes very seriously, it's football, and they're very proud of their Longhorns. It's definitely an unforgettable experience.
Just before sunset, make your way to Congress Bridge for a show of Mother Nature. Home to 1.5 million Mexican Free-Tailed Bats, as the sun begins to set, these little critters take flight and it's quite a sight! When you've had your fill of bat-sighting, it's time to paint the town. Luckily Austin is known for its live music scene. From historic theatres to honky tonks, you'll have your pick of places perfect for a nightcap and some great tunes. 
Other Travel Articles You Might Like...
Request an appointment with a Business Travel expert