25 October 2016
Words by Vicki Fletcher
Often overlooked as little more than politicians and sheep paddocks, Canberra has fought an uphill battle over the last few years to emerge as an inviting destination of its own – with or without politics. A burgeoning culinary scene with a fierce local-centric ethos, a mature yet dynamic art community and stunning natural surrounds, the nation's capital is anything but boring. 24-hours isn't nearly enough time to spend exploring, but alas if that's all you've got, here's how to make the most of it...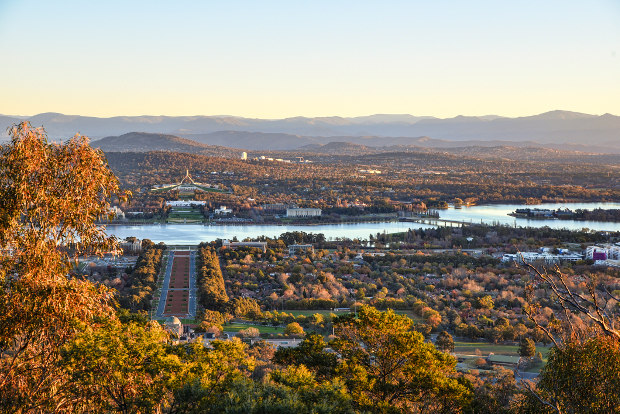 The view from Mount Ainslie. (Image: Getty)
Where To Eat
Canberra is widely lauded as having more restaurants per capita than any other Australian city. While it may be smaller in size and hype than other state capitals, Canberra packs a punch on the culinary front. From street food to fine dining, here are the top spots to get a feed in Australia's capital city. 
Breakfast
Canberra's coffee and cafe scene is blooming. From the gentrified inner city neighbourhoods of New Acton and Braddon to lone cafes in suburbia, food is done well and coffee is done even better. In the CBD, head to The Cupping Room for hearty, healthy meals and a lively atmosphere. For a coffee and brekky to go, try Lonsdale Street Roasters or Barrio in Braddon. 
Lunch
Some of Canberra's best food can be found in casual kitchens like that of Muse – a brunch cafe cum wine bar cum literary salon in Kingston. Head to Provini, a cheekily kitsch Italian bistro – that looks like your nonna's kitchen and tastes just as good – for simple pizzas, pastas and other Italian classics. Or if more casual is what you're after, head to Brod Burger for ace burgers and fries. 
Dinner
When dinner rolls around you're once again spoilt for choice. Long-standing fine dining favourites Aubergine (Griffith) and Courgette (CBD) are always good options, as is loud and delicious Akiba, which brings quality favourite from all around Asia to Bunda Street. While you certainly don't have to dine anywhere twice in Canberra, you'll want to return to A.Baker – where wine bar meets bakery meets street food markets and it's all a good choice.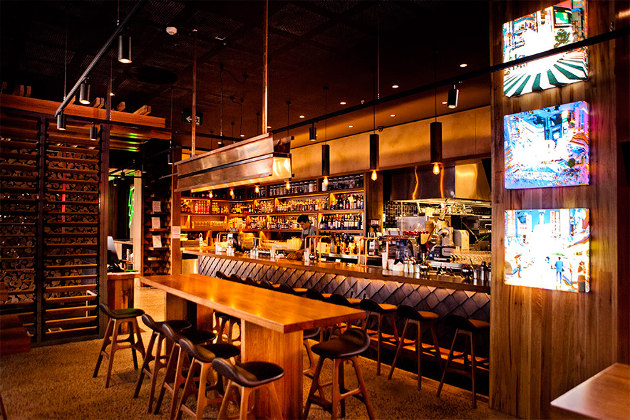 Akiba restaurant. (Image: Courtesy of Akiba)
Where To Stay
The darling of the design community and Instagram heaven, Hotel Hotel is the place to stay when in Canberra. Situated in the architectural masterpiece that is the Nishi Building, Hotel Hotel is a 68 room boutique hotel that is anything but ordinary. It's not just the physical environment that ticks the boxes however. With a focus on combining art, creativity and culture, Hotel Hotel encourages artist takeovers, houses emerging artist exhibitions and is home to some of the city's coolest food and beverage offerings. Guests here have a choice between different room sizes – Cosy, Original, Creative, or Meandering – and each one is unique, with original artworks, locally sourced mini-bar items and all of the usual comforts like block-out auto-blinds, linen bathrobes and heated bathroom floors. 
If a more traditional, yet no less luxurious hotel stay is your style, the Hotel Kurrajong is a great choice. Situated in the parliamentary circle, the hotel was one of the first to be built in the capital. Today it combines modern luxury with significant heritage for an ambient, yet convenient stay. Hotel Kurrajong also participates in FCBT's exclusive SmartSTAY program, providing FCBT with value extras when booked through your Travel Manager. This includes complementary WiFi, late checkout until 2pm and complementary parking  for the duration of your stay.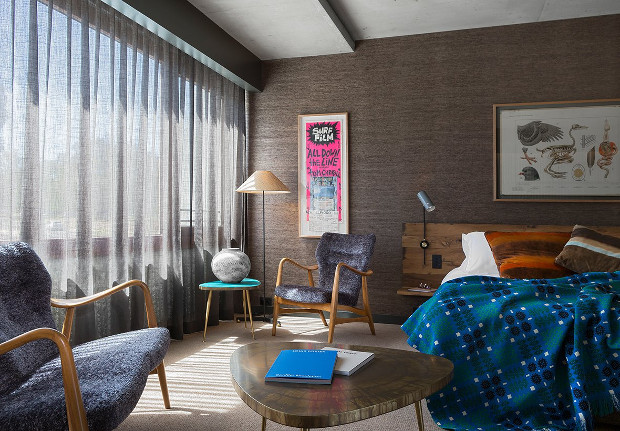 The Original Room, Hotel Hotel. (Image: Ross Honeysett for Hotel Hotel)
---
Travelling for business? Here are some tips for you:
9 Airport Hacks To Make Your Business Travel Easier
7 Things Your Hotel Can Provide If You Ask
---

Parliament House. (Image: Getty)
Where To Play
Canberra is synonymous with great art. Get yourself to the National Gallery, the National Portrait Gallery or the National Museum of Australia for a dose of visual inspiration. Combine local art with a pub crawl of sorts in Braddon, where independent galleries sit beside boutique retail offerings and a host of cocktail bars, wine bars and the Bentspoke brewery. Or catch an independent film at the Palace Electric Cinemas in New Acton.
If you're more into the great outdoors, Canberra's lakes and public bushland offer great walking tracks. Climb to the top of Mount Ainslie for a view over the city and parliament house to the Brindabella Mountains in the west, or head to the Cotter River for walking and even swimming in summer. For a day trip out of the city, head north to Murrumbateman, for cool climate wine tasting and fine dining, or east to Bungendore for boutique shopping and country markets.
Of course no trip to Canberra would be complete without a visit to the house on the hill. Take a tour of Parliament House, admire the artist portraits of all Australia's past Prime Ministers, and be sure to stand yourself in front of Arthur Boyd's Untitled (Shoalhaven Landscape) painting in the Great Hall – a real tribute to the Australian bush. 
Other Travel Articles You Might Like...
Request an appointment with a Business Travel expert