5 January 2016
Words by Carlie Tucker
Anyone that has to travel regularly to the USA knows all too well how long the flight can be. Depending on which state you're headed to, your flight schedule can easily take up an entire day. Even the best flyers have to admit it's exhausting, but there is a way to break it all up. A great way in fact.
Honolulu sits approximately halfway between Australia and Los Angeles, and can easily be described as the ultimate stopover destination. Warm weather, sugary beaches and beautiful landscapes, it has all the makings for a mini relaxing holiday before your big business trip. 24 hours is hardly enough time to soak up everything this island capital has to offer, but it's plenty of time to rest, refresh and get a taste of what Hawaii is all about. Here's how:

Image courtesy of nicospier38.com
Where To Eat
Breakfast
Die-hard breakfast lovers will appreciate the selection of restaurants in Honolulu that serve up a heaping and delicious first meal of the day. This includes the always popular Cafe Kaila, which beckons with classics like Buttermilk Pancakes and Belgian Malted Waffles. Health conscious connoisseurs are also catered for with options like the veggie omelette, granola with fruit or fresh fruit bowl.
Lunch
Another Honolulu food hotspot, Nico's Pier 38 has been delighting hungry guests for more than a decade. It's all about local flavours prepared well. What's better is the price tag isn't too steep, making for a satisfying lunch that won't break the bank. Get a taste of the traditional with the Hawaiian Plate (laulau, kalua pig, lomi lomi salmon, rice and poi) or try some of the fresh fish. The Furikake Pan Seared Ahi can't be beat.  
Dinner
It's hard to narrow Honolulu's dinner dining scene down to just one or two choices, but with only 24-hours, you'll want to hit one of the top spots. You can't go wrong with a traditional luau at The Big Kahuna for something fun. You'll be treated to award-winning entertainment in the form of hula and fire dancing, and you'll get to sample some of the island's best gourmet local cuisine.
Those that prefer something a little more low key, head to Lucky Belly in Chinatown . This modest eatery serves up authentic Asian flavours in the form of steaming ramen bowls, miso pork cheeks and much more.
---
Need more info about stopovers? To Stop Or Not To Stop: The Pros And Cons Of A Stopover
Looking for more US stopover guides? Stopover Guide: 24 Hours In Los Angeles   
---

Image courtesy of marriott.com
Where To Stay
One of the benefits of a stopover in Honolulu is that many of the spoils of Oahu are within close proximity to the Honolulu International Airport. This means that you don't have to be stuck at an airport hotel for the short duration of your stay. You can venture to Waikiki Beach less than 30 minutes for a luxury room with sensational ocean views.
With that in mind, the Aston Waikiki Beach Hotel is a modern 4-star choice close to the shore. This luxury hotel offers up 644 rooms, each one well-appointed with a separate working area for busy travellers. On-site dining options are available and the hotel happens to be a mere 35 steps from famous Waikiki Beach.
If you're looking for a larger resort  with all of the trimmings to provide the complete Hawaiian vacation feel, the 4-star Waikiki Beach Marriott Resort & Spa is a solid choice. Situated on more than five acres of beautiful green, palm-peppered lands, the hotel is just across the street from Waikiki Beach. There are 1,310 rooms and suites in two towers overlooking the blue ocean waters. Each room comes complete with floor-to-ceiling windows and the all important extra plug in panels for business travellers to charge up all those gadgets.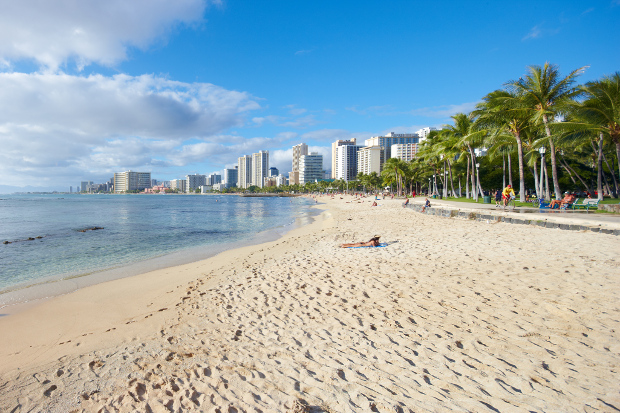 Where To Play
The island of Oahu presents plenty of opportunity to get out and about. It's all fairly close, making decent exploration within a day a viable option. Though keep in mind that some adventures are easier if you rent a car.
Iconic beaches with powdery white sands are available in abundance, so it won't take much effort if all you want to do is pull up a towel and catch some sun rays. Waikiki Beach and Hanauma Bay, are great for swimming, surfing lessons, sunbathing and snorkelling.
Should you tire of the water, though, delve into cultural side of things with a visit to the Iolani Palace. Once of the island's top attractions, this regal residence offers tours to through the decadent interiors and basement galleries. The Polynesian Cultural Centre is another popular choice for culture cats, with a village experience that allows you to visit authentic villages to mingle with locals from six Pacific cultures.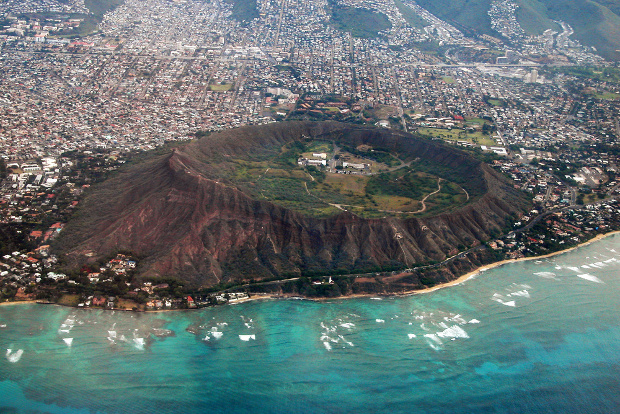 If you're a bit of a history buff, Pearl Harbor is less than an hour away (by car). This National Historic Landmark has four different sites to explore – more than enough to take up an entire day of sightseeing. So, with limited time, it's best to plan what you'd like to see before you go.
The USS Bowfin Museum & Park is closest to the Visitor Center, providing guests a glimpse into the quarters aboard a WWII-era submarine. There are also many fascinating indoor and outdoor exhibits in the Pacific Submarine Museum.
Those that seek more active adventures should head to the popular Diamond Head State Monument. This volcanic cone is not only stunningly beautiful, but features a historic trail to the summit. It's a relatively short hike, though can be quite steep and covers some uneven ground. Once at the top though, you'll be treated to spectacular views of the south eastern shoreline.
If you're looking for something a little more off the beaten trail, Makapu'u calls from the eastern edge of the island. Comprised of a ridge rising 197 metres above the sea, this area is popular for hikers hoping to make the trek to the iconic lighthouse. The hike is suitable for all levels of fitness and pays off with sensational views over the ocean to the island of Molokai.   
Other Travel Articles You Might Like...