11 November 2015
Words by Carlie Tucker
France is at the top of many traveller to-do lists, and most would be happy to spend any amount of time exploring this hotspot. If you're lucky enough to score a business trip to Lyon, it's worth setting aside as much time as possible to see the sights.
While 24 hours isn't nearly enough time to fully explore everything this city has to offer, it is enough to make a respectable dent. Here's how you can make the most of your time: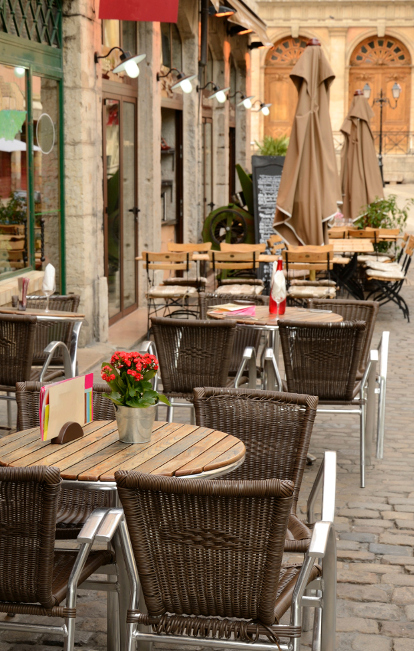 Where To Eat
Food and France go hand in hand, which is why it's nigh impossible to get a bad meal in Lyon. The question shouldn't be where to eat; rather, you should be asking yourself "what should I eat?" From corner cafes and local bakeries to street vendors and fine dining restaurants, it's all delicious. There are a few things, though, that the French do exceptionally well and these should not be missed.
Breakfast:
It's going to sound like a cliché, but you really shouldn't miss the croissants in Lyon. These flaky, buttery pastries are to die for. Some say it's the French flour, while others insist it's the perfected technique that makes them so delicious. Or maybe it's a bit of both. Either way, they're amazing and can be picked up from any bakery within walking distance.
Lunch:
The baguette is another French classic that's to appeal to all tastebuds. Crispy on the outside, soft with the slightest chew on the inside, these loaves need nothing more than a smear of salted butter. Though, the French like to fill them with sandwich fillings or accompany them with a nice bit of cheese. You can't go wrong with either. Again, grab one (with or without filling) at the local bakery. If you'd like to top it off with a sweet treat, crepes are a cheap option that are readily available from street vendors.
Dinner:
It pays to save your Euros for dinner time. This is when you'll want to splash out on some of the best French dishes. From bisque to pan-seared foie gras; confit duck to bouillabaisse; escargot to coq au vin,  there are plenty of dishes to choose from. Of course, if you'd rather save a few bucks, you can still get a great meal. It's amazing what the French can do with the humble roast chicken and fries.   
---
Discover more France Guides. Stopover Guide: 24 Hours In Paris
Or news about France. French Foreign Minister Encourages Politeness
---

Image courtesy of crowneplaza.com
Where To Stay
Unlike many big cities in France, Lyon offers up comfortable hotels that present great value for money. Finding one in a great location that won't break the bank is easily done. One such option is the Crowne Plaza:  Lyone - Cite Internationale. It sits at the centre of the famed architectural project Cite Internationale and provides a thoroughly modern place to lay your head with beautiful views over the surrounding city.
The rooms are spacious and comfortable with all the prerequisites of a great business hotel: comfortable bed, ensuite bathroom and internet access. In fact, the Crowne offers the Sleep Advantage difference, which includes premium bedding, quiet zones within the hotel and guaranteed wake up calls. Guests are also treated to plenty of power outlets to charge those devices and a dedicated in room work space. Beyond the rooms, there is a fitness centre, on-site restaurant and lounge as well as a dedicated business centre with WiFi services, printer, scanner and range of business services.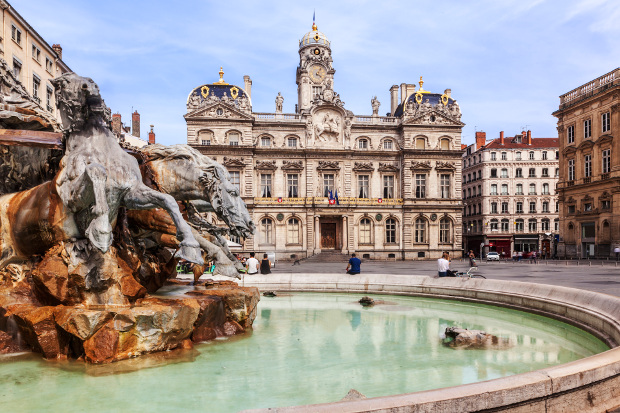 Where To Play
As mentioned, 24 hours isn't enough to see the all spoils of Lyon, such is the extent of the places to 'play' here. It's worth doing a bit of research to ensure you get the most out of your visit. Choose a few landmarks that you'd really love to see and plan your route to make sure you have enough time to hit them all.
One unique way to see the sights is to rent a Boris Bike. Lyon was one of the first places to offer a public bicycle rental service and it's no wonder. The city lends itself well to exploration on two wheels. There are ample cycling paths across the city, including beautiful trails along the Rhone and the Saone.
You'll want to make sure to set aside some time to stroll the Vieux Lyon (Old Town). This historic section of the town provides plenty of outstanding architecture to look at as well as a rich history that dates back to the medieval silk industry and French Resistance through World War II. Wander of your own accord, or pull up a spot in one of the many eateries for tasty crepe.
Make the trek to La Basilique Notre Dame de Fourviere. This stunning white basilica can be seen from nearly anywhere in the city, but up close exploration will reward with intricate architecture, beautiful views over the city and a fascinating history of its role as the 'praying hill' in Lyon.
Most importantly, don't forget to enjoy yourself! It's easy to get swept up into the bustle of the city and forget why you're there. Sometimes the best way to get a feel for any given destination is to simply sit back with a glass of wine and take it all in. 
Images courtesy of Getty unless otherwise noted
Other Travel Articles You Might Like...