1 December 2016
If you're travelling through Asia for work and have the chance to schedule a stopover in Macao, this destination is sure to please. It may have a reputation for glam, but those that look beyond the surface will be richly rewarded with a treasure trove of cultural landmarks an incredible culinary scene and plenty of unique experiences. 24-hours is just enough to whet your appetite, leaving you wanting more of Macao.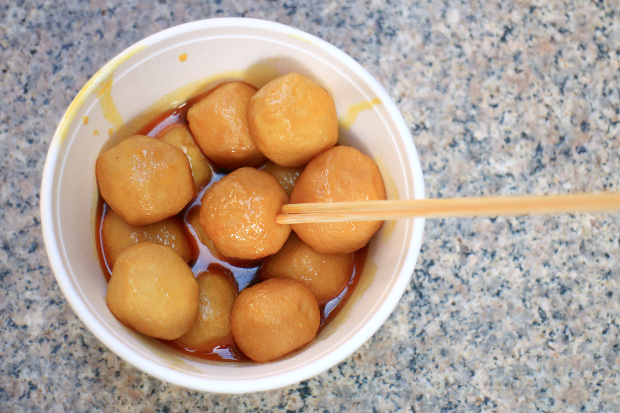 Where To Eat
Breakfast
When in Macao, do as the locals do and hit the streets for breakfast. There are countless stalls open early in the morning serving up dumplings and glutinous rice. It's a tasty savoury treat that's quick and easy. If a serve of dumplings seems like a little too much, you can't beat a Portuguese bakery. Lord Stows Bakery is a great choice, serving up buttery pastries and tarts to get your day going.
Lunch
Much like breakfast, if you're after a quick and cheap lunch, you can't pass up on street food in Macao. Serving up piping hot versions of egg rolls, fish balls and pork chop buns. If you're more in the mood for a sit down lunch, you'll have your pick of places to go. Ristorante La Gondola serves up traditional Portuguese fare at reasonable prices, or go a little bit fancy with seafood rice at Antonio.   
Dinner
Now's the time to slow things down and really savour the fine food scene on offer in Macao. The city holds its own when it comes to Michelin Stars. Go straight to the top of Macao (literally) with drinks and a meal at Robuchon au Dome. Fronted by 'Chef of the Century' Joel Robuchon, this restaurant sits atop the Grand Lisboa, offering incredible views and a menu of French delights. If this is a little too over the top for an overnight stint, Mizumi in the Wynn hotel and casino offers up sushi, sashimi, tempura, teppanyaki and robatayaki with ingredients sourced twice a week from Tokyo.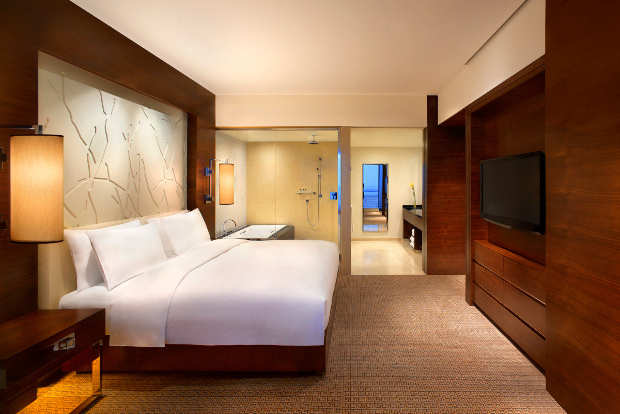 Where To Stay
There's no shortage of luxury hotels in Macao. In fact, it happens to play home to the most 5-star hotels than any other destination in the world. It can be hard to narrow it down, but for a quality 5-star stay,  the Grand Hyatt Macau meets the standards of the most discerning corporate and leisure travellers. This Coati area hotel is a shimmering tower with views over the Pearl River. It features, 791 luxury rooms and suites with impeccable facilities.
There are three different room configurations to choose from, all offering the comfort of modern finishes, a comfortable bed and private ensuite. Beyond the rooms, the hotel is decked out with six different eating and drinking venues. There is also a full service luxury spa for a relaxing treatment before moving on to your next destination. Guests also have access to a 24-hour fitness centre, professional babysitting service, infinity pool and limo, shuttle and airport transfer services.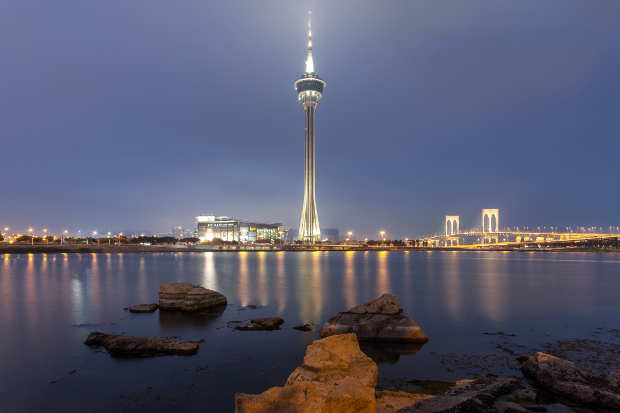 Where To Play
Macao may be known for its glitz and glam, but this neon city offers much more than casinos. Its diverse history mixes Portuguese and Asian influences, creating a satisfying mix of things to see and do. Of course there is the Macao Tower for those with a little dare devil in their blood. Ascend its heights for incredible panoramas over the city. There is also a sky walk that allows you to walk the external circumference of the top, and a bungee jump over the side.
The ruins of St Paul's Cathedral are also a must-do for visitors. This ornate facade is all that's left of the St Paul's College and Church after a fire tore through the 16th century structure. Surrounded by gardens, it's a slight uphill walk but your efforts will be rewarded with beautiful views over the grounds and surrounding neighbourhood.
To get a feel for Macao's rich Portuguese heritage, venture to Senado Square. This paved town square is a UNESCO World Heritage site and showcases incredible architecture along with authentic Portuguese pavement – traditional mosaics made of small pieces of stone that depict different pictures and patterns. 
Other Travel Articles You Might Like...