8 July 2015
Words by Carlie Tucker
When it comes to travelling to Paris, 24 hours is hardly enough time to even scratch the surface. The city is brimming with history and culture that couldn't be exhausted even if you had an entire month on your hands. Though, with so much to see and do, one thing is certain. Your 24-hours will be packed full of fun! Here's where to stay and play next time you're in Paris on business.

Image courtesy of Eggsandco.fr
Where To Eat
If you love food, then you're sure to love Paris. The city is known as being the culinary destination, with a reputation for unrivalled cooking techniques. There are plenty of eateries, restaurants and cafes to choose from, making it easy to find nourishment to suit all budgets. To help you narrow your search though, here's a few recommendations:
Breakfast:
The French are known for their talents at cooking the perfect egg, and here you can try them as simple or complicated as you like at Eggs & Co. Breakfast runs at about €25 at this Saint-Germain-des-Pres nook.  If you're after something a little cheaper and quicker, you can't pass up a bacon muffin at Frenchie To Go in the 2nd arrondissement. Add an egg or cheese, and you've got yourself full breakfast on a bun. This will set you back approximately €7.50. 
Lunch:
It can be hard to pass up a traditional 3-course meal when in Paris, but you've only got 24-hours to see everything the city has to offer. So, for lunch on the go, street food is a smart choice. Le Petit Vendôme provides diners with the best ham sandwich in the city at €4 to €6. Alternatively, hit up Le Comptior du Relais St-Germin for the best croque-monsieur in town at €9.
Dinner:
If ever there was a time to splash out on a meal, this is it. Dinner in Paris can be quite an affair, and if you enjoy food, it'll be worth every cent. If money is no object, a quintessentially Parisian meal can be had at Le Jules Verne at the Eiffel Tower. Set menu dinner prices run at approximately €185 accompanied by exceptional views of the city. If you're after something a little more modest but no less impressive, Septime is a one Michelin star offering that provides a six-course set menu of masterpieces for a mere €55. Reservations are essential for both.

Image courtesy of hoteltherese.com
Where To Stay
When it comes to booking a stay in Paris, be prepared to spend a little money. While there is plenty of choice, ranging from charming boutiques to grandly historic 5-star stays, prices are certainly at the steeper end if you want to stay within the heart of the city. Though, if a trip on the train is no bother, you can certainly find a quality hotel at lower prices in the outer arrondissements.
Holding up a spot on the Left Bank, the Familia Hotel is a clean and comfortable 2-star option. It offers up just 30 rooms, each boasting the basic amenities, but you can't beat its prime position at just €90. If you're after something a little more fun and funky, the Hotel Arvor Saint-Georges in the 9th arrondissement is another top  €90 offering.  If you're a bit more flexible with your budget, the Hotel Therese is a top choice in the 1st arrondissement. This boutique property has 43 classically-styled rooms that will set you back approximately €165 for a double.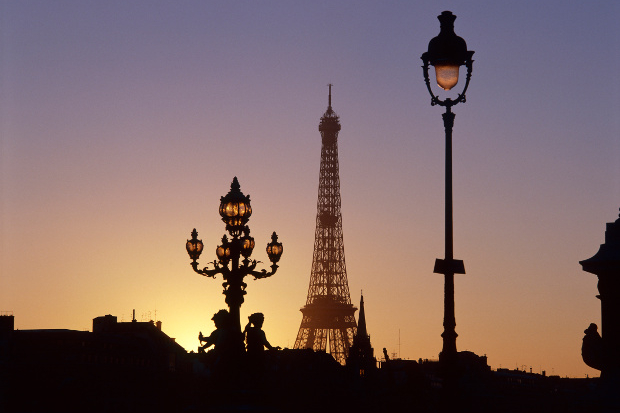 What To Do
As for the sights, well, it's going to be hard to get it all in in 24-hours. The best approach is to pick a few of the top sights and plan, plan, plan. One option is to book a multi-stop day tour that will hits sights such as the Eiffel Tower, Moulin Route and Siene River Cruise. You'll have to travel in a group, but your guide will be able to offer insightful commentary as you're whisked through the city.
Alternatively, choose a couple of highlights and plan to hit them early in the morning when crowds are minimal. This includes such sights at the Eiffel Tower (pre-booked tickets are recommended) and the Louvre. Then you can spend the rest of your day strolling through the less busy gems such as the Catacombs. 
Other Travel Articles You Might Like...