8 August 2016
Words by Carlie Tucker
If you ever find yourself with 24 hours to spare on the east coast of the USA, Washington DC is worthy of your time. This national capital is the political and historical home of the country, offering up a delightfully diverse list of things to see and do. Whether you're a foodie or a culture cat, a historian or an architecture aficionado, there's more than enough to fill your time (brief as it may be).

Old Ebbitt Grill's historic bar
Where To Eat
Dining in the nation's capital is all about what's quick and easy. What else would you expect with a horde of politicos wheeling and dealing while trying to scarf down their meals? We're not talking fast food, though. Think more along the lines of short order counters and greasy spoons so good they've developed into Capital City institutions. That's not to say DC is without a fine dining scene. You'll find that here too, with plenty of top spots to choose from. 
Breakfast
Jimmy T's Place is a hole in the wall for sure, but when it comes to good ol' fashioned American breakfasts, it doesn't get any better. They've had plenty of time to perfect the formula, having been slinging staples like eggs Benedict, pumpkin pancakes and grits on Capitol Hill for 40 years. There's no pretence and no substitutions. It's also cash only.
Lunch
For a midday meal sure to hit the spot, Bub and Pop's is known for their sandwiches. In fact, many in the District consider this little shop to be the home of the best Italian sub in the city. While it's almost impossible to pass up a really great sandwich, there are other homey delicacies to choose from as well. This includes hearty soups and salads, French bread pizzas and desserts.   
Dinner
You can't leave Washington DC without a stop at one of its most historic drinking holes. Opened in 1856, Old Ebbitt Grill is credited as the 'oldest saloon in Washington'. It once hosted history's most famous figures, including Theodore Roosevelt. The Beaux-Arts facade is a perfect indication for what lies within: a time capsule of mahogany, velvet, brass and bevelled glass. Dress codes do not apply and the menus is all about upscale American saloon food, from Bacon Horseradish Glazed Meatloaf to Maryland Day Boat Scallops.
---
Get more stopover tips on the USA's East Coast.
Stopover Guide: 24 Hours in Boston
Stopover Guide: 24 Hours in New York
---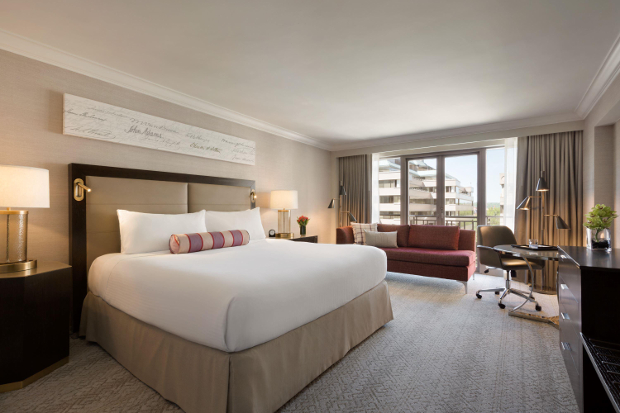 Where To Stay
Not only is Washington DC familiar with hosting travellers from all over the world, it knows how to do it in style. Hotels here are used to catering to the high demands of serious business travellers, which means no matter the size of your budget, you're sure to find a stay that meets your specifications.
For those that insist on a 5-star stay, the Fairmont Washington DC is a solid choice. Many list it among the best in the city thanks to a superb position in popular West End. And, as of June 2016, its newly refurbished interiors assure luxury seekers a comfortable stay. There are three guest room configurations to choose from as well as a selection of suites and specialty rooms.
Each offers contemporary finishes with a comfortable bed, private ensuite and a sweep of in-room business amenities. This includes a computer dataport, Internet access and spacious work desk. This SmartSTAY hotel also comes with complete with complimentary WiFi, a welcome amenity and complimentary room upgrade (if available) upon check-in when you book through your FCBT Travel Manager.        
In terms of location, you'll be in the heart of some of Washington's most iconic sights. This includes Arlington National Cemetery,  the White House, Washington Monument and Lincoln Memorial. Paid shuttle tours can be organised at the hotel. Shopping and dining are also close at hand.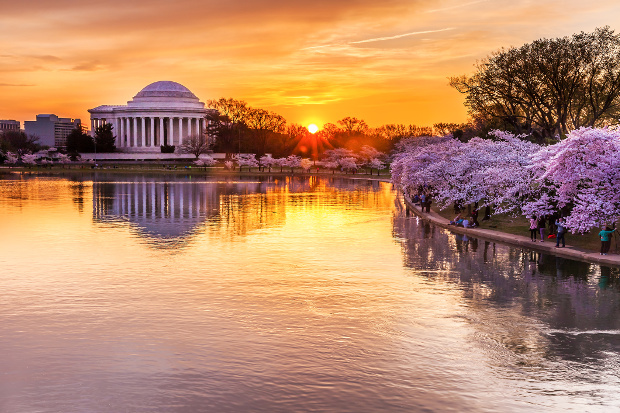 Where To Play
The entire city of Washington DC is a whopping 177 square kilometres, but don't let that fool you. This world powerhouse packs a punch on the sightseeing front. As with most 24-hour stopovers, it would be impossible to see and do it all, but organise your day just right and you'll see just enough to convince yourself a future, extended stay is on the books.
As the capital of the USA, visitors can expect plenty of national history. US citizen or not, you'd be surprised at just how stirring standing at the foot of the Lincoln Memorial can be. Though, should you wish to switch gears, DC does offer up a slew of things that travellers from all corners of the globe will appreciate.
Start off by hitting the Smithsonian Museums, particularly the National Air and Space Museum. There are 23 exhibits dedicated to air and space travel, including Boeing Milestones of Flight, the Apollo 11 moon landing and the Einstein Planetarium.
Be sure to make a stop at the Library of Congress, International Spy Museum and the United States Botanic Gardens. Go paddle boating in the Tidal Basin (the best way to see the cherry blossoms in the Spring) or get out of town on a short stint to Mount Vernon. Approximately 26 kilometres south of the city, this is the former home of George Washington.   
Other Travel Articles You Might Like...
Request an appointment with a Business Travel expert