17 August 2015
Words by Carlie Tucker
Business travel can test the best of us, but receiving word that the boss will be joining you takes it to the next level. Not only will you be handling the stresses of travel, but you'll be doing it all under the watchful gaze of your superior.
Though it may seem daunting, especially if you're new to the business travel game, think of it as a good thing. This is your chance to demonstrate your value and impress your boss in a one-on-one situation. Here are a few tips to help you do just that ...
Keep A Positive Outlook
Sure, being on the road with the boss adds an extra element of pressure, but push that out of your mind. This is a chance to get to know your boss on a new level, while showing him/her that you know your stuff. Focus on the opportunity to impress and, if it helps at all, think of it as just another day on the job. Work hard and you're sure to come out looking like the consummate professional.     
Make Plans At The Office
Cut out the possibility for mishaps by scheduling a planning sesh with your boss before you go. Use it as a chance to clarify responsibilities  and show some initiative. Offer to take care of bookings and reservations, but make sure you run it past your boss to ensure you're not stepping on anyone's toes. Some supervisors like to take control and expect you to keep up, while others appreciate help in organising everything.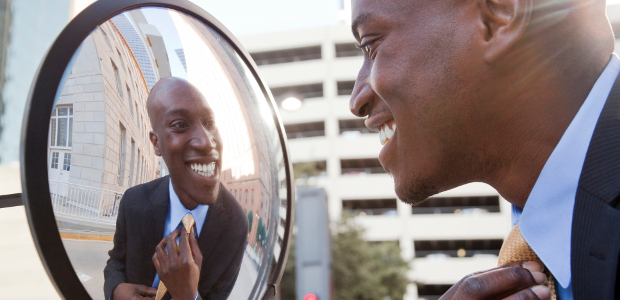 Dress The Part
Personal presentation is key to making a good impression. Plan to dress for a typical workday for your flight even if that involves a suit. You never know who you might be meeting en route or when you land. Even in more casual situations, such as a dinner with the boss after work, a groomed appearance is necessary. Leave the track pants, thongs and t-shirts at home. Opt for business or business casual for all occasions unless otherwise specified.  
Early Bird Gets The Worm
One of the best ways to come off looking like you know what you're doing is to be early. Plan on getting to the airport before your boss. You can even buy a round of coffees to kick things off on the right foot. While on your trip, plan to arrive early for any meetings or events so your boss is never left waiting for you.
---
More tips on finding balance in the work place. Life Hacks: Finding The Perfect Work-Life Balance
Looking for more news on Millennials and business travel? 9 Ways Millennials Are Changing Business Travel 
---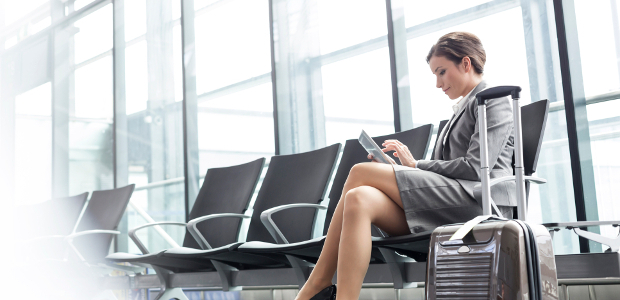 Always Be Prepared
Whether it's an effectively packed carry-on or a few prepared points you can bust out in a business conversation, it always pays to be prepared. Take some time before you leave to brush up on your trip, your destination and the people you're going to meet. Your boss may expect you to hit the ground running as soon as you sit down on the plane, so you'll want to be prepared to put in your two cents.
The same can be said for packing. One thing about travel is that it can be unpredictable. Prepare yourself by packing right. Skip the checked luggage unless absolutely necessary. Pack a light and compact carry-on with everything you might need: chargers, toiletries and a change of clothes. That way if you run into any unexpected delays or cancellations, you'll have everything you need to see it through cool, calm and collected.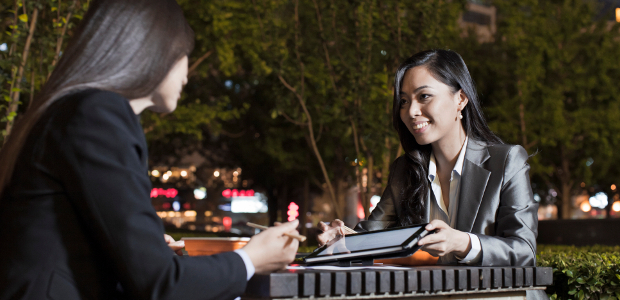 Avoid Alcohol
As most professionals will tell you, excessive drinking is never a good idea when you're trying to leave a good impression. It's best to skip the alcohol all together on the flight. On the ground, take your cues from your boss. If he/she orders a drink, it's acceptable to follow suit. Know your limits though and keep it to a minimum. If you prefer not to drink, don't feel like you need to in order to appear sociable. Order a soda water with lime or 'mocktail' instead.  
Socialise In Moderation
A business trip with the boss is a great chance to get to know one another on a more personal level. Don't hole up in your room every night. Rather, extend an invitation for lunch or dinner with your boss. It's a great chance to socialise and network in a more relaxed setting. Don't forget, though, you're still at work. Be wary of over sharing or getting too personal. A good rule of thumb is not to say anything you wouldn't say at the office.
Don't be put off if your boss turns you down because of other plans. Business trips are often packed to the brim with meetings, including dinner plans with clients or colleagues. Use the alone time to check out a nearby restaurant, or stay in to ensure you're rested and ready to get to work early the next day. 
Other Travel Articles You Might Like...