29 October 2015
Words by Tara Young
Flight Centre Business Travel is delighted to be working with the fantastically named Vinomofo. The 'Fo – as staffers refer to it – is a wine deals online site, that officially kicked off in Adelaide in 2011.
The impetus for the company really started in 2007, in the garage of brothers-in-law and fellow wine geeks Justin Dry and Andre Eikmeier.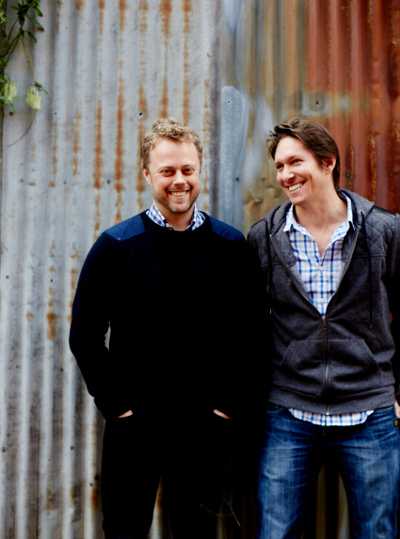 This pair just wanted to remove the 'bowtie snobbery' associated with wine geeks, and focus on real people who love wine. They wanted to build a place that wine 'enjoyers' would feel comfortable to buy wine from, and hang out with like-minded people.
Vinomofo works and liaises directly with wine producers from far and wide, and will sell only the wines they have tasted and love to drink. If they don't love it, they don't sell it. Less than five per cent of wines that cross the tasting bench make it to the 'Fo website.
At the 'Fo, they focus on repeat business, realising that unless you enjoy the wines, you won't come back or tell your friends. And personal referral to the Vinomofo club is key. One of the major drivers of its success story is the secret deal – big savings on truly great wines available to 'Vinomofos' who have signed up and taken the pledge.
The only way Vinomofo can get these formidable deals is by agreeing to keep the identity of the wine and the producer secret. The producers are keen for wine lovers to drink them but don't want to see their amazing wines advertised anywhere at that price.
So Vinomofo asks every customer who signs up to pledge not to reveal the secret deals. It has proven a great driver to grow a community of Vinomofos, gaining a following of 350,000 wine devotees in just over four years. Not bad for an idea tossed around by two guys in a garage. 
---
How do you survive? What's Your Business Travel Ritual?
Have any of these? 5 Habits Of Successful Business Travellers
---
In May 2009, they found an angel investor willing to put in a bit of money to see where the business could go. They moved out of their garage and set up a cool warehouse space in an old restored brewery in Hindmarsh, hiring their first employee, a developer named Oli.
Justin had always dreamed of travelling the country in a Kombi, surfing and drinking local wines from Margaret River to McLaren Vale, so later in 2009 they bought a beaten-up Kombi that had been abandoned in a lemon orchard in the Barossa (should have read the signs!) and started on a great wine adventure, filming it all in a YouTube show called Road to Vino. It was on that journey that they made friends with some of the greatest producers and wine personalities of Australia.
They became known as the Digital Wine Guys, the voice of Gen X and Gen Y wine lovers, embracing social and mobile technology as it emerged, and encouraging the wine industry to embrace it and grow their own tribes.
It was a lot of fun, an amazing ride, but still not many people were prepared to pay them to do what they were so passionate about. The angel capital ran out, things got tough again, and by the end of 2010 the boys were faced again with finding a way to make it pay or give it all up.
It was after a short Christmas break made particularly stressful and emotional by the fact that after nearly four years of trying, they were broke again (only this time with a lease and staff to pay), that Justin came into the office with a new idea: "Let's start a wine deals site."
And so Justin and Andre teamed up with another aspiring young wine entrepreneur, Barossa boy Leigh Morgan, and together Vinomofo was born on April 12, 2011.
The rest is history, and now as the growing 'Fo staffers widen their search for great undiscovered wines to distribute to Vinomofos, Flight Centre Business Travel is right there alongside them, and thrilled to be a part of this go-getting, entrepreneurial small business. Cheers.
Keep an eye out for Part 2 of the FCBT – Vinomofo story.
Other Travel Articles You Might Like...