Terminal Beauty: The World's Most Architecturally Stunning Airports
16 June 2016
Words by Carlie Tucker
When you're traipsing in and out of airports day after day on business, you usually don't take a moment to appreciate the architecture. In fact, it all starts to look the same once you've made the rounds a few times. And let's face it, airports aren't traditionally known to be showstoppers when it comes to design.
Luckily for frequent business travellers, and architecture fanatics out there, many cities are taking a new approach to their terminals. More and more, airports are integrating stunning concepts that seamlessly blend striking design elements in highly functional spaces that meet the modern demands of all types of travellers. Some might even say these new terminals are ... beautiful. You be the judge. Here are some of the world's most architecturally stunning airports:   

Image courtesy of wellingtonairport.co.nz
Wellington Airport in Wellington, New Zealand
Throwing traditional airport design to the wind, the international terminal in Wellington calls upon the national identity and landscape in its design. Outside, these two rounded buildings are covered in copper plating, which will turn a striking shade of blue with age. Inside, curving lines mix with a striking geometric pattern to create a stunning visual that accommodates double the passenger capacity of the old design. Some locals have denounced the design since it opened it in 2008, but love it or hate it, everyone can agree it's definitely different.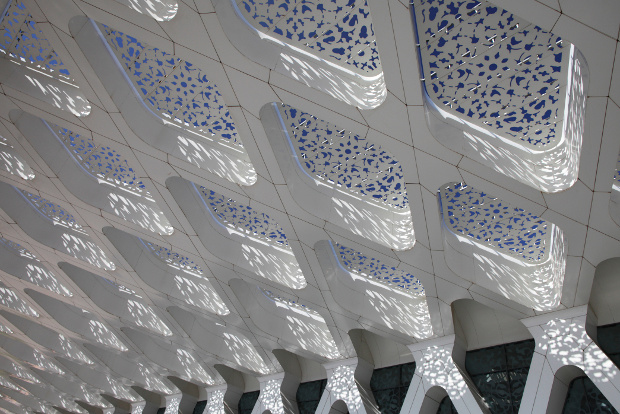 Marrakech Menara Airport in Marrakech, Morocco
Marrakech's Terminal 1 has topped many architecture lists since it opened in 2008 thanks to a unique design that fuses traditional and modern Islamic motifs. The design is dominated by giant concrete rhombuses, forming the 'shell' of the rectangular building. Though, a closer look reveals a delicate arabesque pattern inside each oversized diamond, casting ever-changing shadows across the terminal floors.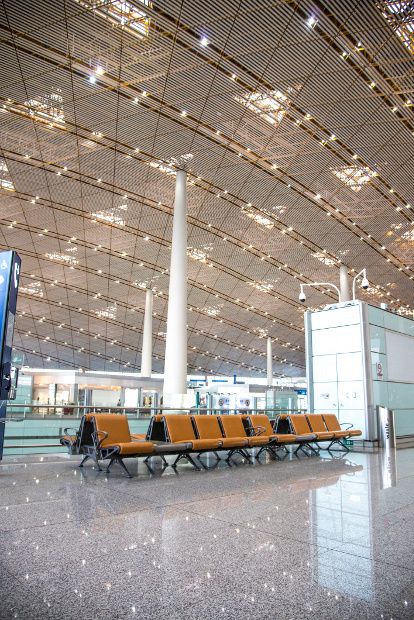 Beijing International Airport in Beijing, China
In anticipation of the hordes of sporting fans flocking to the city for the 2008 Olympic games, Beijing opened one of the world's largest airport terminals. Terminal 3 is a staggering two miles long, which in itself is something to marvel, but the architecture is also worthy of praise. Its curved shape is meant to represent a dragon with a ceiling made of a composite of mesh and skylights that allow the space to breathe with an undeniable sense of space. A subtle integration of red and yellow throughout this intricate ceiling not only calls back to traditional Chinese colours, but also acts as a colour coded navigation system for passengers.
---
Looking for more unique airports?
The Layover: 6 Airports That Will Keep You Entertained
5 Airports That Offer Layover Tours
---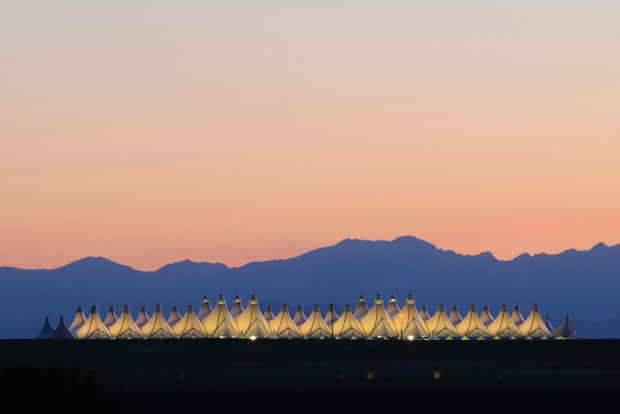 Denver International Airport in Denver, Colorado
When it comes to major airports in the US, Denver certainly stands out. Though it opened in 1995, it continues to impress travellers thanks to its peaked roofline that mimics the rugged Rocky Mountains beyond. The concept came about after a hurried drawing by architect Curtis Fentress when he was tasked with coming up with a design in just three weeks. The undulating roofline is made of Teflon-covered fibreglass that light up white at night, creating a stunning visual against the otherwise stark surrounding landscape.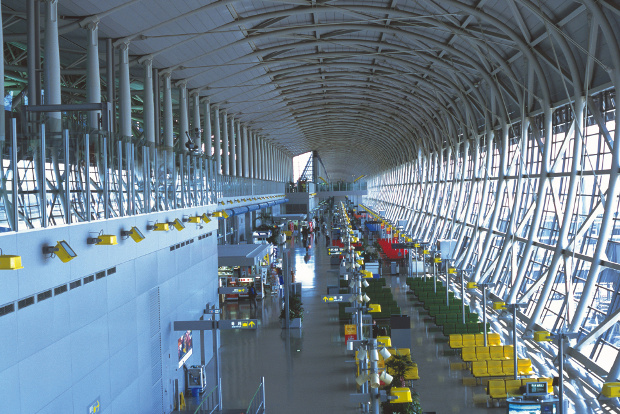 Kansai International Airport in Osaka, Japan
What do you do when you want to build an airport but don't exactly have the land space? Do as Japan did and build a manmade island two miles off the coast. Once the world's largest airport, this stunning terminal features a tube-like design that routinely draws comparisons to an airplane fuselage or perhaps a wave. The internal spaces emphasise a sleek and deceptively simple aesthetic with curving exposed beams and a glass skin that bathes the entire terminal in soft natural light. Perhaps the most impressive aspect of this airport, though, is its ability to withstand earthquakes and typhoons.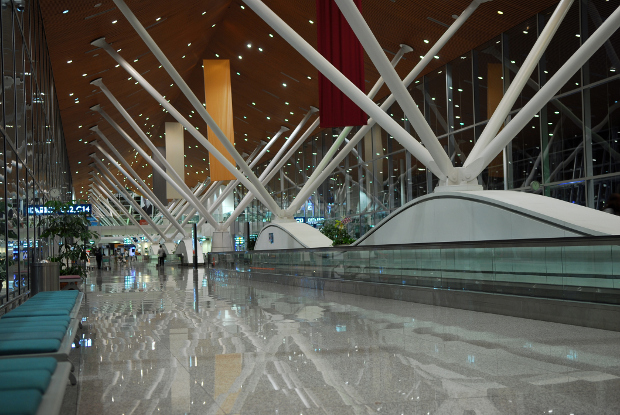 Kuala Lumpur International Airport in Sepang, Malaysia
Designed by Japanese architect Kisho Kurokawa, this beautifully complicated design works in all the right ways. Around every corner, stunning features catch the eye in an eclectic collection of design elements.  International passengers are greeted by a vast departure hall composed of billowing, domed ceilings held up by tapered columns with glass skylights peeking through a pattern of geometric panels. Continuing on to the transfer halls, long beams draw the eyes up to a stunning wood slat ceiling peppered with skylights like so many stars lighting the way to your next flight.   
Other Travel Articles You Might Like...
Request an appointment with a Business Travel expert