8 September 2016
Words by Carlie Tucker
When it comes to travel to the United States, one of the most confounding cultural differences is tipping. While it may seem like an unusual practice to Australians, rest assured it does serve a purpose in the States. 
Normally reserved for the service industry, tipping is not only a way to show gratitude for a job well done, but it also supplements fairly low wages in job fields where tipping is factored into annual salaries. While leaving a tip is never required, it is considered very rude if you don't.
To take some of the mystery out of who, what and when, here's a comprehensive guide on tipping in the US.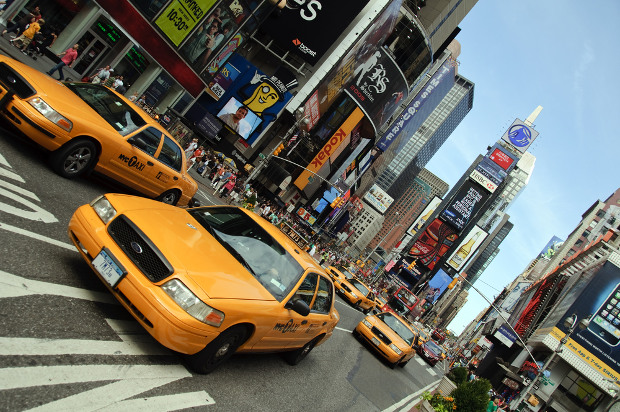 Taxis & Drivers
If you're headed to any sizable US city on business, chances are you're going to take a taxi or have a driver at some point in your journey. Even if it's just a shuttle from the airport to your hotel, it is customary to tip your driver.
10 to 15 per cent of your total fare is the norm for taxis or limos. If your driver assists with your bags, you can throw in a couple extra bucks if you want to. For shuttles (free or otherwise), tip two to three dollars per person.
---
Discover more business travel tips.
How To Breeze Through US Airport Security
Worthy Splurges When You're Travelling For Work
---
Hotels
When it comes to tipping at a hotel, there are a few people you should keep in mind. A bit tricker than other situations, tipping amounts will depend on the calibre of the hotel, how long your stay is and what you have in your wallet. To avoid any embarrassing faux pas, it's best to keep a stash of smaller bills on hand. 
Bellstaff/Porters: One to two dollars per bag is appropriate. If you have a lot of bags or they are especially heavy, you may want to consider upping it to five dollars.
Cleaning Staff: If you're staying two days or more, leaving one to five dollars per night is the norm. You can leave it on a table or nightstand each morning, or in one lump sum on the day of check-out.
Room Service: 10 to 15 per cent of your total bill should be written in on the check when you sign for your meal.
Concierge: Tips are determined by the difficulty of each task. If you're after something really simple (ie directions or a recommendation) a tip is not necessary. If it's a bit more demanding (ie acquiring something you've forgotten or making a booking for you), leave two to five dollars. For more complicated requests such as last minute dinner reservations at the hottest restaurant or sold out tickets to that new show, consider tipping around 20 dollars. For more involved planning, or seemingly impossible tasks, anything upwards of 20 dollars is appropriate. 
Valet Parking Attendants: One to five dollars each time the attendant brings your car around. 
Restaurants
When you're going to a restaurant you should always leave a tip. Usually you'll only need to worry about the wait staff, though if you want to use a 20 as subtle bribery to get a better table, the hosts or hostesses are normally happy to accommodate you if they can.
Generally speaking, 15 to 20 per cent of your total bill is the standard for groups of four or less. 25 per cent of your total bill for groups of five or more. Note that some restaurants will add a mandatory gratuity to the final bill for especially large groups.
Food delivery is another service that requires a tip. It doesn't matter if it's pizza or Chinese, if it's delivered to your door, expect to provide a tip. Approximately 15 per cent of your total is a good rule of thumb for delivery. If you're ordering in especially late, you'll probably want to throw in a couple extra dollars.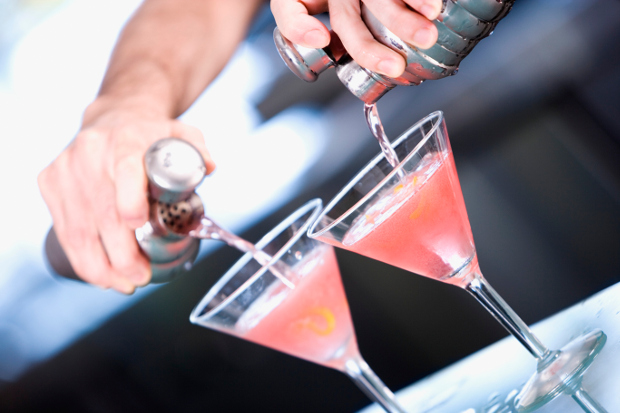 Bar Tenders
If you're planning on spending any time at a bar conducting your business in the US, keep in mind that bar tenders do expect a tip for their services.  Why else would they be doing all of those fancy moves with their cocktail shakers?
Simply leave one to two dollars per drink on the counter. If you're sitting at a table with an open tab, apply the same 15 to 20 per cent of your total as you would in a restaurant.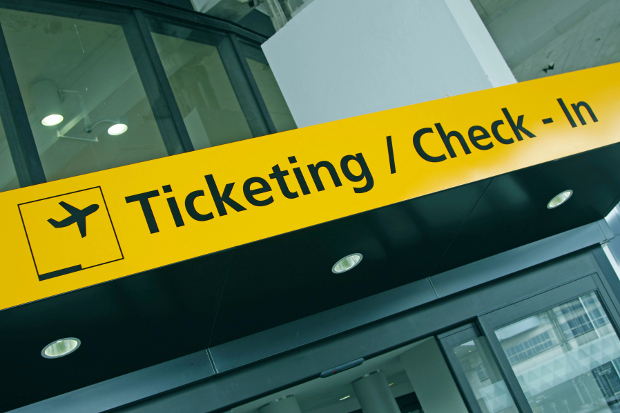 Curbside Check-in
Curbside check-in isn't always available, but when it is, it can be a God send. If you're running a little behind on your domestic flight, or the check-in lines at the airport are just too long to handle, simply sidle up to one of these kiosks in front of the airport to check-in. Some curbside check-ins will charge a small fee for baggage handling. Otherwise they are free to use. Of course, if you are checking bags, tipping is very much appreciated. 
Two to five dollars per bag handed directly to the attendant will ensure your bags are processed efficiently.  If you have heavier bags, opt for the larger end of the scale. Also keep in mind these curbside check-ins are often cash-only.
The above guide should cover most situations that travellers find themselves in when heading stateside; though, if you run into unfamiliar territory, it's best to tip. And, if ever in doubt about how much, 10 to 15 per cent is a safe estimate.  
Other Travel Articles You Might Like...
Request an appointment with a Business Travel expert