3 December 2015
Words by Renae Robinson
As world leaders and environmental experts meet in Paris to discuss the bigger picture at the United Nations Conference on Climate Change, there are small things business travellers can do right now to play their part. From the mantra of "reduce, reuse, recycle" to offsetting carbon dioxide emissions from your flights, here are simple steps to reduce your business travel footprint.
Reduce, Reuse, Recycle
Give plastic bags a miss – they choke wildlife, end up in landfill or oceans, and increase the demand for oil (in the manufacturing process). Instead, bring your own reusable bags from home, or head to the local market to buy one and support the local economy. If your business takes you to the US, be aware that cities such as San Francisco and Los Angeles have placed restrictions on single-use plastic bags in stores; while a referendum on a state-wide ban in California is slated for November 2016. Several other cities around the world have also banned plastic bags.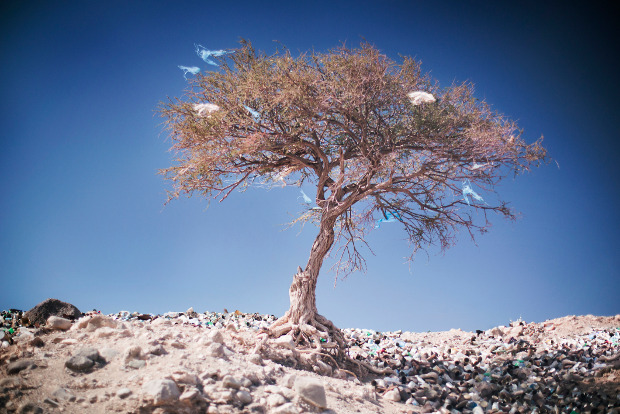 Picture courtesy of Getty Images
Bottled water is another environmental no-no, increasing food miles (the environmental cost of transporting the product long distances) and, again, ending up in landfill or oceans. Instead, bring your own water bottle and refill it. If you don't trust the water quality at your destination, bring water purification tablets or personal water filters/purifiers, which can be purchased at outdoor adventure stores.
The Rainforest Alliance also suggests bringing your own refillable small bottles for shampoo, conditioner and other toiletries instead of purchasing travel-sized products (which are then thrown away); and avoiding the small-sized toiletries provided in the hotel.
Conservation organisation WWF urges travellers to avoid disposable cups, plates and cutlery where possible, and recycle if you have no other option. And it suggests conserving water and electricity when you're on the road – reusing the towels and bed linen in your hotel, instead of having them washed every day; taking short showers instead of baths; and turning off the lights and airconditioning when you're not in the room.
The United Nations Conference on Climate Change website also suggests reducing internet use on your computer, phone and tablet: "Internet searches emit almost 10 kilograms of C02 per user per year due to the servers used."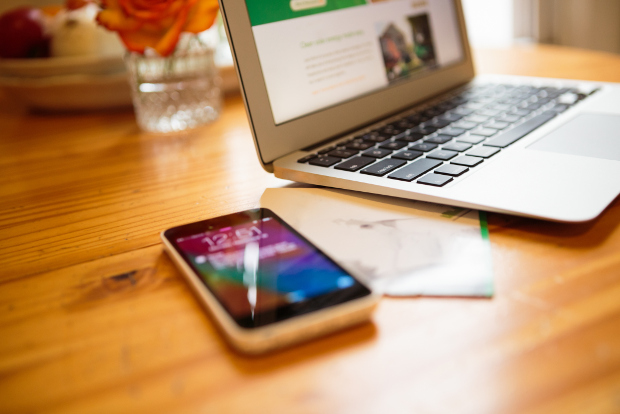 Picture courtesy of Getty Images
---
Both are good for the environment: Public Transport May Be Healthier Than Walking
Think of the next generation: Frequent Business Travel & Happy Family Life Do Exist
---
Choose Carefully
Flights
WWF recommends choosing airlines with higher occupancy rates and more efficient aircraft.
German environmental organisation atmosfair names the Boeing 777, Airbus 330, Boeing 737 Next Generation, Boeing 787 and the Airbus A350 as more efficient options. The atmosfair Airline Index 2015, which ranks the efficiency of more than 100 airlines, puts Tunisia's regional Tunisair Express at No.1 on the list, while the highest-placed Australian airline was the regional QantasLink (60), followed by Qantas Airways (63).
The Rainforest Alliance also recommends booking non-stop flights, as CO2 emissions are greatest during take-off and landing; as well as packing light, as heavy planes burn more fuel.
Accommodation
Look for hotels with green credentials, such as Rainforest Alliance Certified hotels in Latin America and the Caribbean.
Another example is the InterContinental Hotels Group (IHG), which incorporates the InterContinental, Crowne Plaza and Holiday Inn brands, among others, around the world. IHG's Green Engage system measures energy, waste and water use; supports hotels to create environmental action plans; and helps them achieve energy savings of up to 25 per cent. The group also has guidelines on protecting onsite local flora and fauna; encourages guests to participate in hotels' green efforts; promotes local low-carbon transport; encourages the installation of low-flow taps and showerheads; and reduces food waste through careful menu planning and seasonal ingredients.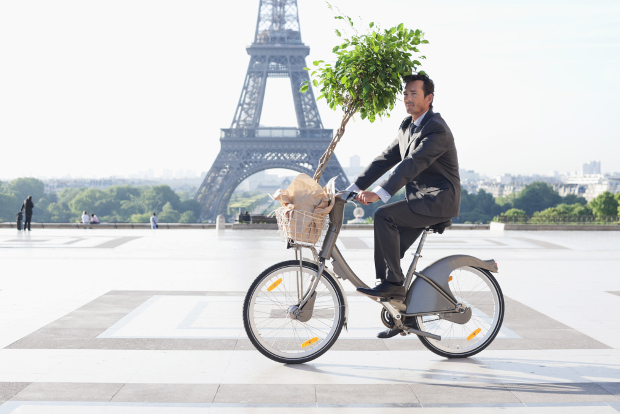 Picture courtesy of Getty Images
Transport
Choose public transport, cycling or walking, over taking taxis or hiring a car. You'll get to know the area better and have a glimpse of life as a local.
Destinations
There's often not a lot of choice in where your business takes you, but try to consider destinations that are closer to home to minimise emissions. If you're looking to do business in countries with green credentials, check out the Environmental Performance Index, created by the Yale Center for Environmental Law & Policy, the Center for International Earth Science Information Network, and the World Economic Forum. The index, which is published every two years, ranks countries according to their performance on environmental issues. The 2014 list had Switzerland at No.1, followed by Luxembourg at No.2, while Australia came in at No.3.
Souvenirs
Think about what you buy. WWF cautions that souvenir-hunters should be wary of any products made from endangered species or plants, including animal hides and body parts, tortoise-shell, ivory or coral, as they could be illegal. The Rainforest Alliance says buying locally grown food and souvenirs from farmers and artisans is a great way to support the local community, and urges travellers to leave 'natural souvenirs' such as shells and stones where they are, to preserve the local environment.
Carbon Offsets
Another option is to compensate for your emissions with an equivalent reduction of carbon dioxide in the atmosphere, through carbon offsetting.
Non-profit Greenfleet has been planting native forest to offset emissions since 1997, allowing individuals and organisations to purchase offsets for flights. For example, a short return domestic flight costs about $12 to offset, while a long return international flight costs about $148.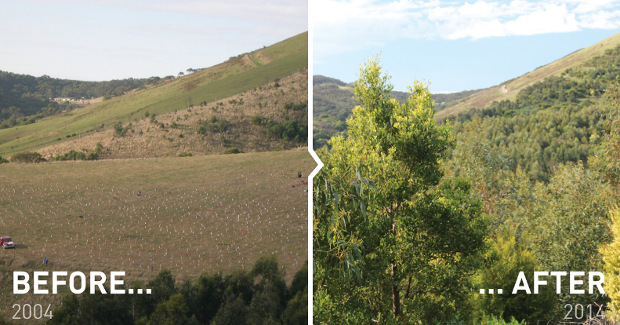 The transformation of Greenfleet's native forest at Battery Creek in Victoria. Picture courtesy of Greenfleet.
Greenfleet marketing and events co-ordinator Louisa Taylor says the organisation calculates how much carbon needs to be offset, depending on the distance flown.
"Through the donations and offsetting payments that we receive from individuals and corporate, we go out and revegetate biodiverse native forests, which is basically sequestering the carbon emitted," Ms Taylor says. "It's a very easy way and it's a practical way of taking climate action."
Since 1997, Greenfleet has revegetated more than 8,500 hectares of native forest in Australia and New Zealand, offsetting more than two million tonnes of CO2. That's 8.6 million trees in 400 forests so far.
Other Travel Articles You Might Like...