6 September 2015
Words by Lizzie Porter
Can you bear the sight of one airline meal? No? How about 150,000 of them? There might not be quite that many on the production line at once, but at the Emirates Flight Catering facility on the outskirts of Dubai airport, I'm looking at quite a few.
Teriyaki salmon fillets, mounds of rice and rows of green beans are neatly placed into little white dishes by hair-netted, white-coated staff. Foil lids are stamped on and the meals are boxed up, ready for the flight to Tokyo.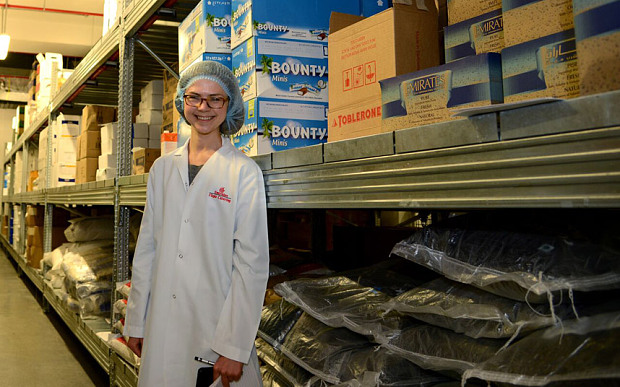 Airline meals may have improved over the years, but given the quality of the food that is dished out at 30,000 feet, it is occasionally difficult to believe that.
As a frequent flyer, I have encountered a pastry that resembled a dog's chew, ham that belonged in a plastic doll's kitchen set, and salty stews that made Dead Sea water seem mild in comparison. What is more, airlines face competition: airport food outlets are increasingly aware that passengers will buy before boarding, fearful of what lurks in the air stewards' trolley.
Last year, Heathrow introduced an "on-board picnic" service, available from 118 cafes and restaurants in its terminals.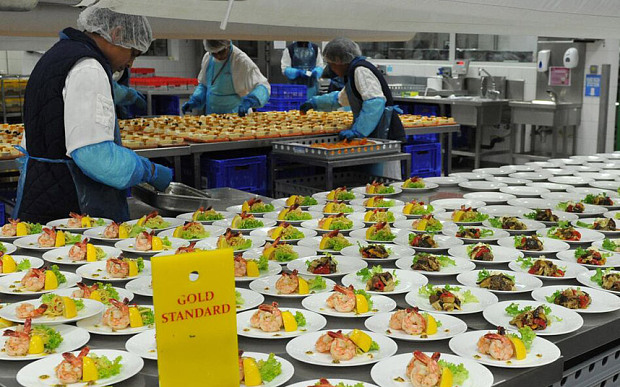 Airlines, then, need to lift their game.
Since it opened in 2007, the Emirates Flight Catering facility has produced a phenomenal 292 million meals. It churns out 150,000 dishes a day, a figure that rises to 175,000 in peak seasons. How does it manage to ensure reasonable quality?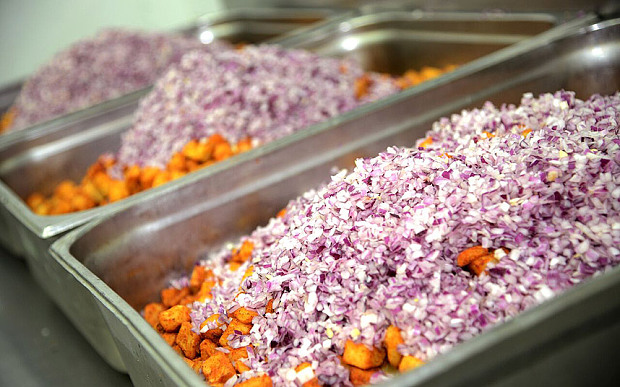 I find myself standing in a freezer that is so large it feels more like the self-service aisle in Ikea. There is smoked Atlantic salmon (14 kilograms per box), tinned black truffles, and halal duck confit, all of which arrive on the 800 pallets that the factory receives every day.
Jane Zdrojewski, operations manager, leads me through the cold kitchen, the first of three food preparation areas. Almost everything eaten on the airline's flights is made here: Arabic bread and Indian desserts are bought in.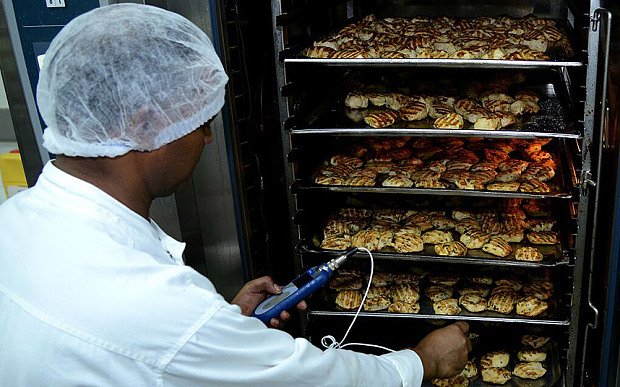 There are enormous tubs of spiced potatoes and diced onion. In the plating room, a man is putting lids on hundreds of Thai sauce capsules. On a counter sit plates next to a "gold standard" ticket, indicating exactly how prepared dishes should look.
Homogeneity is important, says Ms Zdrojewski, "because if someone sees the next plate and thinks it looks better, they might think someone else is getting superior service".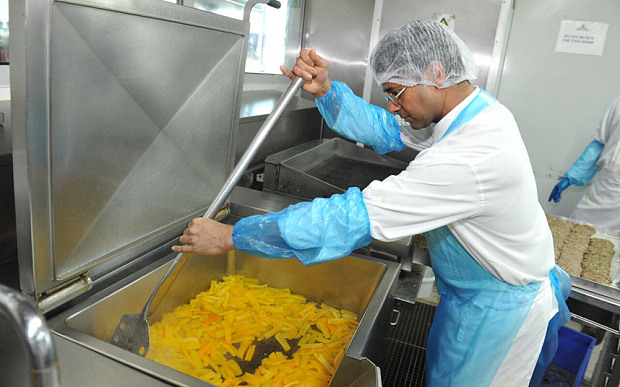 The array of dishes in preparation is astonishing: worldwide the company has 451 menus, which vary according to route, season and customer tastes.
Toad in the hole is popular with the British – but on Eastern routes it will be rice,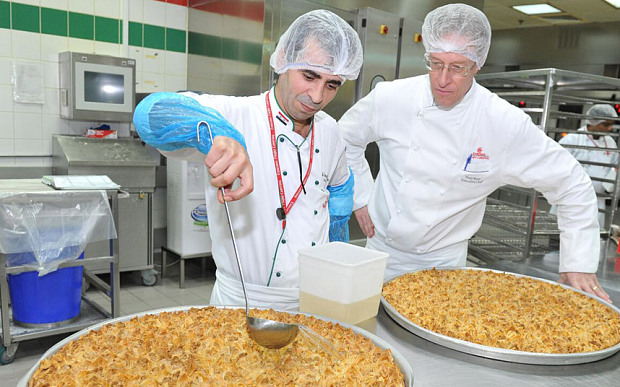 The hot kitchen is exactly that – hot – and more frenetic. Divided by regional cuisine, there are areas for the Far East, the subcontinent, and the Middle East – where someone is tending to a vat of maqboos, an Arab biryani. About 300 chicken breasts are coming out of the oven to cater to European and American passengers.
James Griffith, assistant vice president at Emirates Flight Catering, explains why production is divided according to geography: "Western passengers prefer a meat main – toad in the hole is popular with the British – but on Eastern routes it will be rice."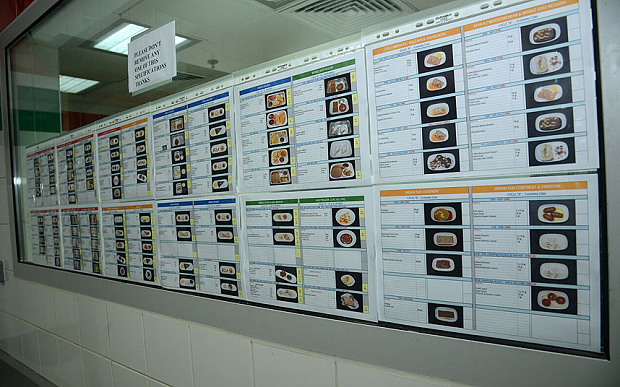 Production begins five days before a flight when frozen food is allocated. A day before, teams start prepping and portioning; 12-18 hours ahead, food is plated.
In the heavenly scented pastry kitchen, 12-deck ovens turn out desserts, scones and pastries. How do the exquisite puddings served in premium cabins stay in place? The blobs of chocolate on fancies don't just taste good but are effective "glue", too.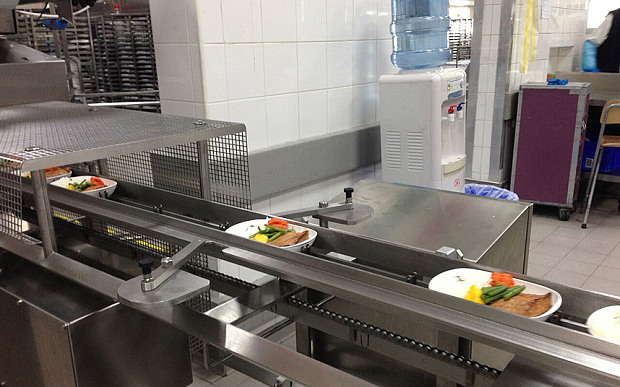 Recipes are astonishingly exact, even in economy. "Product album specifications" list ingredient weights down to the grams of flat-leaf parsley in the first-class tomato consommé, while the economy "roast chicken onion sauce mash potato vegetable" card is illustrated with a "gold standard" picture.
It's back to that teriyaki salmon.
The meals are trundling along a conveyor belt, 25 per minute. When I visited, Emirates had recently introduced a machine for putting lids on economy meals. Previously, this was done manually. The dishes disappear into the machine and plop out the other end.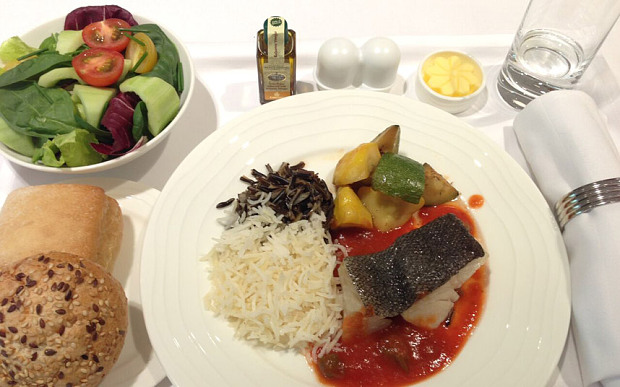 It may come as a surprise to those with a mental image of an aircraft kitchen, but first-class meals are not cooked at 35,000ft. Although the pan-fried cod, for example, is excellent, it is rather less glamorously prepared on the ground, before being bundled into foil containers and reheated in the sky.
In the tray prep room, knives, forks, teapots and trays cover every surface, where 1,000 economy meal sets are made up every hour by an army of Filipina women (the factory employs 4,200 workers). Boxes are then taken downstairs to great loading bays, along with blankets, juice cartons, fake flowers, metal teapots, cuddly toys that look like a bric-a-brac sale, but are all going on the aircraft, too.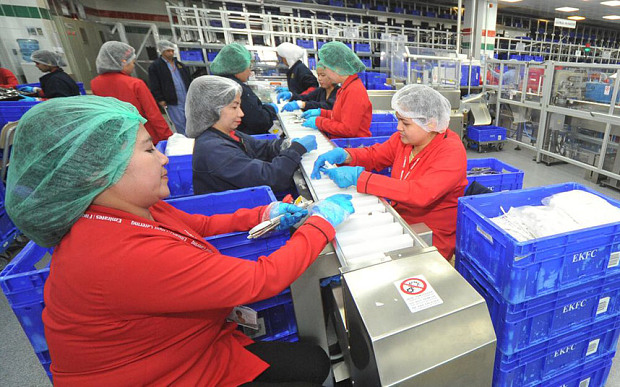 As Dubai is a city built in the desert, about 80 per cent of ingredients are imported – watermelons from Iran or Lebanon, lettuces from Saudi Arabia, lobster from Canada and chicken from Brazil. Salmon is from Norway and the six kinds of potatoes used come from countries including Jordan and California.
Emirates says it is keen to use local suppliers, but they need to be able to provide the enormous quantities required.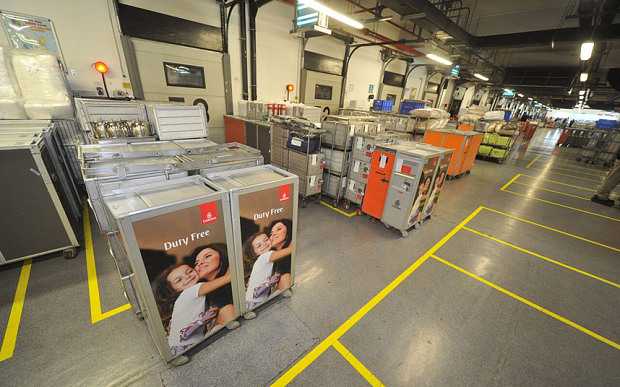 Then there is the wastage. Plastic, aluminium and oil can be recycled, but excess food is thrown away. Economy meals are packaged such that there is one for each passenger (why you often have to make do with second best).
But in first class, half as many again as the total number of passengers are loaded - lessening the risk that there will be no seafood ragout or caviar left – but increasing the amount of food left uneaten.
What about complaints?
"Sometimes people complain when they get their second choice," says Griffith, "but was it the dish or that they weren't happy because it was their second choice?" It's difficult to please everyone, especially when it comes to meat, he says.
But with traditional full-service airlines facing increasing competition from airport takeaway outlets and low-cost carriers where food is not a given, investing in appetising meals is one way to attract customers.
After watching curry after curry, cake after cake and tray after tray go from pallet to plane, I'm convinced that airline meals can be done well. One day, they might even invent a way of doing it without bringing potatoes all the way from California.
 
This article was written by Lizzie Porter from The Daily Telegraph and was legally licensed through the NewsCred publisher network.
Other Travel Articles You Might Like...