26 April 2015
Words by Emma Mills 
Enjoy a drink at the airport in style, whether it be a cocktail, local brew or fine wine. At these airport bars you'll want to have a layover.
Beer Garden, Munich Airport
Europe's largest roofed-in beer garden, complete with chestnut trees and a real maypole, means you don't even have to leave the airport to experience an authentic German beer garden. The glass ceiling, 'pond' and plants make it feel like a large outdoor space where you can take a step back from the busy airport. As of May, the Beer Garden will also put on live entertainment.
Pool Bar, Singapore Changi Airport
Don't pack your swimsuit if you're travelling through Changi Airport. Here, you can enjoy your holiday for a little bit longer and go swimming in the rooftop pool, jump in a relaxing jacuzzi or have fun in the whirlpool, all whilst overlooking the runway. The pool is part of the Ambassador Transit Hotel, it costs $13.91 (A$17.80) to use the facilities, including the use of the showers and towels, plus a free drink from the pool bar!
Runway 34, Zurich Airport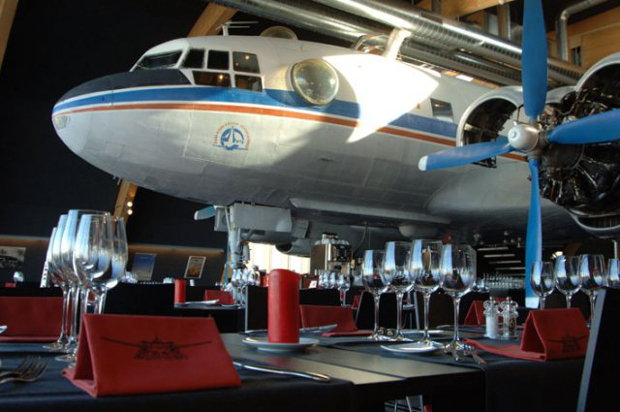 Image: Runway 34
Put some glamour back into your airport journey and stop at Runway 34, a restaurant, bar and cigar lounge, all rolled into one. It's so big it has to be kept in a separate hangar, found underneath a huge Soviet aircraft sitting at the end of the runway. Once you're there, have some "fuel" at the Wingwalker Bar, where you can watch the planes take off. Afterwards, step back in time and peer in the preserved cockpit and radio room or have a cigar in the Smoker's Lounge.
City Bar and Grill, London City Airport
Great food deserves great wines. At the City Bar and Grill, the wine list features modern and enticing New World wines together with classics from the finest French chateaux. The fine wines are served from a special enomatic dispenser that preserves the wine, meaning you can order a glass, or two, without having to purchase the whole bottle. The bar also has premium draught lagers and local ales and lagers.
CRÚ Food and Wine Bar, Denver International Airport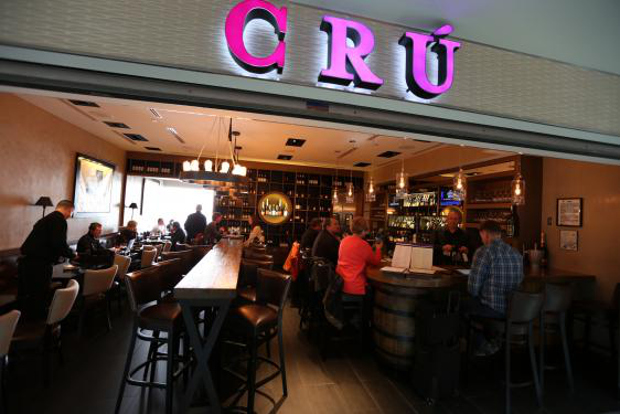 Image: Denver International Airport
A visit to Crú adds a touch of elegance to your layover. This charming wine bar offers Napa style food alongside a list of more than 300 wines available by the bottle, glass or in tasting flights, with prices starting from $12 (A$15.35). Experienced bar staff can help you chose the best wine to complement your food. Try the Charcuterie Board with a glass of Mer Soleil 2012 next time you're stuck at this airport.
Tootsies Orchid Lounge, Nashville International Airport
Enjoy some traditional honky tonk music when in Nashville and visit Tootsies. This famed country music tavern serves a range of snacks, meals and beers, from local Nashville beer, to brews from all over Europe. In its early days, artists such as Willie Nelson and Patsy Cline graced the stage. Nowadays artists still play at the venue, including Aerosmith, Taylor Swift and Jason Aldean.
Deep Blue Sushi, John F. Kennedy International Airport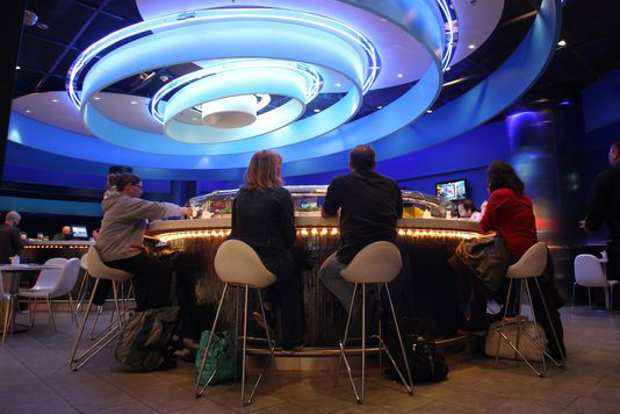 Image: John F Kennedy International Airport
Deep Blue is a sushi bar serving freshly made sushi and "Asian inspired" cocktails, which is what they're known for. Try the Ginfusion, which mixes gin, ginger, coriander and lime juice, or the Shochu Berry Tea for a refreshing beverage.
Eyecon, Copenhagen Airport
Not many bars will serve duck breast and prawns, but Eyecon bar is different. Eyecon serves a sophisticated selection of Scandinavian tapas dishes with a variety of beers from Danish microbreweries, fresh cocktails, wine and the national drink, aquavit.
Centre Bar, Zurich Airport
Centre Bar has been named the "Airport Bar of the Year" in the past and is the place to go for caviar. The bar has teamed up with the Caviar House and Prunier and also serves the very best Swiss Balik salmon from a local farm, alongside a selective champagne and wine list.
Jet's Bar, Belize City International Airport
Hold on to that relaxed holiday feeling at Jet's Bar. Try the owner, Jet's, famous rum punch, while eating a hotdog, the only food served. Before a fire last year, the bar was covered in currencies from all over the world, police badges, religious icons, pictures of Jet with celebrities and more. The bar reopened with a simplified look, however the chilled atmosphere still makes this great. Visitors are encouraged to leave souvenirs for Jet to restore the bar to its former glory.
This article was written by Emma Mills from The Daily Telegraph and was legally licensed through the NewsCred publisher network.
Other Travel Articles You Might Like...