18 December 2015
Words by Renae Robinson
Part of the fun of being in a new city is discovering little eateries and dining like a local. But there's also something to be said for closing the door on the outside world and enjoying a delicious meal from the comfort of your hotel room. And that's where room service comes in.
From the hi-tech (Aloft's room-service via emoji) to the high-end (InterContinental's bespoke recipes designed by a panel of Culinary Ambassadors), hotels are at your service. Just remember in-room dining often incurs extra fees. From LA to New York, here is a sampler of sumptuous offerings in the USA.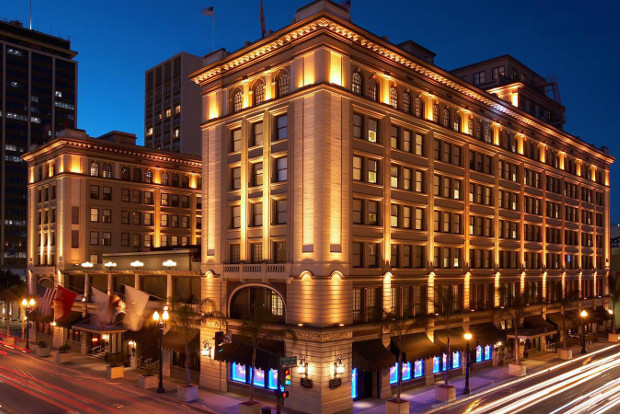 Image courtesy of The US Grant
The US Grant, San Diego
The US Grant – built by Ulysses S. Grant Jr, son of the former US President – opened in 1910 with much pomp. Situated in the Gaslamp Quarter, the Beaux Arts historic hotel was saved from the wrecking ball in the 1970s, and refurbished in the 1980s and again in the noughties. These days, executive chef Mark Kropczynski oversees the landmark Grant Grill, and it is from his menu of Californian cuisine that room-service dishes are drawn. A signature breakfast might consist of egg-white scramble with kale, broccoli and heirloom tomatoes; and mains include roasted half chicken breast with farmers market roasted baby carrots and pomegranate syrup; or slow-braised pork with hand-cut rigatoni.
The drinks menu features Champagne from France and sparkling from Italy, plus a range of Californian and international wines. But the real stars are the San Diego craft beer offerings from the likes of Stone Brewing Co and Mission Brewery. Meals are available 24 hours a day, albeit with restrictions depending on the time of day.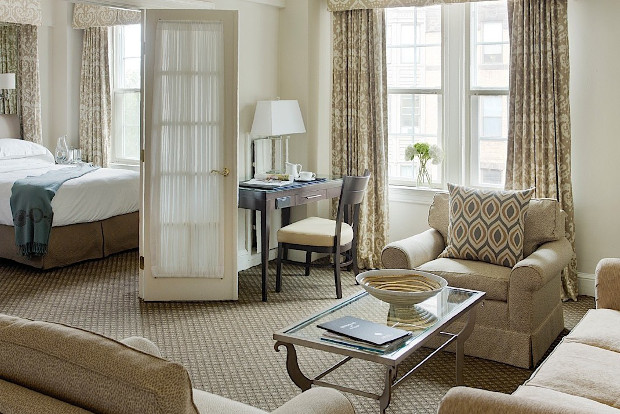 Image courtesy of The Eliot Hotel
The Eliot Hotel, Boston
Situated in downtown Boston's Back Bay neighbourhood, The Eliot Hotel is minutes away from the Museum of Fine Arts, Fenway Park (home of the Red Sox), Newbury St and the Hynes Convention Centre. Touted as the place that foodies like to stay in Boston, the historic, Neo-Georgian hotel offers 24-hour room service, drawn from Ken Oringer's highly decorated restaurants Clio Restaurant (French) and Uni Sashimi Bar (Japanese fusion).
Signature dishes from Oringer's eateries include the likes of tuna poke with mung beans, vidalia onion and seaweed; or striped bass with smoked dashi, braised yuba and broccoli rabe. Breakfast offerings include creamy scrambled eggs, with smoked salmon and caviar. Room-service dishes may vary, but you can check them out when you order from your in-room ICE touch screen.
---
Dark moments: The Joys And Perils Of 24-Hour Room Service
Table for one: Dining Alone On A Business Trip
---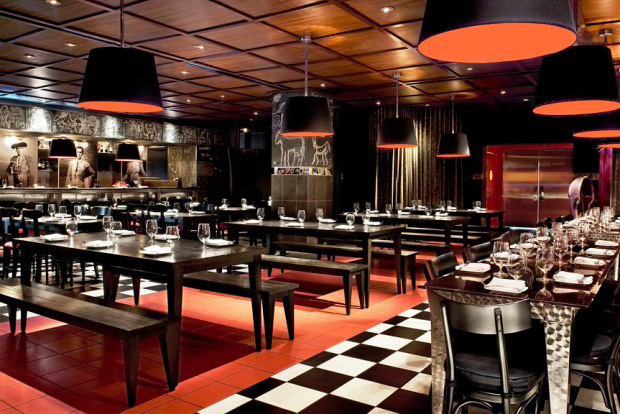 Image courtesy of SLS Beverly Hills
SLS Beverly Hills, Los Angeles
A few blocks from the glitz of Rodeo Drive, the ultra-modern SLS Beverly Hills, which opened in 2008, offers Los Angeles luxury with interiors by Philippe Starck. Acclaimed culinary director chef Jose Andres offers a 22-course tasting menu in SAAM, inventive tapas in The Bazaar by Jose Andres; comfort food with a twist in Tres; and signature cocktails and light fare at the Altitude Pool.
Andres, who is often credited with bringing 'small plates' dining to the US, is also the creative force behind the vast array of room-service offerings, which you can order via the SLS app. Think Spanish comfort food, such as jamon iberico and cheese plates, olive oil mini pancakes or a Catalan breakfast.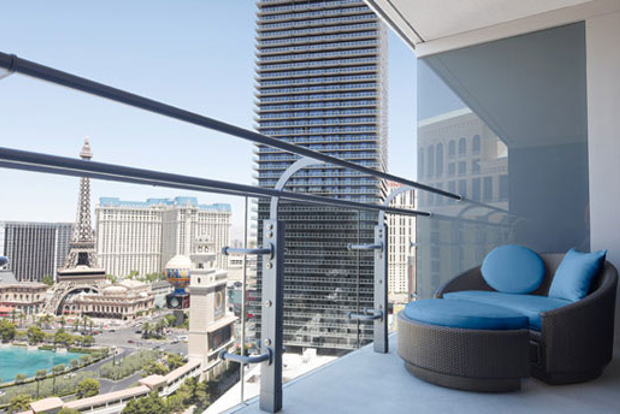 Image courtesy of The Cosmopolitan
The Cosmopolitan, Las Vegas
The Cosmopolitan prides itself on making "staying in the next best thing to going out", where you can enjoy meals served with a view of the Vegas skyline. The room service menu is available 24 hours; with an 'express menu' promising to deliver your meal within 30 minutes. Items include a smoked salmon sandwich for breakfast; or a chicken Caesar salad or hand-cut turkey club sandwich for main.
The regular room-service menu has much more elaborate offerings, including Kataifi wrapped Dungeness crab benedict with sweet corn puree for breakfast; and a large range of sandwiches, pizza, pasta, steak and seafood (served with garlic fingerling potatoes and seasonal market vegetables) at other times of the day. There is also a range of 'crowd pleasers' for groups of eight, from pre-game snacks to Middle Eastern mezzes.
But it wouldn't be Vegas without cocktails delivered to your room. The Smartender is a portable, touch-screen bar that lets you curate cocktails to your taste – and you can pay extra for a bartender. Or try the steamer trunks – refashioned valets that offer a portable, full-service bar delivered directly to your room. Warning – these options don't come cheap.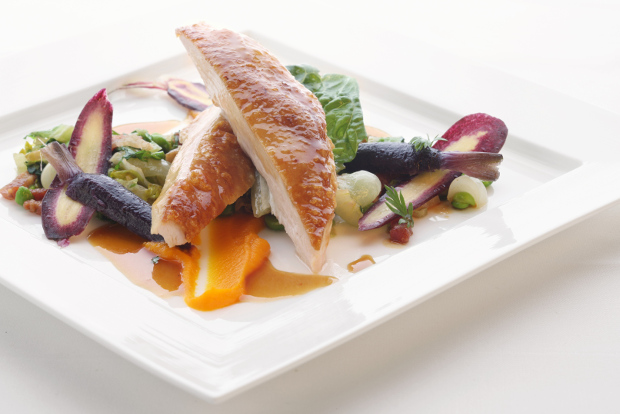 Image courtesy of The Surrey
The Surrey, New York
The Surrey is an intimate Upper East Side hotel built in 1926 that was once home to the likes of JFK, Bette Davis and Claudette Colbert, among others. In-room dining is provided courtesy of Daniel Boulud's Cafe Boulud, which has one Michelin star among its accolades. Under the direction of executive chef Aaron Bludorn, seasonal dishes with market-fresh ingredients prepared by the restaurant can be brought up to your salon at any hour.
The restaurant offers a twist on French cuisine. Breakfast dishes at the restaurant include brioche French toast with orange butter and passionfruit syrup, and lox benedict; while lunch offers escargots vol-au-vent, and masala-spiced swordfish. Dinner might be duo de boeuf bourguignon, seared foie gras, or chanterelle risotto. The fare is an ideal accompaniment to in-room mixology courtesy of Bar Pleiades, where you can choose a signature hotel cocktail from the in-room menu, and a resident mixologist arrives to mix and pour your first round.
Other Travel Articles You Might Like...
Request an appointment with a Business Travel expert