11 March 2015
Words by Rachel Surgeoner
When you're travelling for business it's easy to make poor decisions when it comes to diet and exercise. Time zones can wreak havoc on your body clock and coffee and fast food can quickly become your only saviour when travelling for business, or pleasure for that matter.
Here's a list of tips compiled from seasoned travellers who make it their business to stay fit on the road!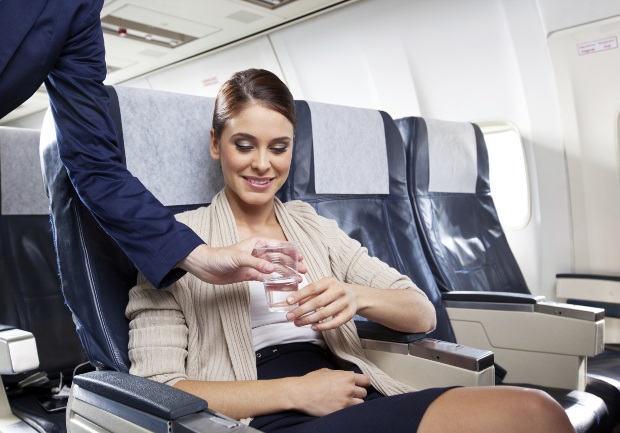 When flying
Drink up: It's important to stay hydrated while flying, especially long distance. An airplane trip can leave the skin feeling dry, tired and lifeless. Drink 500ml of water for each hour you fly and try to avoid sugar-laden drinks and alcohol. Even if it means you're up to use the amenities several times during the flight, your skin (and your kidneys) will thank you. Moving around and getting the blood pumping is essential during travel too, to avoid deep vein thrombosis, so those bathroom breaks have an upside.
Opt for the fish: According to Singapore Airlines, research has shown that eating the right kinds of food can leave people up to 16 times less likely to suffer from jet lag. When given the option between the red meat or fish, go with the fish meal. Firstly, the lighter option is always best when flying as it aids with digestion. Secondly, fish can also better withstand being reheated without losing its texture. You're better off landing feeling somewhat hungry and then tracking down a healthy, high-protein meal that will keep you fuelled to fight off jet lag as you adjust to the new time zone.
Stay green: Ask for Green tea instead of black – it's better for stimulating digestive enzymes and its all-round detoxifying properties help to alleviate bloating, a common in-flight problem.
Don't forget your vitamins: If you're worried about getting run-down on the road, be sure to pack enough multivitamins for the duration of your trip. A few Berocca never go astray when it comes to boosting brain power by topping up your zinc and vitamin B and C levels.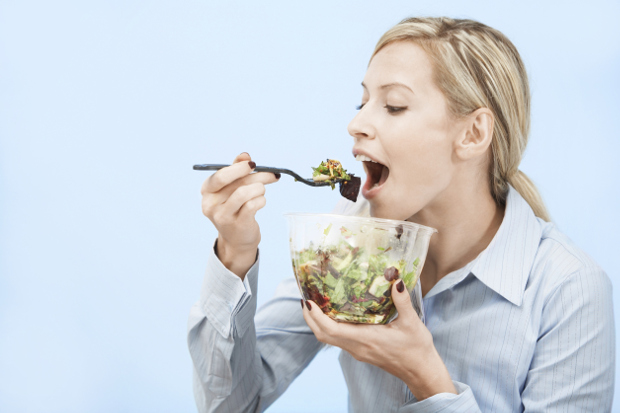 At the buffet
However tempting, avoid fried breakfast options and instead stick to the fresh fruit, yoghurt and cereal section of the breakfast bar.
If you must eat an unhealthy meal, or you over-indulge at a business lunch, just make sure your following meal is a healthy one. Pick up a salad. Even a McDonald's salad is good choice if you're at a loss for options.
When eating out at restaurants always opt for the leaner options: soups, salads without heavy dressings for entrees and the fish, lean meat or vegetarian options for mains. Steer clear of anything with a cream-based sauce and go easy on the bread basket!
Always ask if you can replace a side of chips with a salad instead at cafes and restaurants. Or even enquire about half-sized portions to keep calories in check.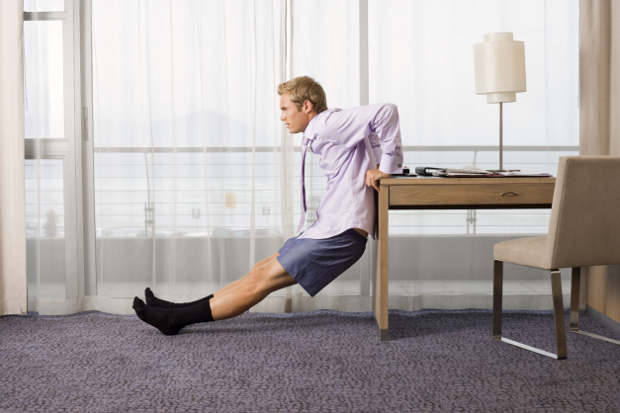 Pack your trainers
Don't forget to pack enough changes of workout clothing too – not having a spare t-shirt is an all too convenient exercise scapegoat.
Remember, exercise is essential, even if it's just 20 minutes each day on the treadmill at the hotel gym. If your hotel doesn't have a gym – improvise!
Ask the hotel concierge if the neighbourhood is safe and ask for a recommendation where to take a brisk walk or run.
If you can't schedule a daily work out, opt to take the stairs wherever possible. Or walk instead of taking a taxi or public transport where possible.
Prefer to workout in private? Cue the music and do basic calisthenics (lunges, sit-ups, crunches, push-ups, squats) in reps of 15 for three or more sets in your hotel room. You can also work up a sweat with some low impact cardio – think star-jumps and running on the spot.
If you have your laptop or iPad handy, YouTube has a number of great short exercise routines to follow including yoga and cardio workouts with instructors.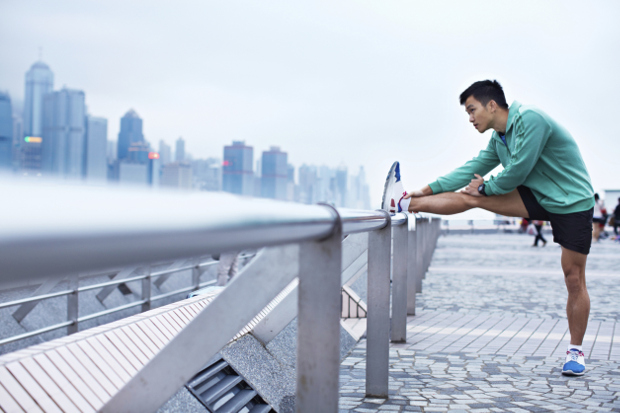 Snack attack
One sure-fire way to avoid hitting up the vending machine at the airport is packing a range of health food snacks in your carry-on. Having a few muesli bars or fruit and nuts is the way to go.
When at meetings and conferences, skip the pastry and doughnut platters and stick to the fresh fruit options.
When it comes to after-work drinks, you needn't miss out on a celebratory toast – just opt for drinks made with soda mixers or choose a glass of wine over high-calorie cocktails.
Allow a splurge! To curb cravings, have a piece of dark chocolate in reserve for those sugar cravings, or treating yourself to a chai latte or your favourite speciality coffee once in a while is also okay.
Other Travel Articles You Might Like...