31 May 2015
Words by Sophie Lam
Travel is becoming increasingly impersonal.
Railway station ticket offices are being chomped up by machines, while the airport experience is rapidly being swallowed up by technology as we're encouraged to download and self-serve rather than interact with another human being.
So, when I recently attended the launch of keyless technology at Starwood's W hotel in central London, I felt like the left-out Luddite in a crowd of screen-wielding fanatics.
The hotel giant is closing the door not just on the traditional room key (those were phased out years ago) but the keycard, too.
Instead, guests download its SPG (Starwood Preferred Guest) app to their smartphone or Apple Watch and open their bedroom door simply by hovering their device in front of the lock.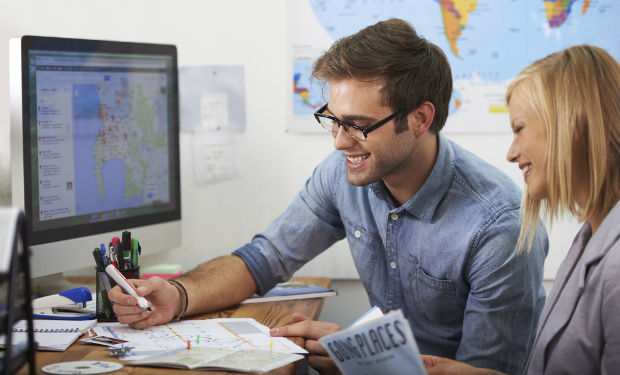 Clearly, there are benefits: you're less likely to lose your phone than a flimsy card hastily slipped in a pocket or thrown in a bag. At check-in, there's no need to trouble the front desk; you walk straight up to your room (the number of which has been revealed to you on the day) and hey presto, you're in.
Once unpacked, what if you've forgotten your toothpaste? Don't even think about picking up the phone to call housekeeping. Simply use the app to interact with the hotel to request a tube to be sent to your room.
Easy peasy. But to use the service, you need to be a Starwood Preferred Guest – a subscriber to the group's points-based loyalty scheme that previously targeted business travellers, but now seems to have its sights on all technology-embracing travellers.
Moreover, the keyless entry function is "rolling out" across its 1,200-plus properties, but is currently available at fewer than one in 10 of that number.
Personally, I think travel benefits from a degree of human contact. Introducing a layer of technology separates us from the very people that could enhance our emotional experience.
The manner in which we are greeted at a reception desk says a lot about the hotel. Friendly and personal or formal and hasty, it should inform the rest of your stay.
I still remember the genial guesthouse owner in Quepos, on a visit to Central America's Pacific Coast 12 years ago. He would remark with concern on my degree of sunburn as I returned from the beach each evening and sent me home with a Costa Rica fridge magnet as a memento of my visit.
The same goes for transport.
While check-in desks are slowly being checked-out, can you imagine an airline without cabin crew, relying on vending machines for refreshment and back-of-seat information for safety reassurance?
Similarly, we expect and enjoy a level of service at a restaurant that isn't inherent at a self-service buffet.
In Sardinia, you might like to have somebody on hand to explain that the casu marzu on the menu isn't just "rotten cheese" as a nifty translation app will tell you, but also contains live fly larvae.
As convenient, impressive and imaginative as technology is, I'll stick with my keycard, for as long as my fellow humans allow it.

This article was written by Sophie Lam from The Independent and was legally licensed through the NewsCred publisher network.
Other Travel Articles You Might Like...