8 June 2015
Words by Jamie Merrill
This new system will offer passengers the chance to have a steward take their luggage from them at the gate and place it in the compartment above their seat.
Ever since Orville and Wilbur Wright tossed a coin to decide who would board the first biplane, boarding an aircraft has been a fraught and long-winded affair.
Now though, an American airline is trying to banish one of the greatest annoyances of boarding a modern passenger aircraft – the battle to find space for your carry-on luggage in an overhead compartment near your seat.
In a headline-grabbing move that airline executives hope will take some of the stress out of the boarding process and reduce expensive delays before take-off, Delta is to offering a "preload" service for carry-on bags on certain flights from this summer.
The new "Early Valet" system will offer passengers on busy US routes the chance to have a steward take their luggage from them at the gate and place it in the compartment above their seat. The hope is that the new wheeze will reduce the impact of the frantic scramble for seats as passengers battle each other for space in overhead compartments near their seats.
Airlines frequently tweak their boarding and luggage procedures to reduce delays and reduce aircraft turnaround time, with competing schools of thought focusing on assigned and free-for-all seating methods, while passengers attempt to scramble aboard regardless.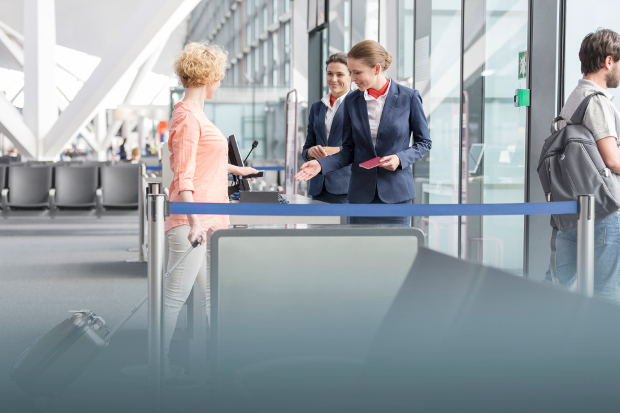 Raymond Kollau, founder of Amsterdam-based trends research agency Airline Trends, said: "This is another example of how airlines are looking for creative solutions to this issue, as no magic solution has been found yet. For example, other airlines have come up with algorithms to determine the best sequence of boarding, or let passengers without hand luggage board first." 
In the UK several budget firms, including EasyJet and Ryanair, have already experimented with encouraging customers to purchase approved carry-on luggage to speed up the process, while other airlines have experimented with letting passengers board early if you do not have aisle-clogging carry-on bags, such as wheelie suitcases.
The American schemes follows moves in Europe to abolish free-for-all boarding to speed up departure and save airlines money. In 2012 EasyJet attempted to end the desperate rush for prime seats on low-cost flights by launching allocated seating across its network for the first time. Ryanair followed the following year, scrapping its free-for-all seating policy, while offering passengers the chance to sit together if they paid £5 (A$9.50)  to pick a seat.
Last year Dutch airline KLM introduced a boarding process called "Smart Boarding", which sees passengers issued with a boarding number and called forward by large screens, only allowing one person at a time to board the aircraft.
The Delta service is being introduced this week after trials last summer in Atlanta and Los Angeles. It follows research that showed every minute a plane stands idle at the gate costs the airline £20, adding up to vast sums across the industry, according to AP.
Gary Leff, co-founder of frequent-flier website MilePoint, said the service would be one of the biggest benefit to passengers who were running late or were left until last to join the aircraft, who often board to find full overhead bins, but said that higher staffing costs would make it unviable in the long run. He told AP: "This has the potential to come across as a nice, high-end service, but I'm sceptical that it will go mainstream."
Nick Gates, from aviation firm SITA's baggage team, said: "Having airline staff pre-load carry-on bags must be of interest, particularly for passengers who don't find it easy to put their bags into the overhead lockers, such as passengers with children and those that find it physically challenging to lift their bags. Reducing the time taken to turnaround aircraft by speeding the boarding process can certainly help improve on-time flight departures, which can lead to reduced costs for airlines.
Delta's new service will focus on the busiest airports and holiday flyers, as the airline tries to find out if its staff can load carry-on luggage faster than its passengers. It is not being offered on business routes; presumably because business travellers know how to board a plane efficiently.
This article was written by Jamie Merrill from The Independent and was legally licensed through the NewsCred publisher network.
Other Travel Articles You Might Like...