8 December 2015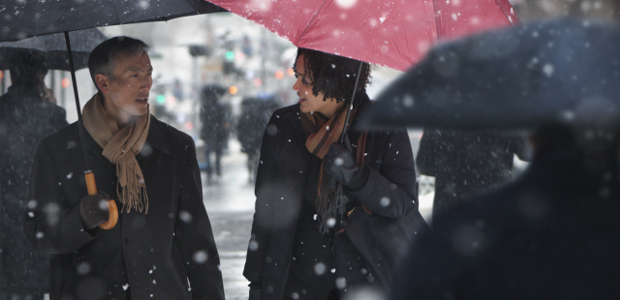 Words by Carlie Tucker
Summer is officially here and it's shaping up to be a scorcher! We're all swapping out our wardrobes with breathable suits and short sleeves, but what if business dictates a trip to two to the wintery northern hemisphere?  Those light linens and silks won't fare so well in the ice, snow and freezing temperatures. Do you have what it takes to get through a winter in the north? Here's a look at what to pack.
The key to winter dressing is layers. It doesn't matter if you're a man or woman working in a corporate or creative environment. Layering is universal, and it can be broken down like this:
Base: Thinnest, lightest layer along the lines of cotton t-shirts and leggings
Main: Add on some thicker clothes that will insulate such as a wool suit, sweater or jeans
Outer: The thickest layer should be made up of a heavy winter coat, scarf and gloves
Another universal tip is to let the season dictate your colour palette. Skip bright, summery shades when choosing your items.  Not only does this ensure you're not sticking out like a sore thumb, but it also makes it easier to pair all items and take looks from day to night. This means you can pack less, sticking to the coveted carry-on even for travel up to two weeks.
And, with all clothing choices, make sure the fit is right. Especially when it comes to pants. You don't want to drag your cuffs through the wet, slushy snow.   
Men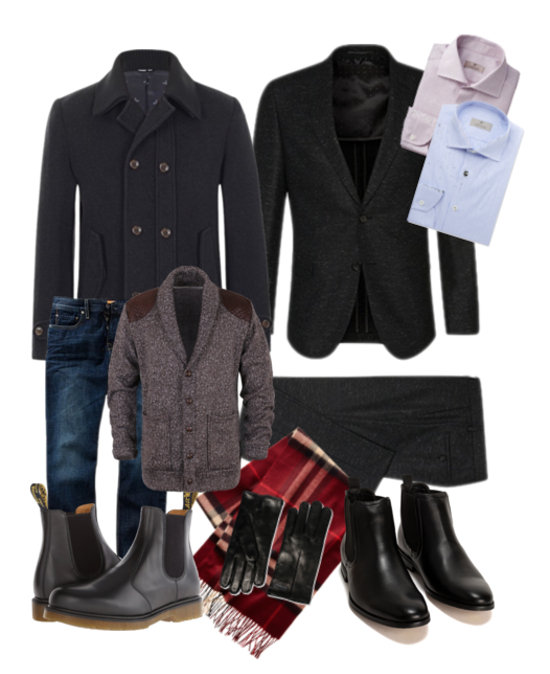 Men heading to a corporate office should seek out a quality wool suit. The wool will not only look nice but will help keep you warm. Pair it with a nice, crisp dress shirt and finish off with a tie. For those that work in a more creative environment, keep things a little more casual with dark jeans, a long sleeve cotton shirt and wool or cashmere sweater.
---
Men, find out how to make a capsule wardrobe. Capsule Wardrobe 101 For Men
Here's a few ideas for the ladies too. Capsule Wardrobes For The Stylish Jetsetter
---
As for shoes, try to find a pair of boots that can stand to get a little wet. In other words, skip the suede if you're headed somewhere with snow. You'll also want a sole with a little traction on it. This can be difficult with dress shoes, but you don't want to be slipping and sliding if there's ice outside.
Finish everything off with a sturdy overcoat, nice pair of gloves and a scarf. The latter is your chance to inject a little colour into your wardrobe, but remember less is more.
Women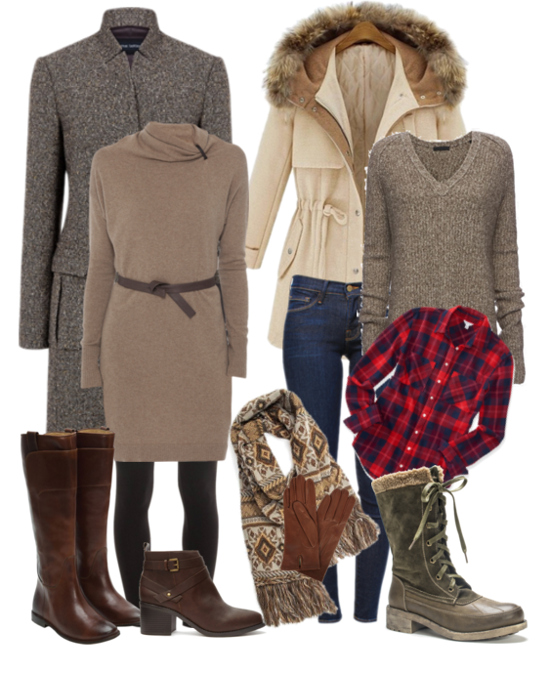 Ladies working in a corporate environment have a few options when it comes to dressing up for the winter. Choose between a tailored suit, sweater-pants combo or a knee length dress. Just add a pair of leggings to the latter to keep those gams warm. If you're more business casual, jeans are always a great choice. They're warm in the winter and can go with just about any kind of top. Speaking of which, a nice wool sweater or fitted flannel shirt is safe (and cosy) bet.
When it comes to shoes, women must resist all urges to sacrifice for fashion. Heels are a definite no-no in the snow and ice. Like the gents, you'll want to find something that can stand to get a little wet with some decent traction on the sole. If you absolutely must have some height, pick a thick, short heel or wedge. Boots are best, with knee highs providing just a little extra bit of layering for warmth. Top your look off with a winter scarf and some gloves.     
Images by Carlie Tucker via Polyvore
Other Travel Articles You Might Like...
Request an appointment with a Business Travel expert