3 March 2015
Words by AFP Relaxnews
Virgin America and Delta Air Lines have emerged the leaders in the race to bring wireless connectivity to the skies, according to a new report card on in-flight Wifi.
After analysing the Wifi capabilities and services of commercial flights, Routehappy.com, a site that ranks flights based on their "happiness factor" (Wifi, in-flight entertainment and service etc.), concluded that odds of getting in-flight Wifi in the US are highest on carriers Virgin America and Delta Air Lines.
When it comes to non-US airlines, the same could be said of Icelandair, Norwegian and Etihad.
A closer look at the stats, meanwhile, shows that while Virgin America may boast the highest percentage of flight miles and flights with Wifi and in-seat power, when it comes to actual number of flights, Delta comes out on top with more than 3,500 flights offering in-flight connectivity.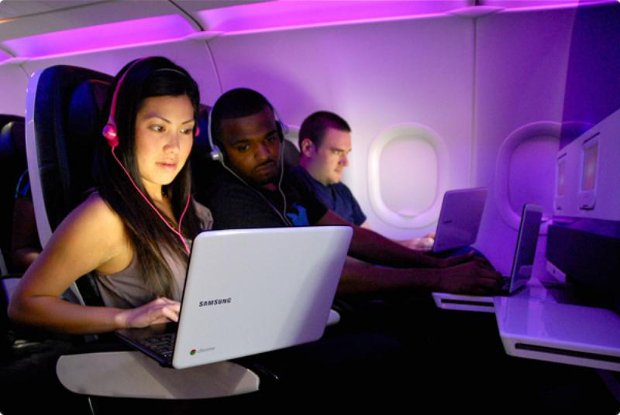 Overall, the report found that flyers now have at least "some chance" of accessing Wifi on about a quarter of flight miles worldwide.
"Some chance" is defined as up to a third of an air carrier's fleet.
As for quality, JetBlue was deemed to boast the best Wifi service.
Here's a closer look at how the airlines check out.
US airlines with the greatest number of flights with Wifi:
1. Delta Air Lines
2. American/US Airways
3. Southwest
4. United
5. JetBlue
6. Alaska
7. Virgin America
Airlines with the greatest percentage of flights with Wifi:
1. Virgin America
2. Southwest
3. Delta
4. JetBlue
Non-US airlines with highest percentage of flight miles with Wifi
1. Icelandair
2. Norwegian
3. Etihad
4. Singapore
5. Lufthansa
6. Iberia
7. Aeroflot
8. Emirates
9. Japan Airlines
10. Qatar
11. Thai Airways
12. Turkish Airlines
Copyright AFP Relaxnews, 2015.
This article was from AFP Relax News and was legally licensed through the NewsCred publisher network.
Other Travel Articles You Might Like...