8 June 2015
Words by Hugh Morris
Holidaymakers flying to Portugal this northern summer are most likely to suffer delays, new research suggests.
More than half of UK flights (51 per cent) to the country last year, departing between June 1 and August 31, were delayed or cancelled, while the same is true of 45 per cent of services to France, 37 per cent to Spain and 33 per cent to Turkey.
Six popular holiday destinations featured in the study. Those heading to Greece  were most likely to leave on time, with only 14 per cent delayed or cancelled, while Egypt was second best with 19 per cent.
Countries and delayed/cancelled flights
|   | Delayed/cancelled |
| --- | --- |
| France | 45 |
| Spain | 37 |
| Egypt | 19 |
| Turkey | 33 |
| Greece | 14 |
| Portugal | 51 |
The data compiled by airline passenger compensation website flightright.co.uk also looked at individual airport figures and found that Istanbul (both Atakurk and Sabiha Gocken aiports) and Nice in the south of France were the worst destinations last summer for delays, both registering 64 per cent of inbound flights delayed or cancelled.
Lisbon, Portugal, had 61 per cent of inbound flights delayed or cancelled.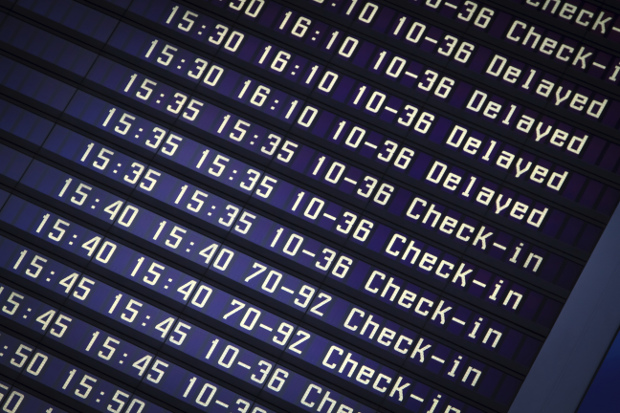 As far as UK airports are concerned, the research found that Heathrow suffered the most delayed or cancelled flights (54 per cent), with Gatwick second (40 per cent) and Manchester third (29 per cent).
The data from June, July and August last year used a margin that defined delayed as one second or greater after scheduled departure, rather than the 15 minutes used by the Civil Aviation Authority (CAA).
The CAA also uses different time periods to analyse flight data - four quarters of a year, rather than the summer months. As such, this data does not tally with its own. A spokeperson told Telegraph Travel that the two are not comparable.
For example, the CAA's figures for the third quarter of last year put Nice's delayed percentage at 36 per cent, and Lisbon's at 40 per cent.
Marek Janetzke, managing director of flightright.co.uk, suggested people may want to choose a summer holiday destination based on potential disruption to their journey.
He said: "Most passengers still do not know about their rights as airlines frequently leave them without information or don't tell them that they are entitled to compensation or support.
"It only takes a three-hour delay to be eligible for compensation of up to £500 (A$945)."
Meanwhile, separate research by dayuse.com, a website that specialises in day bookings for hotels, found that Mauritius to Gatwick was the most frequently delayed long-haul route, with 25 per cent of flights delayed by more than three hours.
A quarter of flights from Phuket, Thailand, to Gatwick were delayed by between one and three hours, as were 23 per cent of flights from New York to Glasgow.
This article was written by Hugh Morris from The Daily Telegraph and was legally licensed through the NewsCred publisher network.
Other Travel Articles You Might Like...