27 May 2015
Words by Ben Stower
Since the start of this year, travellers at London's Gatwick Airport have been able to use a 'Workpod' while waiting for their flight. The Workpod is a new concept, having only been rolled out by global workplace provider Regus at one airport, but it's an idea that could take flight (pardon the pun) depending on initial success.
With the prospect of the Workpod coming to an airport near you, it's time we took a look at these private work stations to determine whether or not they're worth getting excited about.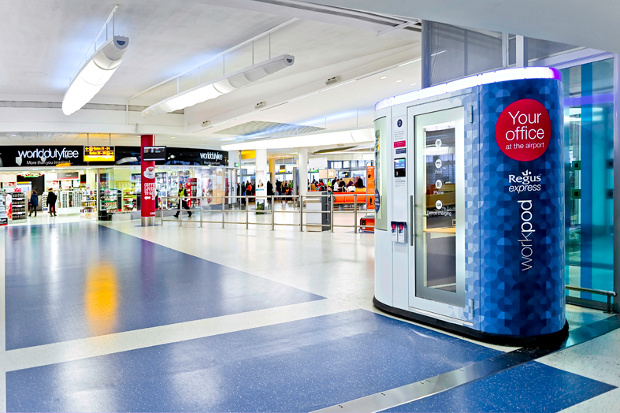 All images by Regus
What Is A Workpod?
That's the million-dollar question, because if you were walking through the airport you might not even recognise a Workpod before you had passed it. These unassuming, compact offices look similar to a phone booth. The big difference is they pack a lot more inside.
"Workpods offer business travellers everything they need when working on the move: a quiet space to check emails, make that last call or concentrate on urgent work before they fly," said Global Managing Director of Regus Third Place, Phil Kemp.
Behind the glass door is a private workplace with all the elements necessary for a productive session: Wi-Fi, desk and comfortable chair, chargers for mobile devices, a computer monitor and a telephone that can make calls to any number within the UK.
How Can You Guarantee Your Workspace?
Unlike your office cubical back home, you can't stroll into the airport expecting a Workpod to be left vacant and waiting for you. There typically won't be more than a few located in the airport, so Regus has implemented two options for checking into your on-the-go workplace.
To pre-book, you need to visit Regus' website and fill out an online form. The other option is simply walking up to an empty Workpod and swiping your credit card across the reader. Regardless of which method you choose, the cost is £10 ($A20) for every half-hour with a £2 ($A4) service fee included.
Make sure you leave yourself enough time, because you lose access to power and connectivity once the paid-for time has elapsed.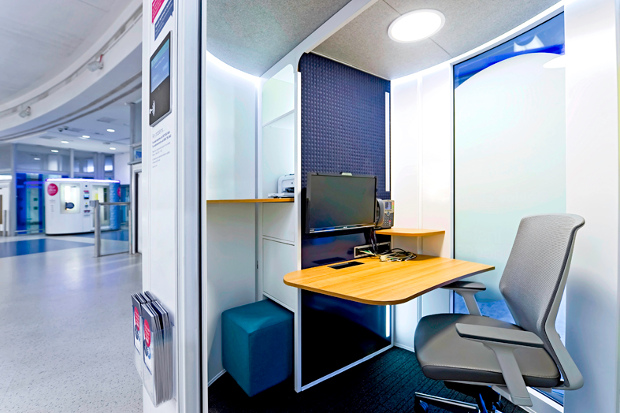 Where Can You Find One?
At the moment airport Workpods can only be found at London's Gatwick Airport in the south terminal. Installed at the beginning of 2015, Regus has plans to add more to the north terminal sometime this year.
"Business travel continues to grow at Gatwick, with one in five passengers now travelling on business to a range of destinations ... The Regis Workpods will be another key addition to the modern new facilities we offer business passengers," said Gatwick's chief commercial officer, Guy Stephenson back in January after the Workpods were first implemented.
If a similar trend continues around the world, there's a high possibility we'll start seeing more Workpods or variants of the original popping up in frequented international airports. 
Other Travel Articles You Might Like...