14 July 2015
Vive la France! It's Bastille Day and no French holiday is complete without good food. So let's pay tribute to the country that made eating pastries for breakfast acceptable, by acknowledging 10 mouth-watering French dishes that have changed our lives for the better. Calorific and delicious, here are 10 edible reasons to celebrate France.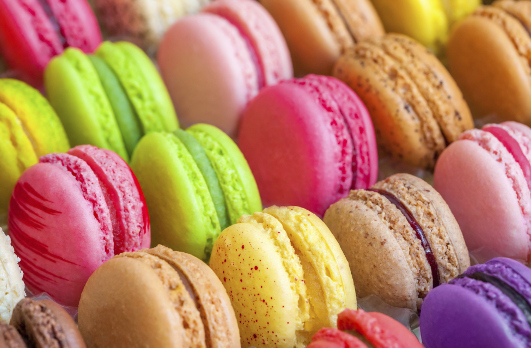 Macarons
These colourful confections have gained worldwide recognition in recent years, but have long been a staple of French patisseries. Two delicate meringue-like cookies are joined together by a creamy filling and it's their unique texture that is at once crisp and yet chewy, that is surprisingly hard to master. Macarons typically come in a rainbow of flavours, from salted caramel to pistachio.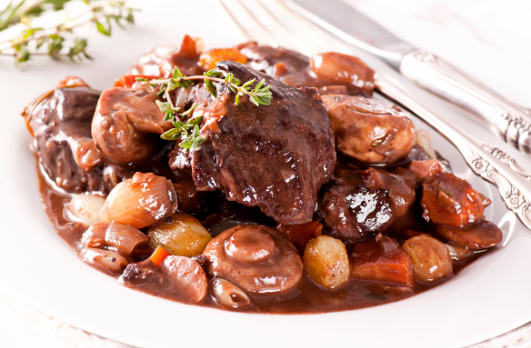 Beef Bourguignon
Thanks to Julia Child, beef bourguignon is now a far more familiar and even approachable dish than it once was. A heavenly combination of beef, bacon and red wine, it is a hearty stew that will warm you from the inside out. With braised onions, melt-in-your-mouth beef and sautéed mushrooms, the full-bodied dish can be devoured alongside a crusty baguette.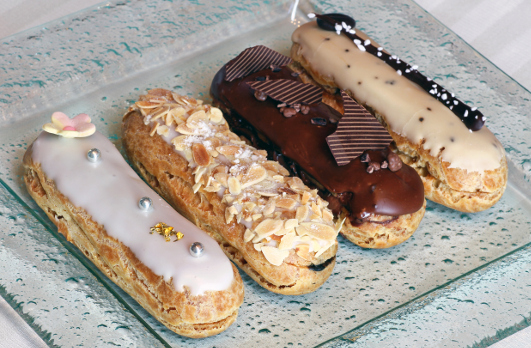 Éclairs
You can't truly appreciate France's famous pastries without having taste-tested an authentic, handmade, cream-filled éclair. A popular sweet treat, éclairs, like profiteroles, are made from choux dough. It is piped, baked until crisp, filled with pastry cream and topped with fondant frosting. Common flavours for éclairs include chocolate, coffee and vanilla.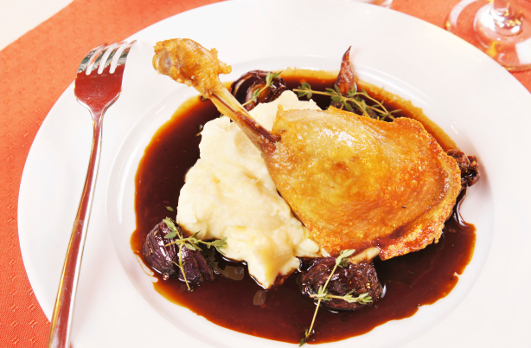 Duck Confit
Confit is a traditional French cooking technique, where the duck is slowly cooked in its own fat until it becomes meltingly tender. It is a truly indulgent dish, often flavoured with garlic, thyme, pepper and salt. Just before serving, the duck leg is fried skin side down in a hot pan, so it forms a lovely crisp skin. This tempting dish may be served with potatoes, sautéed greens or cassoulet.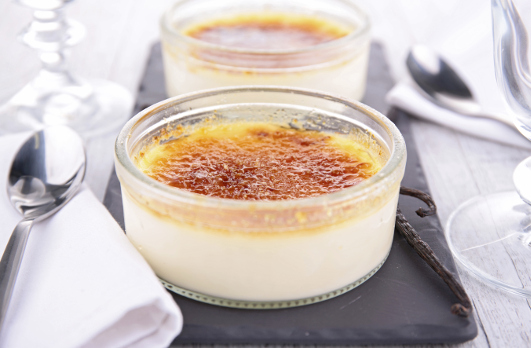 Crème Brulee
Chances are you've had crème brulee before, and if you enjoyed it, you know who to thank. The French have perfected this darling custard dessert, with its creamy vanilla flavour and that all important burnt toffee crust. This classic, yet simple, dish remains relatively unchanged from its origins, although it can be served in different variations such as lavender, orange and coffee.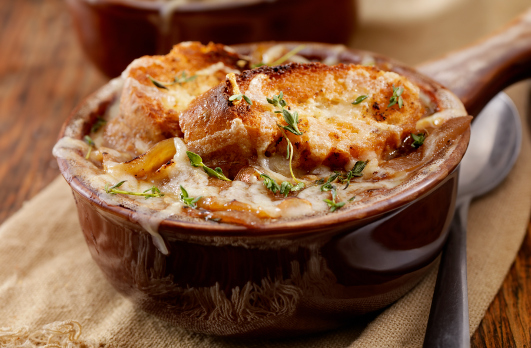 Soupe a l'oignon
Soupe a l'oignon or French onion soup is a classic French dish. This robust starter is typically made with beef broth and caramelised onion. Prior to serving, it is topped with a piece of thick bread and slices of gruyere cheese, and is then toasted until the cheese is melted and bubbling. Soupe a l'oignon often graces the menu as an entree.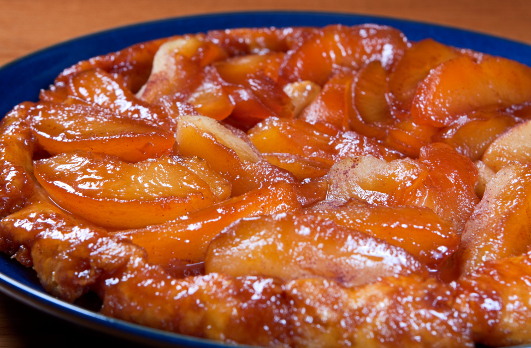 Tarte Tatin
For more butter-coated fun, there's the French classic tarte tatin. Unlike its cousin, the pie, a tart tatin bares it all, with the fruit filling completely exposed. It is actually baked in a pan with the buttery biscuit pastry tucked on top before being flipped upside down to serve. Traditionally, this dessert is made with caramelised apples however pears, peaches and even bananas can also be used.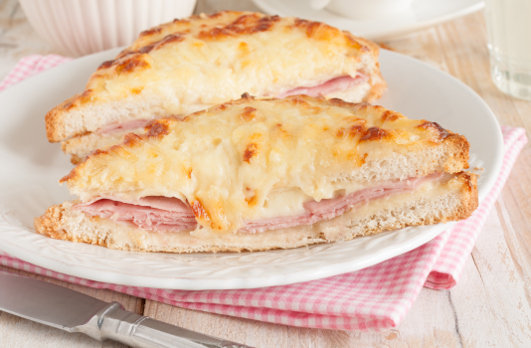 Croque-Monsieur
A croquet-monsieur is not your humble grilled ham and cheese sandwich. This famous French version is made complete with a slathering of rich béchamel sauce, usually made from gruyere cheese. The sandwich is then baked until the cheese sauce on top is golden brown. Taking the old grilled cheese sandwich to a whole other level, a croquet-monsieur is a must for true cheese lovers.
Soufflé
Ah yes, even the pillowy, cloud-like dessert known as soufflé can be attributed to the French. Traditionally served in individual ramekins, soufflé boasts a soft and warm filling with a cakey top. The light and tender texture of soufflé can be attributed to the addition of fluffy egg whites. This decadent treat can be enjoyed in vanilla, chocolate or raspberry flavour.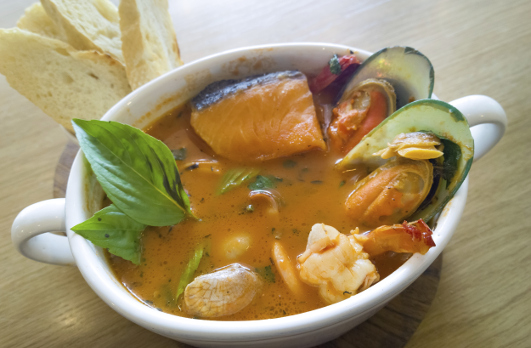 Bouillabaisse
Bouillabaisse is a sumptuous French fish stew, flavoured with various herbs and spices. Traditionally, the seafood speciality was made with rascasse, a red Mediterranean fish. Nowadays, a combination of fresh seafood is often used, depending on what is available in the region, be it fish, mussels, squid or crab. The tasty broth is usually accompanied by rouille, a thick garlic sauce.
---
Visit your local Flight Centre store or call 131 600 for more advice and the latest deals on travelling to France.
---
Other Travel Articles You Might Like...