15 May 2018
Consider these classic USA car trips for the ultimate self-guided exploration.
The road trip is deeply ingrained in American culture, from songs like "Route 66" to classic novels like Jack Kerouac's On the Road. America's great roads, relatively cheap fuel and the wide range of sights and cities encourage many Australians to get behind the wheel – or jump on a motorcycle.
Choosing which route to take may well be the biggest challenge. The West Coast is alluring, but should it be Highway 1 from LA to San Francisco through Monterey and Big Sur, or perhaps north from Frisco up Highways 1 and 101 through the redwood forests towards hipster Portland and Seattle? On the other side of the country there's Florida's A1A and 1 through Miami, island-hopping to Key West.
How about a musical journey alongside the Mississippi from Memphis to New Orleans? The Rocky Mountains; fall colours in Vermont; Virginia's Blue Ridge Parkway: we're spoilt for choice. Of course, there's also Route 66 itself, the 'main street of America'.
Driving in America is easy. Avoid freeways and take to backroads where hospitality awaits at every roadhouse. Read on for more adventures.
RELATED: 13 Things You Must See And Do When In San Francisco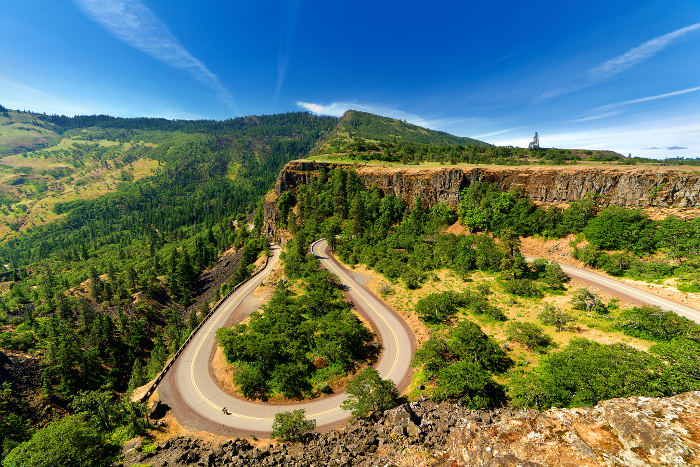 Historic Columbia River Highway, Oregon
Words: David McGonigal
When I opened the door of my rental car at Vista House the wind tried to rip it from my grasp. "We close when the wind blows over 80km per hour," a kind volunteer warned. "We advise parents to hang onto small children when the wind gets up. Don't want them blown away."
The Columbia River Gorge is the result of nature at its most violent. About 14,000 years ago, cataclysmic floods of the Columbia River scoured this pass through the Cascade Range. Engineers created America's first scenic drive here between 1913 and 1922.
"You have to drive the Historic Columbia River Highway," several people in Oregon declared. "It's amazing, so allow five hours for the 120km."
The eastward trip starts at the quaint town of Troutdale, but only when we reached a summit with a grand vista
did we see the scale of both gorge and highway. It provided our first view of Vista House, built in 1918 to celebrate creating a route through the gorge. Early pioneer wagon trains had to roll the dice to choose whether to chance river rapids or the rugged volcanic slopes of Mount Hood on their journey to the West Coast.
Over the day we passed through verdant forest and stopped at cascading waterfalls: Latourell, Bridal Veil, Wahkeena and Horsetail Falls. There were road tunnels and a set of historic locks. In places the road had been dug out of the side of the cliff.
The Dalles marks the end of the historic road through the gorge. A paddlewheeler that plies the Columbia River was tied up alongside. We'd crossed the mountains to a different world: semi- arid and bathed in sunshine.
Panoramic views and forest walks, waterfalls, historic significance plus a change of climatic zones: over a day I'd experienced a short scenic byway that really does have it all.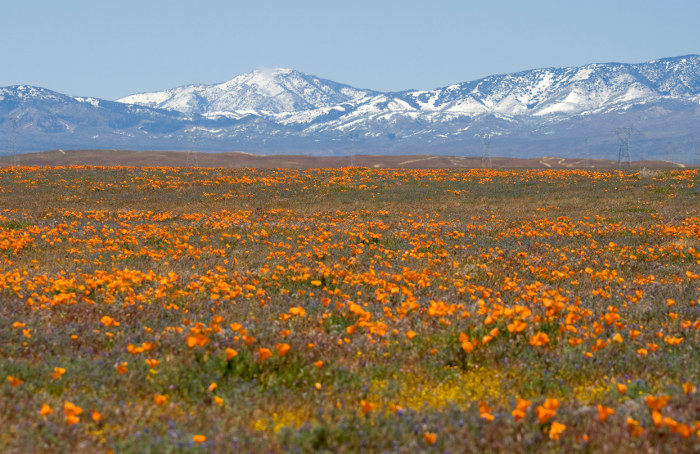 Antelope Valley, California
Words: Megan Snedden
Driving down Pearblossom Highway en route to Two Pines Chapel, also known as the 'Kill Bill Church', I swerved into the parking lot of Charlie Brown Farms when I spotted a sign for deep-fried Oreos. The shop is outfitted like a Western saloon, yet covered in advertisements for treats and obscurities such as elk jerky and "nostalgic gifts". While I was eager to get to the Antelope Valley California Poppy Reserve, I knew I had to make a stop, if not for a date shake, then perhaps for a new racoon-skin cap.
California's Antelope Valley is a little out there, and not just for its curious novelty shops in the middle of nowhere. Angelenos, and the majority of my friends, consider the 107 km trek from Santa Monica a major road trip, which is how my journey became a solo adventure.
The meditative drive alone out to LA County's backcountry gave me the headspace I craved as I cruised past towering snow-capped mountains and swerved along many bending roads. Arriving at the reserve, I parked along Lancaster Road for a picnic with views
RELATED: 5 Road Trips To Hire A Car For In San Francisco
of glowing orange fields overgrown by poppies. Despite the remote location, I shared the view with plenty of travellers. During the spring super bloom season, when wildflowers carpet the barren desert in vibrant colours, locals and visitors alike will make the trek.
Weaving through back roads beyond the popular poppy fields, I stopped when I reached an expanse of yellow goldfields glowing in the afternoon sun. There wasn't a single person for miles. All I could hear, instead of the shutter of cameras, was the desert wind blowing through the brush. I got out of the car and stood mesmerised in the middle of the road: sometimes those places where there's nothing to see are also the places where we experience the most.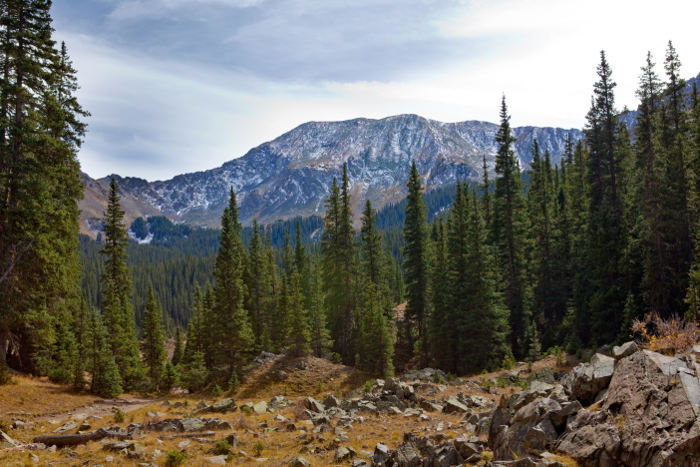 The Enchanted Circle, New Mexico
Words: Steve Winston
"The Enchanted Circle lives up to its name," Roberta Latham, Cabinet Secretary at New Mexico Tourism, told me. "It's a 134km drive weaving together landscapes, cultures, art and history... and the best way to see the many sides of New Mexico."
My base was Taos, home to the Tiwa tribe for generations, and Europeans since 1615. Here, the 3,751m Taos Mountain is sacred to the Tiwa people at the Taos Pueblo. Taos was the birthplace of Southwestern Art in the early 1900s – and I was sure to take home several examples of it. I started my drive of the Circle past tiny Hispanic villages with adobe houses and painted wooden doorways.
Soon, as I approached Taos Ski Valley, towering in front of me was the incredible and beautiful snow-capped Wheeler Peak, at 4,013m, the highest mountain in New Mexico. Hiking towards it, I tracked past Wheeler Lake, where marmots (a squirrel- like alpine animal) came right up to me for food. Keep an eye out for prairie dogs, too.
Next is the small village of Questa, which was founded by Spanish settlers in 1842 and is centred around the original adobe church. Close to the spectacular Rio Grande Gorge, Questa still cherishes its past.
RELATED: Portland's Best Green Spaces & Gardens
"In Questa," one resident told me, "the way it is, is the way it was." Red River, once a mining town, now offers skiing and an Old West ambience, and I found the best time to experience this was on Thursdays and Saturdays in summer, when gunfights (staged, of course) break out at the shops of Frye's Old Town.
Next stop was Eagle Nest, surrounded by the more than 6,000sqkm of Carson National Forest. Main Street still has planked wooden sidewalks, a saloon with swinging doors, and shops with Indian jewellery or pottery and, much to my delight, fantastic fudge.
The last town on the Circle is Angel Fire, 2,590m altitude, with interesting cultural surprises. This town boasts the world-class Summer Music Festival and the Mountain Theatre. As a balloonist, I was fascinated to find out about the Balloons Over Angel Fire festival, which lures top balloonists to the countryside, for a mountain balloon party with spectacular views.
Back in Taos, I stayed at the 1930s Hacienda Del Sol Bed & Breakfast, with the original adobe buildings and breathtaking views of Taos Mountain. Co-owner (with wife Luellen) Gerd Hertel, a noted chef, cooks the best breakfasts in town.
---
Explore the USA on a road trip with these deals today!
---
Other Travel Articles You Might Like...