29 August 2016
The planet's magical frozen realms offer playgrounds for adventure, sanctuaries for wildlife and space to find freedom. If run-of-the-mill skiing is not your preferred pursuit, try your hand at these eight alternative snow activities, from snowkiting in Sweden to ice-skating in Big Sky country.
Harjedalen, Sweden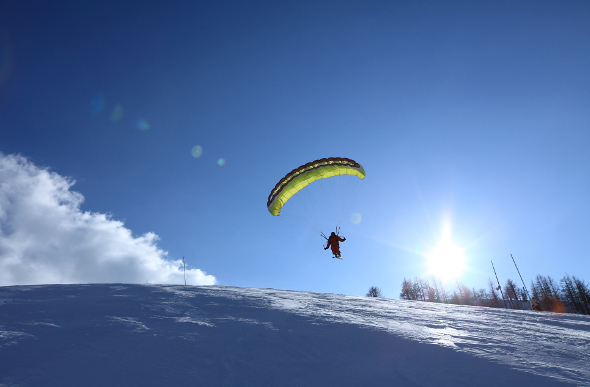 'Heading wherever the wind blows' takes on a new meaning when you're being powered across a snow-covered plateau, and lifted effortlessly skyward over the sparkling wilderness below. Unsurprisingly, the sport of snowkiting is growing fast, attracting riders who thrive on alpine adventure, and who know a ski resort isn't the only place to find it.
With no need for slopes, lifts or gondolas, kiters are free to ride as long as conditions are good and there's snow on the ground. Sweden's Harjedalen region has become one of the world's best snowkiting destinations, with vast frozen lakes, perfect winds for about six in every seven days, and endless breathtaking backcountry landscapes to explore. Just wait for the wind ... and let fly.
Rjukan, Norway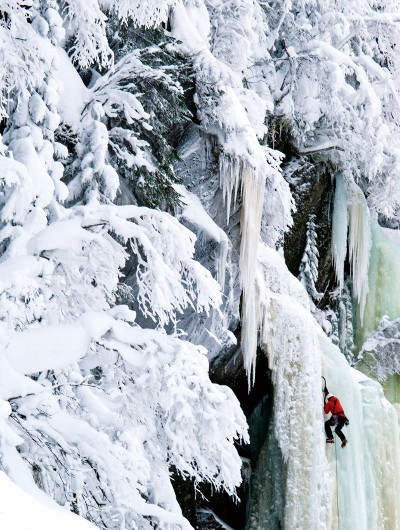 Looming like Antoni Gaudi's Gothic spires of the Sagrada Familia, crystallised and dripping with ice, the frozen waterfalls of Rjukan are a place of pilgrimage for ice climbers, who come to worship at their frosted altars from mid-December to March. Sheltered from the sun throughout winter, Rjukan valley keeps consistently cold, meaning the falls remain frozen: a comforting thought for the climbers scaling its cascades and crags. With challenges to suit beginners and pros, from short, scenic climbs to epic ascents, perhaps it's time to join the converted?
Franz Josef Glacier, New Zealand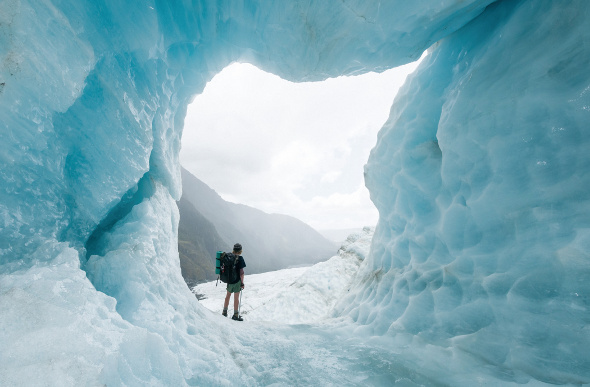 One of New Zealand's most thrilling natural attractions, the South Island's Franz Josef Glacier is home to soaring pinnacles, majestic caverns, glacial pools and plunging ravines that scar this 7,000-year-old body of shifting striking blue ice. Take a helicopter ride up to the 13-kilometre-long glacier, fed by a 20-square-metre snowfield at the top of the Southern Alps, and you'll have the chance to explore the rugged terrain on foot, with an experienced guide and crampons to aid your own magnificent ice-age adventure.
Manitoba, Canada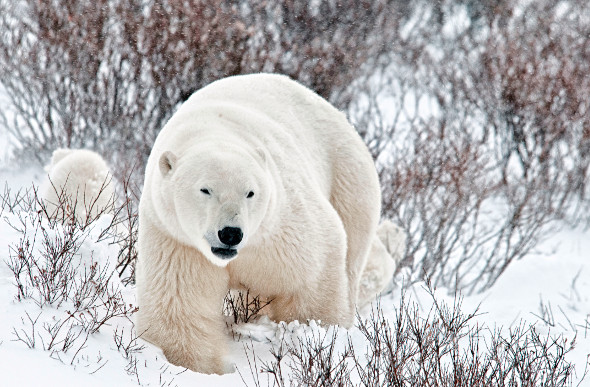 The world's biggest land predator requires a large slice of the planet to roam, so the pristine sub-Arctic wilderness of northern Manitoba is the perfect hangout. Known as the Polar Bear Capital of the World, the town of Churchill is a hotbed of bear action in October and November, when the waters of Hudson Bay begin to freeze, and tundra buggies ply the ice for up-close encounters of the white and hairy kind. Look out for moose, wolves and Arctic foxes on your snow safari, too.
---
Heightened senses: Australia's Snowga & Yoga Retreats
Abundant powder: Top 10 Ski Destinations In Canada
Cooler climes: Ski Into Snow Season With Club Med
---
Tasmania, Australia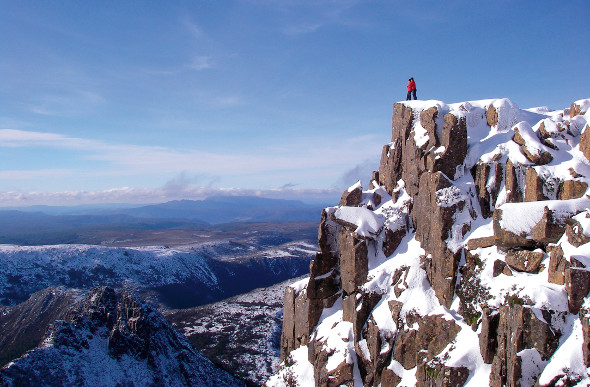 One of life's greatest pleasures is crunching through freshly fallen snow. For most mainland Australians, that's rarely going to happen at home, but just a hop across the Bass Strait to Tasmania, winter regularly dusts the powdery stuff over the island's high country.
Rated among the world's greatest treks, Tasmania's Overland Track runs 65 kilometres south from Cradle Mountain to Lake St Clair. Guided snowshoe hikes in the winter months offer trekkers a different view of this incredible white wilderness.
Mount Etna, Sicily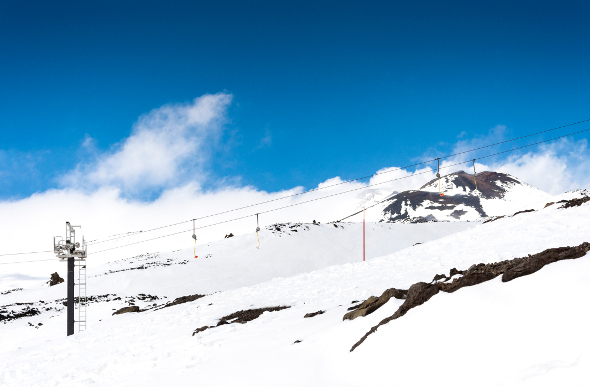 Why ski down a mountain when you can ski down a volcano? The lava-clad slopes of Sicily's Mount Etna boast two ski resorts, offering an exciting variety of runs once the winter's white blankets the black peak. Where else can you snowboard with the Mediterranean Sea stretching out before you, as Europe's tallest active volcano gently grumbles in your ear? And with the cosmopolitan coastal delights of Taormina just a 40-minute drive away, the apres-ski fun promises to be lively.
Yudanaka Onsen, Japan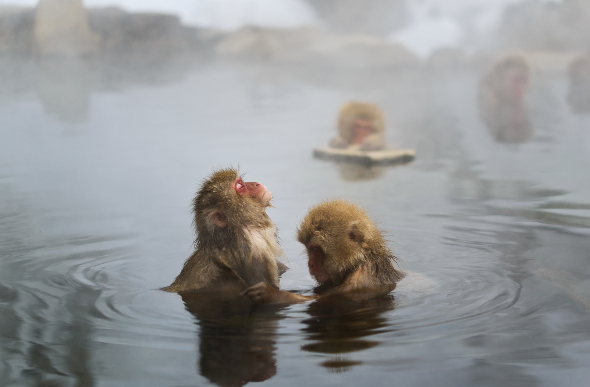 We all love a warm soak in winter, and Japan's famous snow monkeys are no different. Surrounded by mountains, the Yudanaka Onsen resort area in the Nagano Prefecture has hot springs and Buddhist temples, but it's the Jigokudani Yaen-Koen Monkey Park's wild macaques that steal the show, as they languish in the steaming waters. And with weather as low as -10C in winter, who can blame them?
Montana, USA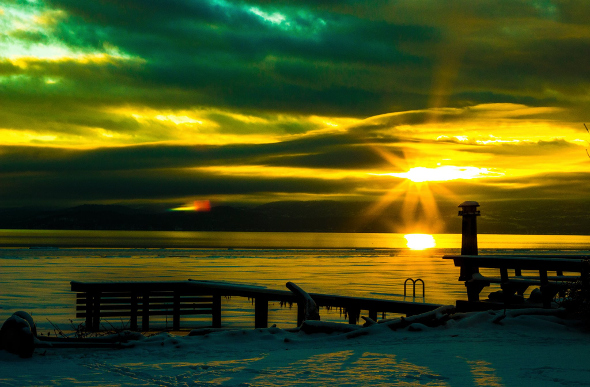 "I wish I had a river I could skate away on. I wish I had a river so long, I would teach my feet to fly…" dreamed Joni Mitchell in her 1970s song, River. Every year, a group of skaters in Montana live out that dream.
With the onset of the winter freeze, their boots slip on and off they slide, across monumental mountain lakes and crystal rivers; the ice at their feet reflecting Montana's big, blue sky above. The right conditions for ice skating in the wild can be unpredictable and short lived. Rumour has it that Flathead County at the top of the state has several prime spots to try.
Images: Chris Bray Photography/Tourism Tasmania; Corbis; Grant Gunderson/Image Brief; Joost Verboven; Getty Images
---
Visit your local Flight Centre store or call 131 600 for more advice and the latest deals.
---

Other Travel Articles You Might Like...