7 September 2015
We all know how important your morning coffee is, but it could mean much more to a child with cancer – like fuel in the car to get to hospital. A round of Friday night drinks might be fun, but it could help put food on the table for a family.
That's why Redkite is asking Australians to Trade A Treat next week and support children and young people with cancer, as well as their families.
The Australian cancer charity, which is proudly supported by Flight Centre Foundation (FCF), is running its Trade A Treat campaign from September 14-20.
Redkite General Manager Marketing and Fundraising Monique Keighery says trading an everyday luxury for a week can help the organisation provide essential support to families facing their child's cancer.
"By trading a week's worth of coffee, and instead donating that money to Redkite, you can help ensure these families have fuel in the car to get to and from hospital," Monique says.
"If you trade dinner and drinks out for one week, you could help provide phone and email counselling for a family. Even a small trade can make a huge difference to a young cancer patient and their family."
Need inspiration? Why not join the ranks of these charitable celebrities and Trade A Treat.
Media personality Adam Spencer is set to trade Diet Coke; journalists Georgie Gardner and Ben Fordham will take the heroic step of trading chocolate; A Current Affair host Tracy Grimshaw will forgo the wine; Wallabies player Tatafu Polota-Nau is trading music downloads, actor Les Hill and The Living Room's Barry du Bois have pledged to trade coffee; and Home and Away's Charlie Clausen will give up dinner and drinks out, along with other big names.
Redkite supports children and young people up to age 24 who have cancer, as well as their families and support networks.
"Our promise to families is that we'll support them throughout the entire cancer journey, from the moment of diagnosis, throughout treatment, and when they return back to their homes and communities," Monique says.
That support comes in many forms, including information and counselling, financial help, education and career support, and bereavement support.
Monique says counselling can happen face to face, on the phone, or via email or text. That support extends long after treatment ends for the cancer patient, as well as their siblings and parents, and even grandparents.
And that's not all. There's a book club, collaborations with Camp Quality, and more.
"We're also the largest non-government funder of social workers and music therapists in children's cancer wards across Australia," Monique says.
One very important tool is Redkite's diagnosis support pack for teenagers and young adults, which is provided to them in hospital and contains practical items such as toiletries, magazines, information, a water bottle, a re-useable coffee cup, a diary, and a blanket.
Monique says: "Often a young person will arrive at hospital and they think they're there for a scan and end up with an unexpected cancer diagnosis and be there for days and days or weeks and weeks. So there is a toothbrush and toothpaste, information support materials, and a blanket that a lot of people talk about using for a very long time, amongst other materials."
FCF is the sole funder of the Adolescent and Young Adult Support Pack Program for ages 15-24, providing $170,000 last financial year for more than 500 bags. This financial year, FCF has committed $200,000.
FCF General Manager Anita Russell says the foundation has been a long-time supporter of Redkite.
"We have a lot of staff with families and know that the support Redkite provide for children and young people with cancer and their families is invaluable. There's probably not anybody in the organisation that's not been touched by cancer."
Last month, about 35 Sydney-based Flight Centre Travel Group staff converged on Sydney's Fox Studios to help pack the Red Bags over two days.
Monique says Flight Centre's contribution is incredibly important. "The feedback we get on the Red Bags is that they really make a huge difference. When families and young people get them, they know immediately that there's an organisation that can support them, it gives them a sense of they're not going to be alone."
And she praised Flight Centre's enthusiasm. "At every level the personal engagement of the staff is really tangible."
Hollie Fielder has a personal connection with Redkite. She was 24 and working for the Flight Centre Travel Group when she was diagnosed with bowel and liver cancer, with a 5 per cent chance of survival.
Now cancer free, she has since joined Flight Centre Travel Group staff to help put together the support packs for teens and young people.
"I hadn't heard of Redkite until my nurse gave me the support pack," Hollie says. "When I was sick at home, I would use the Redkite blanket and the diary to put in all of my appointments and important dates. I still use my bag today."
[embed]https://youtu.be/7-4Nr-yJ2zU[/embed]
---
Flight Centre, Youngcare & You: How We Can All Support Young Aussies In Need
Heroic challenge: Cape York To Kokoda Countdown
---
What's Next?
As well as the Trade A Treat campaign, Redkite holds several fundraisers throughout the year. One is the Corporate Quiz series around the country, where business and philanthropic leaders compete for the title of the smartest team in their state.
The New South Wales quiz will be held on October 23, while quizzes have already been held in Queensland, Western Australia and Victoria for this year. Flight Centre had a table at the Queensland quiz this year, and provided prizes for the Queensland and Victorian events.
Other events between now and the end of the year include various fun runs, cycle and ironman events around the country, as well as a fashion parade. Last year Flight Centre Queensland Manager Jason Nooning completed the Western Sydney Ironman 70.3, raising more than $500 for Redkite. That event is on November 29 this year.
Get Involved
If you want to help provide essential support to children and young people with cancer, here's how.
Donate
• Make a gift to the Flight Centre Foundation. All of FCF's operating costs are covered by Flight Centre Travel Group, maximising the impact of your donation. Donations support Redkite and similar key programs at the foundation's five other charity partners.
• Make a gift directly to Redkite to help young people facing cancer.
Trade A Treat
Choose a treat to give up for a week and donate that money to Redkite instead.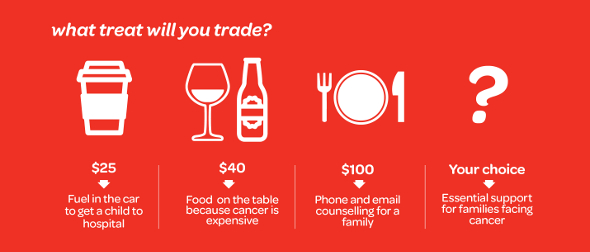 Spread the word
September is Children's Cancer Awareness Month. Redkite's Monique says awareness and word of mouth is "tremendously valuable and can really help so many families".
"If you know somebody that might need our support services, tell them about us, direct them to our webpage or call 1800 Redkite."
Lend a hand
There are many ways to contribute to Redkite. For instance, Flight Centre volunteers have been involved in activities from fundraising at sports events, to helping with a Christmas hamper mailout, to selling raffle tickets, and more.
You could try community fundraising for a fun run or a swim, bake cakes, attend an event such as the corporate quiz, or volunteer. You could even initiate workplace giving arrangements at your workplace. Flight Centre Travel Group staff can donate to the foundation via monthly pre-tax payroll deductions, which the organisation matches dollar for dollar.
Other Travel Articles You Might Like...