24 April 2017
Tumbling waterfalls, winding bushwalking tracks, soaring canyons, national gems and red desert plains stretching as far as the eye can see. From top to bottom, the Northern Territory paints a picture of outdoor adventure, stunning vistas and unforgettable experiences you can't find anywhere else in Australia. It's the perfect escape for those in search of the peaceful embrace of nature over the roar and steel of a big city, and with over 50 national parks to explore, you can trust there's always more where that came from.
Nitmiluk National Park
Nitmiluk National Park is world-famous for its spectacular series of ancient sandstone gorges – stunning from every angle – as carved by the meandering waters of the Katherine River. Lush rainforest gullies, broad valleys, woodland and tumbling waterfalls envelope the park to offer a wide range of ways to explore – on foot, by boat, from the air, canoeing or swimming.  Rock art sites also dot the park and add a dreamtime ambiance to the stunning gorge walls.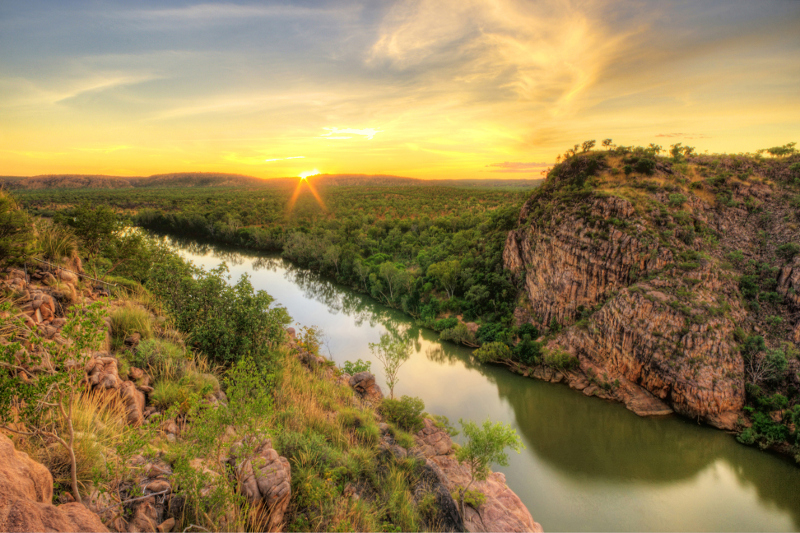 Litchfield National Park
Just an easy 100km south of Darwin, year-round discoveries beg to be unearthed in Litchfield National Park. A beautiful patchwork of waterfalls lurks enshrouded in woodland largely made up of gorgeous Woollybutt and Stringybark trees, while monsoon rainforest and intriguing magnetic termite mounds complete the unique landscape. Many four-wheel drive tracks offer the chance to get off-road but still, there's so much to see along sealed roads branching out from Batchelor. Fishing, swimming, hiking and camping are all favourite pastimes within the park.
Kakadu National Park
There aren't four but six distinct seasons to be admired in Kakadu National Park, each with its own splendour and magic. The largest national park in Australia, it's a World Heritage listed treasure for both the natural environment and living Aboriginal culture. Stretching all the way to the sea in the north, it also encompasses stone country, savanna woodlands and gorgeous wetlands that are a crucial sanctuary for birdlife. With nearly 20,000 square kilometres of pristine territory to explore, you could spend weeks at Kakadu National Park alone.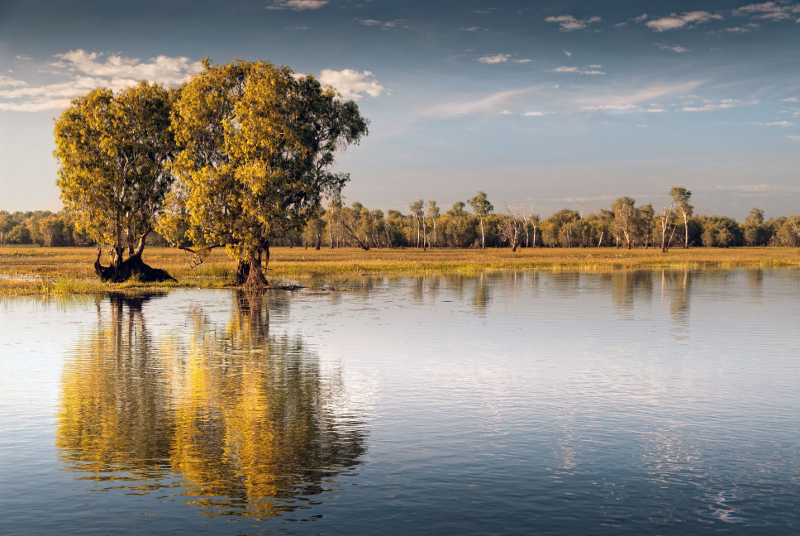 Uluru-Kata Tjuta National Park
It's where you'll find our unmissable national icon, Uluru, perched at the heart of the Red Centre – a must-do for any loyal Aussie – as well as the famed Kata Tjuta (the Olgas); both hold deep cultural significance and pack a visual punch both up-close and from afar. It's for these two reasons and more that Uluru-Kata Tjuta National Park claims World Heritage status and is easily one of the Northern Territory's most visited spots. Explore on foot or by bike, join a guided tour or simply sit back and admire the changing colours of the sky set behind these national gems.
Mary River National Park
If fishing is high on the agenda, Mary River National Park is the place to go as home to some of the biggest barramundi in the state. A wetland system including lagoons, canals and billabongs, there's no shortage of quiet spots to find peace and throw out a rod. It's also fabulous for bushwalking, bird watching and four-wheel driving adventures to discover the myriad of local wildlife, lookouts and untouched scenery (beware, there's a large population of saltwater crocodiles throughout the park). Other highlights include Couzens Lookout, which is famous for its sunsets, and Shady Camp, for the fishing, while guided boat tours run from Corroboree Billabong, Point Stuart and Mary River Park.
Karlu Karlu/Devils Marbles Conservation Reserve
Karlu Karlu translates to 'round boulders'. In the Karlu Karlu/Devils Marbles Conservation Reserve, these enormous piles of granite boulders stand scattered across the land to create an intriguing and spectacular sense of outback beauty. Located about 220 kilometres south of Tennant Creek - easily accessible from the Stuart Highway - when the morning and even sunlight hits, they go a deep red colour that only makes the scene more breathtaking.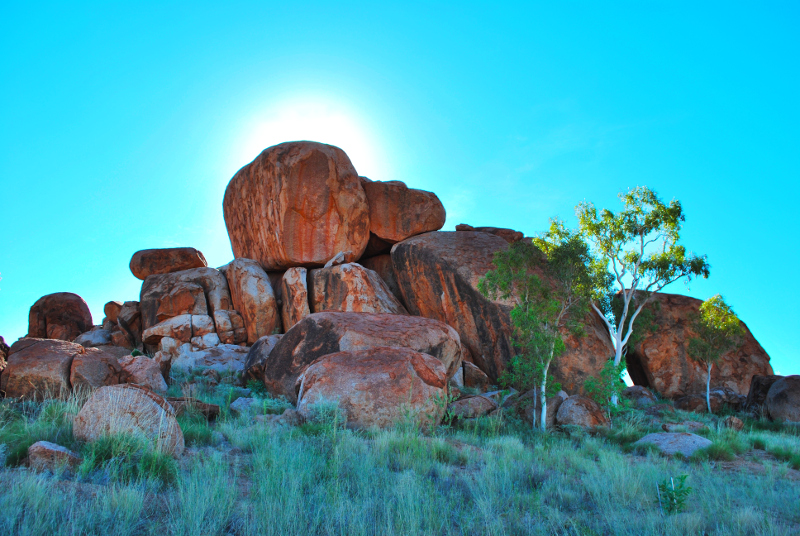 ---
Visit your local Flight Centre store or call 131 600 for more advice and the latest deals.
---
Other Travel Articles You Might Like...