3 November 2017
It's a relatively undiscovered paradise. But it shouldn't be. Danang has all the white sandy shores, luxury resorts and cultural trimmings you could ever need on a sun-filled, sand-dusted beach holiday on Australia's doorstep. Here are eight reasons why Danang might just be the ultimate beach holiday in Asia.  
Getting There Is Easy
One of the best things about a holiday to Danang? It has its own international airport, so you can hit the tarmac and dip your toes in the sand within the hour. If you like the idea of a quick stopover in Ho Chi Minh City or Hanoi, ample domestic connections make it easy to do so on your way to or from Danang.
Stunning Beaches
Like it long and sandy? Danang's shoreline has that. Quiet? Yep. Luxe beachfront accommodations? That too. You'll find exactly the kind of beach holiday you're imagining – and they all come with beautiful, clear blue waters. The obvious choice is My Khe Beach (nicknamed China Beach by American troops who visited for some R&R during the Vietnam War) which also just happens to be widely regarded as Vietnam's most picturesque. It's a gorgeous 20-mile stretch in no short supply of facilities and high-end resorts – with more in the making.
Bites And Bakery Treats
Get your bakery fix at any time of day or night in Danang; there's always some freshly baked, crackly banh mi (baguette) to be found, plus ample Vietnamese restaurants and cheap and tasty hole-in-the-wall joints dishing up authentic Vietnamese fare. Want some home comforts? Modern restaurants offering global cuisines are emerging constantly.
World-class Golfing
There's not one, but four world-class golf courses on Danang's doorstep: Danang Golf Club, Montgomerie Links, Ba Na Hills Golf Club and Laguna Lang Co Golf Club. With golfing pros such as Greg Norman, Colin Montgomerie, Sir Nick Faldo and Luke Donald the masterminds behind their impressive, beautiful and at times challenging designs, keen golfers are in for a real treat.
Cool Architecture
Beyond the impressive modern resorts, with their fancy spas, outdoor pool settings and seaside restaurants, Danang is a treasure trove of historical architecture – the kind the tells a story. Discover an eclectic fusion of centuries-old pagodas, French colonial buildings and traditional Vietnamese houses for a glimpse into the city's fascinating history.  
Natural Adventures
If you like your beach holidays with a side of outdoors adventure and lush, green scenery, Danang delivers. Check out the views from Nui Son Ta at the tip of the peninsula – nicknamed Monkey Mountain by American soldiers; get a driver to take you two hours north to the sparkling lakes and greenery of Bach Ma Natinoal Park; take the cable car up into the lovely Ba Na Hills. The Marble Mountains are also nearby – a pilgrimage site home to temples, caves, tunnels and unique formations in the rolling limestone landscapes.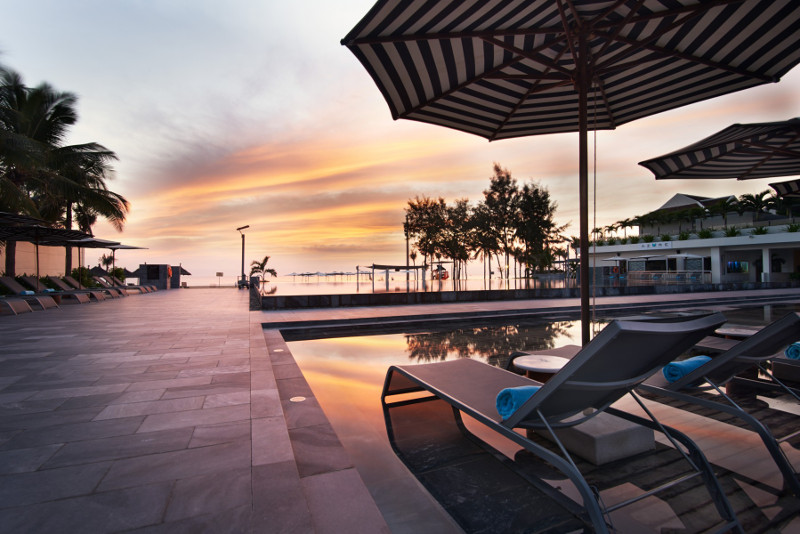 Famous Hotels
Like to stick with names you trust? Raffles, Hyatt, Le Meridien and Pullman are just a handful of the many famous hotels to be found in Danang – plus so many more. Whether you're looking for an all-out luxury five-star affair with the works or a well-equipped apartment by the shoreline, you'll find exactly what you're looking for. 
Traditional Day Trips
Get your fix of traditional Vietnamese sightseeing right on Danang's doorstep; both Hue and Hoi An boast UNESCO World Heritage status and are just a short trip away. Admire lovely palaces and pagodas, drop into colourful local markets and explore the winding, charater-laden alleyways to see what you find. 
---
We've got great travel deals to Asia and beyond. Visit your local Flight Centre store or call 131 600 to find out more.
---
Other Travel Articles You Might Like...