21 October 2013
To tempt your taste buds at 35,000 feet, airlines have, in recent years, engaged the services of famed award-winning chefs to design menus that are both nutritious and delicious. Neil Perry of Rockpool fame is signed to Qantas, Luke Mangan, who's best known for his Salt Grill Restaurants is the consulting chef for Virgin Australia and Matt Moran, who owns ARIA Restaurant is on an illustrious panel put together by Singapore Airlines. Meanwhile a triumvirate of chefs that includes Joël Robuchon, Guy Martin and Jacques Le Divellec are responsible for the dining options on Air France.
Qantas

Over the past 15 years, premium class Qantas passengers have been enjoying a menu that was created by consulting chef Neil Perry, whose aim is to bring restaurant style cuisine to the inflight experience. "From paddock to plate, our menu is focussed on one thing, providing a truly inspirational gourmet experience on board, with all the flavours and diversity embodied in Qantas, Spirit of Australia," wrote Qantas. The First Class menu might feature such treats as the Rockpool Bar & Grill Style Crumbed Free Range Pork with St John's Carrots, Potato and Cabbage Gratin or Yellowfin Tuna with Moroccan Eggplant. The Business Class travellers may enjoy Pan Fried Blue Eye Fillet with Black Bean and Chilli, Fragrant Rice and Gai Lan or Cassoulet of Murraylands Lamb Fillet with White Beans. With Select on Q-Eat, Business and Premium Economy passengers can select their in-flight meal prior to departure on certain flights.
Virgin Australia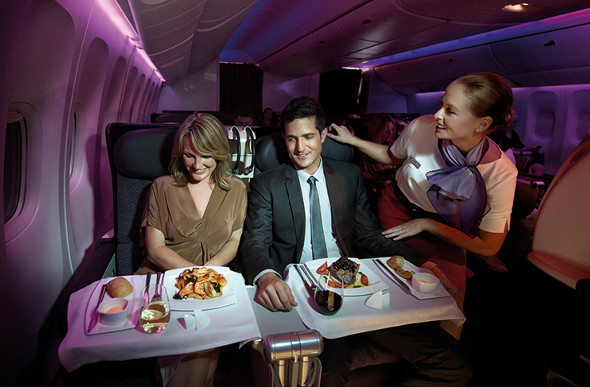 When flying long haul overseas with Virgin Australia, passengers enjoy a menu designed by consulting chef Luke Mangan. Each meal is prepared using the best local produce showcased with a clean and contemporary twist. "Luke is renowned for his unexpected creations, which highlight his French classical training and Asian influences, married with simple, fresh, clean flavours," wrote Virgin Australia. When flying from Australia to Los Angeles or Abu Dhabi, Business Class passengers may be tempted by a Barramundi fillet served with dill crushed potato, green asparagus and tomato or Braised beef served with potato gratin, green beans and Dutch carrots.
Singapore Airlines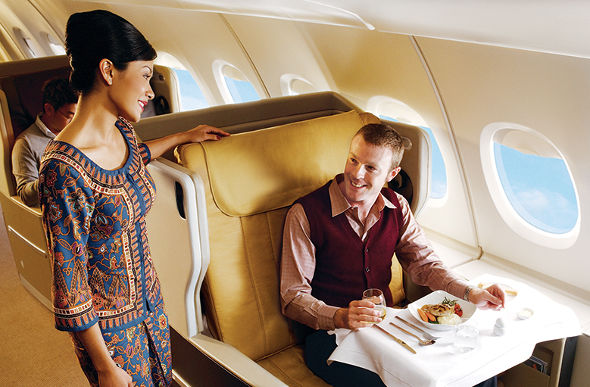 Singapore Airlines engaged the services of an International Culinary Panel to design the menu on their flights. The panel includes Matt Moran from Australia, Alfred Portale from America, Carlo Cracco from Italy, Sam Leong from Singapore and Georges Blanc from France amongst others. Premium customers can take advantage of Book the Cook, where passengers can select a main course at least 24 hours before departure. When flying from Sydney, the First Class menu with Book the Cook includes lobster thermidor with buttered asparagus, slow-roasted vine-ripened tomato and saffron rice or Tasmanian salmon in wild lime butter sauce with steamed green beans and pasta.
Air France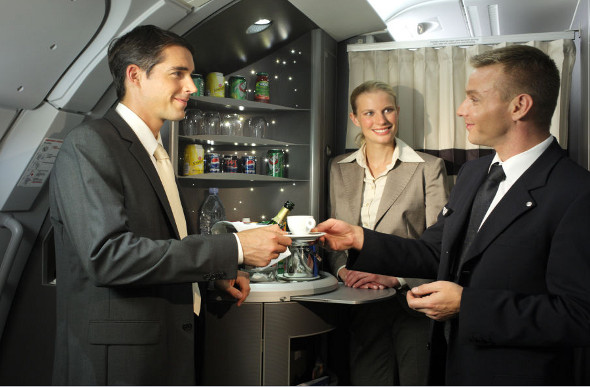 Air France enlisted three great chefs to design meals for passengers who fly La Première class. These culinary masters include Joël Robuchon, who earned the most Michelin stars worldwide in 2009, Guy Martin, a Michelin-starred chef known for his Paris restaurant Le Grand Véfour, and Jacques Le Divellec. In Premium Economy and Economy the menu for long haul flights was conceived by Michel Nugues. The wines and champagnes are selected by Olivier Poussier, who was named the world's top sommelier in 2000. Beginning in February this year guests flying long haul from Paris have the opportunity of savouring signature dishes prepared by Michel Roth, a Michelin-starred chef from "L´Espadon" restaurant at the Ritz Paris.
Other Travel Articles You Might Like...