23 September 2013
Travellers who appreciate extra comfort when flying long haul but who prefer not to pay Business Class cabin prices can take the step up to Premium Economy. Airlines including Qantas, Cathay Pacific, British Airways, Virgin Australia and Virgin Atlantic offer a Premium Economy service for passengers as a bridge between Economy and Business Class. A Premium Economy cabin generally includes wider seats with a greater incline and more leg room. There might also be a dedicated check in counter, priority boarding and extra baggage allowance.
Emily Sonley is the Team Leader for Flight Centre's premium travel experts.
"Our customers are often pleasantly surprised to receive a quote for a Premium Economy cabin that is significantly cheaper than they were expecting. This is a great way to make the international journey that little bit more comfortable, so you arrive refreshed at your destination. On the return journey, customers often comment that after an inspiring overseas adventure, the opportunity to rest in preparation for returning to work is greatly appreciated," said Emily.
Qantas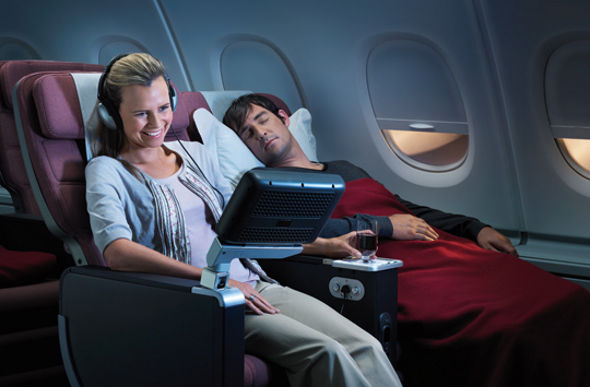 The Qantas Premium Economy cabin features ergonomic wide seats designed by Marc Newson with an adjustable foot rest and clever storage for the tray table. To make the international journey all the more comfortable, travellers are given a large cotton pillow, a blanket backed with a soft sheet and eye-shades. Premium Economy passengers also receive a complimentary glass of sparkling wine before take-off and the flight the meals are inspired by Neil Perry and served on tableware designed by Marc Newson. To help pass the time, there's a selection of television programs, movies and games shown on the 10.3 inch personal touch-screen that are installed on refurbished B747 and A380 aircraft.
Cathay Pacific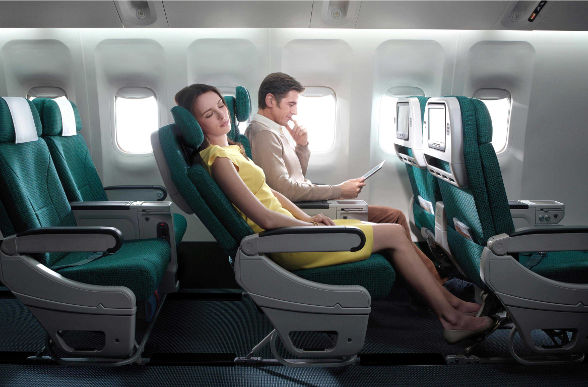 There is more space and comfort in the Cathay Pacific Premium Economy cabin. The seats allow for eight inches of recline and the headrest has a four-way movement facilitating great support for your head and neck. The noise-cancelling headset will add to the enjoyment of your favourite programs screened on your personal 10.6-inch touch-screen. If you prefer to work, the larger meal table will come in handy.
Virgin Australia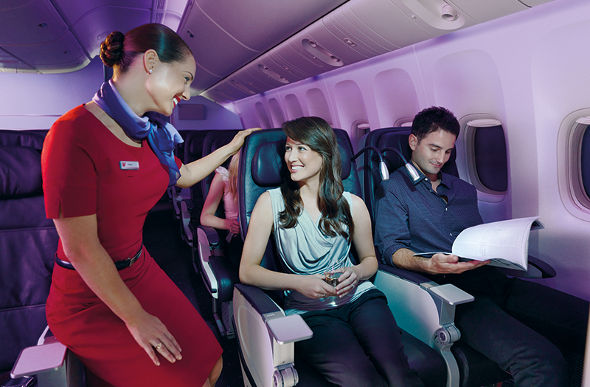 Virgin Australia long haul Premium Economy passengers enjoy 19.5-inch wide luxury leather seat that comes complete with adjustable head and foot rests. The legroom measures 38 inches and the laptop power socket and USB slot are sure to be well utilised. To make the journey all the more comfortable, travellers are given a plush blanket, a pillow and amenity kits. There's also a stand-up bar where passengers are welcome to enjoy a beverage.
British Airways
Known as World Traveller Plus, the British Airways long haul Premium Economy service includes wider seats with more legroom, attentive service and an increased free baggage allowance. There's also a power supply for laptops and other electronic devises. Passengers are provided with cushions, blankets and amenity kits that include earplugs, toothbrush, toothpaste, eye mask, and flight socks. The noise-reducing headphones are sure to aid to the enjoyment of your favourite television show or film and the three-course meal is designed by world-renowned chefs.
Virgin Atlantic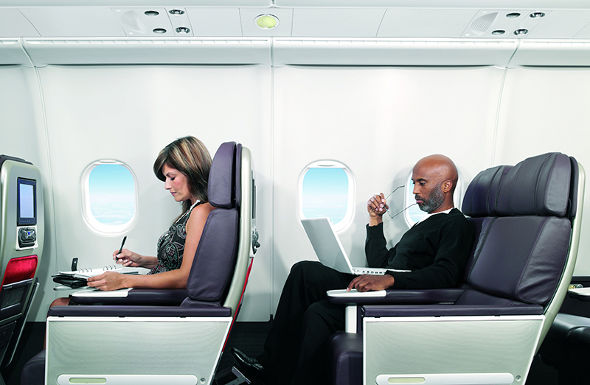 There's a dedicated check in counter for Virgin Atlantic Premium Economy guests. You'll also receive priority boarding, a welcome glass of champagne and where possible your luggage will be one of the first off the plane. The cabin boasts wide leather seats that have a pitch of 38 inches, a headrest, leg rest and lumbar support. The meal is served on china with stainless steel cutlery and travellers are served an after-dinner liqueur. Passengers can pass the time courtesy of the entertainment system and there's also a power point available, that's perfect for laptops.
...................................................................................................................................................
To fly Premium Economy on your next trip, email the Premium Travel Experts at premiumtravel@flightcentre.com or call the team on 1300 038 785. 
Other Travel Articles You Might Like...