20 September 2017
If the South Pacific had a middle name, it would be romance. The language of love comes in many guises, but it's easy to understand among the gentle wavelets of pristine sandy shores. It beckons from the aquamarine waters of coral reefs, and invites you to a candlelit dinner on a private deck in the treetops. Each island of the South Pacific offers its own style of romance.
Whatever special moments you seek with your loved one, the South Pacific can serve them up with a dressing of indescribable beauty. There are some sensations that can only be felt, but no words are needed when you experience a life-changing encounter with your soulmate by your side. 
Sunset Sailing
There's something about the thought of setting sail on the high seas that fills your stomach with butterflies. South Pacific cruises are made for romance – think kisses on the deck and utter relaxation as you enjoy the changing utopian backdrop.   
The chance to visit picturesque ports of call with very little effort leaves you and your partner with plenty of quality time together, and also provides a charming opportunity for an official declaration of love. A day on shore in Vanuatu can easily be transformed into a whirlwind wedding, although you may prefer to say, "I do" on the shores of a blissfully deserted island in French Polynesia. 
There's no need to leave the ship if you're looking for a more laidback experience. Providers such as Paul Gauguin Cruises know how to perfect a romantic escape, with a honeymoon package that includes daily canapes served in your stateroom – the perfect excuse to stay snuggled up in bed. Blue Lagoon Cruises invites you to
a private dinner on the beach, where you can toast to a lovely day under a sky teeming with stars. 
Lazy Days, Together
The beauty of travelling with your favourite person is that you don't need to do much to enjoy yourselves. Lazy days spent at the water's edge, afternoon siestas in oversized hammocks and twilight walks along the beach may be all you need to carve out your own slice of heaven. 
Fiji is the South Pacific's most popular destination, yet it retains its tropical island vibes. The combination of world-class resorts and the country's beauty makes it the ideal stop for babymooners, who can immerse themselves in paradise while enjoying every modern convenience before baby comes. Splash out on a helicopter ride to Sheraton's Tokoriki Island Resort – you'll avoid bumpy boat rides en route to a paradise that has been designed to ensure you relish every luxurious minute.
Shared Adventures
Seeing your own wonder reflected in the face of your loved one is a special moment that rides on the tail of a shared adventure. Walk along the rim of Mount Yasur and try to look away from the fury of its molten crater – it's almost impossible. The proximity to unbridled nature will thrill you to your core. It's a smoking hot setting for a proposal that will be forever marked in your memories with explosive elation.
Tanna Island, Vanuatu, boasts more than just the volcanic marvel of Mount Yasur; it's also an unsullied haven where you and your companion can set out to discover local cultural traditions, crystalline waterfalls and dreamy underwater caves.
Take your lover's hand and slip into the balmy waters of Tonga, where you may be lucky enough to actually feel the song of the humpback whale humming through the turquoise depths. It's one of the few places on Earth where you can swim with these graceful giants and their calves, with a variety of resorts offering guided ethical encounters.  
Underwater Wonderland
Exploring the waters of the South Pacific may be the closest you'll ever get to a fairytale kingdom. Submerge yourself in a world of fantastical colours and shapes, where the weight of your very being is altered.
Second only to the Great Barrier Reef, the World Heritage-listed reefs of New Caledonia will mesmerise your senses. Swimming among flurries of flamboyant fish and drifting amid the jewel-coloured coral is a pastime that is enhanced by a shared wordless joy.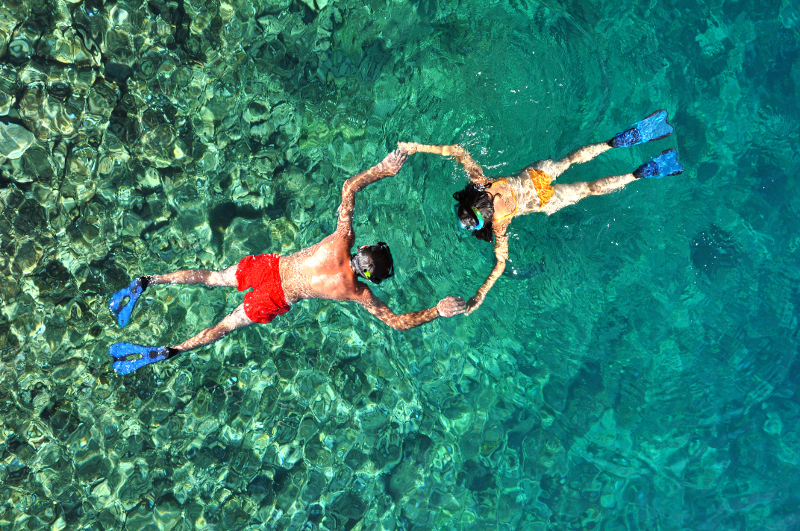 The moment you first see a turtle in its natural habitat is a memory that you can't help but cherish. Turtles are a fixture in the waters of French Polynesia, and the many dedicated havens allow you to get close enough to see the grooves on the shells of these endearing creatures.  
For a fascinating blend of nature and history, float over the hundreds of World War II wrecks that sprinkle the seabed around the Solomon Islands. American bombers, Kiwi minesweepers and Japanese submarines occupy the ocean floor.
Divers can explore Tonga's sea caves, which will humble you with their majesty. Hanging in the shadows of an underwater chamber offers a raw exhilaration that is hard to come by these days.
Marooned In Paradise
Surely we've all dreamed of having that special someone to ourselves in the seclusion of an exquisite wilderness. This daydream is yours for the taking when you paddle out to Samoa's Nu'usafe'e Island for a day of natural immersion. It's one of a few uninhabited Samoan islands where you can snorkel, sunbathe and unwind with total abandon. 
A private island resort is an even more luxurious way to enjoy the sensation of freedom. Matangi Private Island Resort in Fiji is the only establishment you'll need to contend with – the rest of the island is yours to explore. The resort's treehouses cradle you and your other half in a leafy embrace that transports you worlds away from reality.
Life On Stilts
There are few people who are immune to the charms of an overwater villa. It's your own private oasis, disturbed only by the gentle lapping of the pure blue waters that swirl beneath the stilts. Awaken to the glow of the sun sparkling on the ocean and spend your day floating in an idyllic world.
The South Pacific is the queen of overwater bungalows, each more alluring than the last. We've all been seduced by images of Bora Bora's glorious floating resorts but, for an extra dash of magic, choose Le Meridien Bora Bora and gaze down at the luminous sea through the largest glass floors on the island.
Showering in the sunlight of a tropical courtyard is a benefit facilitated by the dual nature of Aitutaki Lagoon Resort's overwater bungalows, nestled half on the sand and half over the lustrous blue waters.
Love-Laden Luxury
If your romantic ideal calls for couples' massages by the water, private covered sun lounges and breathtaking infinity pools, then you'll be spoiled for choice by the South Pacific's array of opulent resorts.
Teti'aroa is the Tahitian island that so famously enthralled Marlon Brando. The island's only resort is named in honour of the movie star, who was utterly smitten with Teti'aroa's pure beauty. 
You'll be happily lost in the spaciousness of The Brando's deluxe villas, where you can spend your days together moving lazily between your exclusive stretch of beach and your private plunge pool. And 24-hour room service allows you to forgo all unnecessary interaction with the world. The privacy continues as you stand-up paddleboard on the waters of Mermaid Bay, surrounded only by natural splendour.  
---
Visit your local Flight Centre store or call 131 600 for more advice and the latest deals on travel.
---
Other Travel Articles You Might Like...