29 December 2016
There is nothing worse than starting or ending your holiday with a long sojourn at the airport. The key to being a calm, collected and charming passenger rather than a frustrated, impatient, unpleasant one is of course, attitude. When things ravel out of control it can be more difficult to keep your cool, so here are eight things you can do make a flight delay or cancellation a breezy rather than bad experience.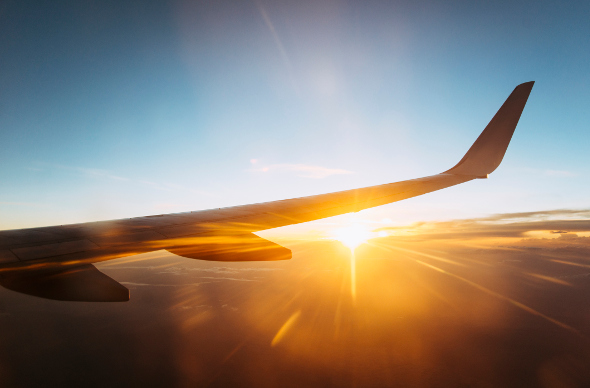 Fly Early
The earlier in the day your flight, the better off you'll be. If bad weather hits, maintenance issues come up, whatever the reason for the delay, if it happens in the morning, you've still got the rest of the day to get on another flight, or reroute to your destination. If the delay or cancellation happens in the evening, there's a good chance you might not be going until the following day.
Check Your Flight Status Before Leaving Home
First things first, always check-in online. Once you're checked in, the airline knows you're flying. If you wake up at 4:00am for a flight, check its status before jumping in a car to the airport. If it's been delayed for three hours, you can wait comfortable in bed rather than on an airport bench. Be careful though, if you haven't checked in, some airlines, regardless of how delayed the flight is, remain steadfast on their check in closing times, so you may need to arrive to the airport at the original time. 
Call The Airline
If your flight gets cancelled, join the queue to rebook. But while you're waiting in the queue, call the airline – chances are you'll get onto someone on the phone before reaching the desk, and you might get rescheduled on an earlier flight than if you wait your turn after the line of people waiting in front of you.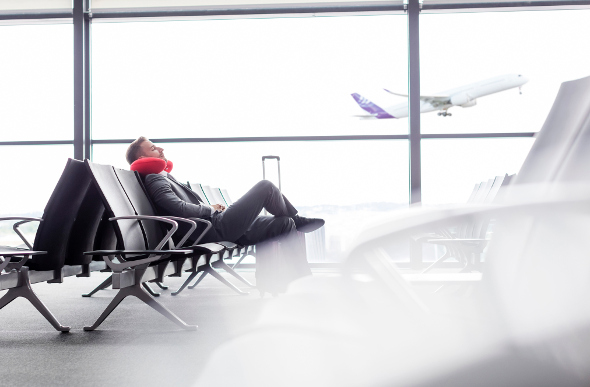 Make Use Of The Lounge
There are plenty of airline lounges that you can pay to access. By doing this you'll have access to delicious food, drinks, magazines, television and more comfortable, quiet seating than in the main airport departure lounge. This one is definitely worth the small investment.
Travel With Snacks
There is nothing worse than arriving at the airport hungry, only to find out your plane has been delayed, but the only food outlet in the airport is closed for the night. Or, as happened to me recently, an engineering fault on our aircraft meant we were delayed, then had to change planes, and the new aircraft had no catering on board. Never count on being able to buy snacks at the airport, always go prepared.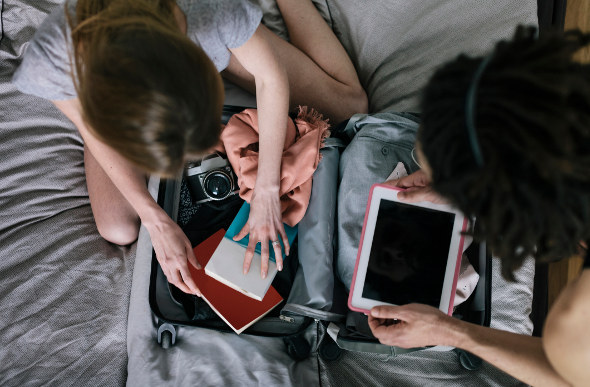 Carry A Good Book, Headphones & Tablet
Whether you enjoy watching TV series, documentaries or listening to podcasts, having distractions to occupy you for hours is important when flying anywhere, even if your flight is meant to be a short one. Also airline in flight entertainment systems can be unreliable at times, so be sure to take a book and a library of music to get you through the flight – or the airport delay.
Keep Your Arrival Day Free
Whatever you do, don't increase your stress by planning a tour or activity for the day you arrive in your destination. If your flight gets delayed or cancelled and you miss it, a bad situation gets worse. Leave the day free, so if you arrive on schedule you have plenty of time to relax, and if you don't, you won't miss anything important.
Life Admin
What better time to clean out your handbag, inbox or photo library on your phone than an unexpected hour or five that you have at the airport? Instead of grumbling about how much holiday time you're losing, think of the extra time you've suddenly got to get your life in order. Text an old friend, go through your holiday snaps, catch up on emails, get some gift shopping done in the duty free stores, find a corner to do some stretching in, or call your mum. If there's no data signal, or you're a ridiculously organised person and don't have any of these things to do, relax into a seat and practice some mindful meditation – that's sure to turn your frustrating delay into a more pleasant, productive situation. 
All images courtesy of Getty.
---
Visit your local Flight Centre store or call 131 600 for more advice and the latest deals.
---
Other Travel Articles You Might Like...