12 February 2015
For a start I sleep more soundly thanks to the purest air in the world.
Our cottage is hidden away in a sleepy hamlet just outside a village called Cygnet in the relative wilderness of the Huon Valley.
Cygnet is older than Melbourne, older than the settlements of South Australia or Queensland. It was Bligh, on the Bounty in 1777, who visited nearby Adventure Bay and planted a few apple trees that kicked off the industry that Tasmania grew up around.
Tassie possesses a large country town mentality in its two major cities. Hobart, its capital, is about as friendly a place as you could hope for – apart from its overly enthusiastic parking inspectors and radar police – and this generous spirit is reflected in everything from cafes to shops, to museums, to antique stores, to petrol stations.
People offer warm salutations when you walk into a store, and are keen to tell you about their products or services.
The Simple Lifestyle
Don't misunderstand this to mean backward. I'm talking about a lack of pretentiousness that is wildly endearing.
I love that the local farmer screeches to a halt to leap from his truck and give me a welcome back hug. I don't know him all that well – but we're neighbours and he's always pleased to see us return, brings us local raspberries because he knows I love them, lets me help hand feed his orphaned lambs.
I swear the food is more tender, tastier, fresher.
There is a market each weekend in villages up and down the state.Locals are up before dawn to pick their vegetables or fruit or bake everything from sourdough to fruit loaves.
Their stalls are already busy by 10am when you come into town, scratching and yawning on a Sunday morning, to buy the freshest produce you could imagine.
The Giant Strawberries Need No Sugar
I'm a Brit originally and have yearned for those Scottish strawberries of my childhood summers but here in Tassie, they're better - as big as a ping pong ball and they're sweet. You need no sugar, no embellishment, pick them up like an apple and chew into them.
The cherries! As large as king marbles, black or red varieties that crunch when you bite into their cool, crispness, with a perfect balance of sweet and tart. Blueberries, mushrooms, even saffron is all growing within minutes of our place, and of course the very widest and best range of apples, pears and oh my gosh, the POTATOES! So many varieties and so fresh.
Lots of fresh produce from cider to honey is available at roadside kiosks with honesty boxes.
I'm a vegetarian but my family assures me the meat here is definitely superior.
Wine And Spirits Are Welcome Newcomers
The wine and liquor industry is booming in Tassie.
Some of the finest pinot and one of the country's best vintage sparkling is coaxed into finding its effervescence up north at the Jansz vineyards – worth a visit.
The Lark Distillery is doing something special with whisky from the Coal Valley while 666 Vodka, named after the Tasmanian Devil and 40% proof is arguably one of the best on the planet.
The cocktail specialist at the six-star Saffire Resort says he has tried every major vodka for his guests and nothing comes close to 666 for its clean finish courtesy of Cape Grim water.
The Baristas Actually Listen To You
It feels as though more cafes serve excellent coffee made with genuine care by people who seem happy to take highly specific instructions for each customers' particular desires for their caffeine hit ... and suffer little of the arrogance of baristas on the mainland.
I am one of those highly controlling coffee drinkers and few waiters in Tassie bat an eyelid when I launch into how I prefer my coffee.
The best watering hole for me? I would recommend sitting at the picture window at Smolt in Salamanca Place, Hobart, for a top coffee and I would recommend you linger for a homemade lemon curd doughnut to go with it ... or just stay on for lunch.  You are unlikely to regret it.
How many of us can genuinely claim to have a stillness in our lives with space in our minds to hear our thoughts, to tease through decisions, to simply feel at peace within?
I would love to see a survey of blood pressure on the mainland versus blood pressure in Tasmania. My life in Tassie slows to a crawl and my pulse matches it. Days stretch to feel twice as long and I have shown over a decade that I can generate more quality words in my manuscripts from half a day's work in the peace of the Huon Valley than several days committed working on the mainland.
---
Find out why Tassie rates so highly. Why We Think Tassie Is A Winner For 2015
It's awash with tasty attractions. A Foodie's Guide to Tasmania
---
A History Full Of Surprises
Marvellous ancient tales of our forbears abound in Tassie and every time I visit I think I learn something new about the oldest this of Australia or the oldest that.
Oldest brewery, oldest underground sewage system, oldest country newspaper ... there's an extensive list.
I didn't know, for instance, until a week ago, that Melbourne was settled out of Launceston.
I didn't grasp either – going back to even earlier history – that French explorers had faster, smaller ships that could ease into tiny bays and inlets, which explains why for instance our place overlooks the cumbersomely named D'Entrecasteaux Channel ... or why our local village started out as Port de Cygne, now Cygnet.
Our convict past swirls from north to south in Tasmania and there are marvellous stories of trial, tribulation and adventure attached to almost every town or village.
Gentle Colour, Rugged Wilderness And Breathtaking Beauty
Tasmania offers the visitor everything from a rolling patchwork of meadows through to the most rugged wilderness of Cradle Mountain or the breathtaking beauty of spots like Wineglass Bay.
You'll see lots of green, a beautiful background for its wealth of flora such as the red-earthed historic lavender fields I wrote about in The Lavender Keeper.
Sadly I will admit to being unnerved by the constant assault of road kill and I wish we had a solution that might give the animals a better chance of making it to the other side when they make that ill-advised dash.
When you visit developments like Saffire – acknowledged as currently the world's finest boutique resort - or around Salamanca or the Museum of Modern Art in the south you realise that Tasmania - this best kept secret of Australia - surely Tassie has a bright future that I hope we'll protect in terms of its pristine wilderness, magnificent wildlife and the friendly optimism of its people.
.........................................................................................................................................................
Read Fiona's latest novel: Nightingale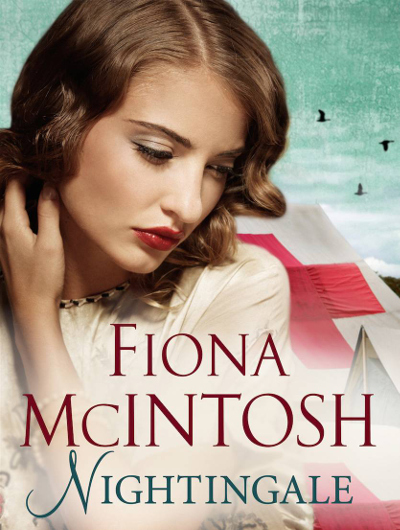 Amidst the carnage of Gallipoli, British nurse Claire Nightingale meets Australian Light Horseman Jamie Wren. Despite all odds, they fall deeply in love but war tears them apart. Come peacetime, Claire's search to find Jamie takes her to Istanbul, where she attracts the attention of a charismatic scholar. Cultures come together, enemies embrace and forbidden passions ignite. A breathtaking novel of heartbreak and heroism, love and longing by a powerhouse Australian storyteller.
.........................................................................................................................................................
Other Travel Articles You Might Like...