29 September 2017
There was a realisation when I first arrived in the Basque Country that came as something of a surprise: no one was speaking Spanish. The same thing happened in Barcelona, too, when I listened closely. It happened in the province of Galicia, and even in Aragon.
The locals weren't speaking Spanish. They were speaking their own native tongues. They were speaking Basque, or Catalan, or Galician, or Aragonese. Here in Spain, it appeared that many people didn't want to speak Spanish.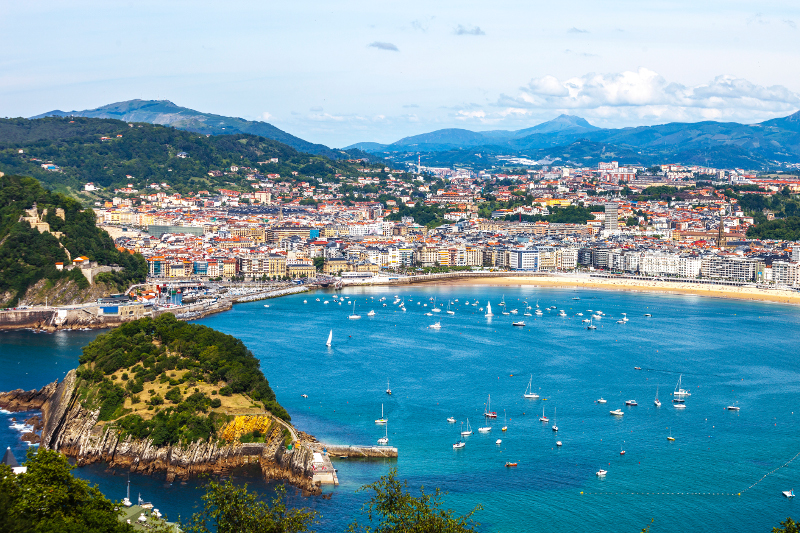 It dawned on me then that this is not a single, homogenous country. It's not a monoculture. Spain is in fact a series of close-knit mini-nations, a fascinating place of invisible boundaries that separate fiercely independent people.
There is no 'Spanish culture', I've come to realise. The country is a series of unique ways of life. There is no Spanish food – there's Catalan food, and Valencian food, and Andalusian food, and Galician food. There's no Spanish architecture, or Spanish music, or Spanish wine. Each region has versions of these cultural touchstones to call its own.
While this might lead to some fractured politics, it also makes for an amazing tourism experience. To travel Spain isn't simply to explore one country and one culture but to discover something new in every city. The only seam that runs through all of these mini-nations is a love of the good things, of family, of food, of leisure and life.
Basque Country
You can't help but envy the Basques. Not only do they get to call northeastern Spain – one of the most beautiful parts of the world – their home but they also have some of the best food on the planet.
People of the Basque Country hold claim to the most unique language in Europe: Basque, or Euskara in its own phrasing, is not related to any other European language.
Basque culture is traditional but also innovative. This is a region of artists and artisans, of architectural gems including the cube-like Kursaal Centre in San Sebastian.
Bilbao is the main city of the Basque Country, and the people have a grounded attitude born of an industrial background. The city started to gain international attention with the addition of the Guggenheim Museum in 1997, also an architectural wonder, which contains modern works by artists such as Warhol, Rothko and Lipschitz, as well as impressive temporary exhibitions.
Don't miss:
Guggenheim isn't the only worthwhile museum in Bilbao. Check out the Museum of Fine Arts for a collection of work by Basque artists such as Ignacio Zuloaga and Eduardo Chillida among work by other masters.
Catalonia
The first thing you notice is the flags: the bold red and yellow stripes with a blue triangle and a star. They fly from official flagpoles; they hang from balconies and windows. This is the Estelada – the flag of Catalan independence – and it flies freely in cities like Barcelona and Girona. The Catalans have their own language, their own style and their own governance – and they would very much like to have their own country. And beautiful country it is, with Mediterranean and alpine climates, stunning coastline such as the Costa Brava and wilderness including serene lake-dotted national parks in the north.
For now, they're part of Spain but retain their own spirit. You can see that spirit in the work of one of the Catalans' favourite sons, Antoni Gaudí, including his architectural masterpiece, La Sagrada Familia. You can see it in the passion for Barcelona's famous football team. You can see it in the work of award-winning chefs like Ferran Adria of El Bulli fame and the Roca brothers from the amazing El Celler de Can Roca. Most of all, however, you can see it on the streets of Barcelona, Girona and Tarragona, in the bars, the cafés, the markets and the malls. And you can't help but be swept up.
Don't miss:
As impressive as La Sagrada Familia is from the outside, it's essential to take a tour of the interior to fully appreciate Gaudí's genius.
Galicia
Many visitors to Spain will be familiar with Galicia as the goal for pilgrims walking the Camino de Santiago, a holy trail that leads to Santiago de Compostela in the region's centre. That city may be the capital and cultural hub of Galicia but there's much more to this semi-autonomous region, a place that boasts as much Celtic history  as it does Roman or Latin.
Set in Spain's far northwestern corner, Galicia is known for its rias – the rugged coastal inlets that frame much of the region's 1,200km of Atlantic coastline. Dotted among these rias are lively cities such as A Coruña and Vigo, friendly places where the days are long and the nights are even longer, making them the perfect locations in which to relax, take things slowly and enjoy sampling the fresh seafood for which Galicia is famous throughout Spain.
Don't miss:
As beautiful as Galicia's coastal locations are, the true highlight of the region is Santiago de Compostela. This holy city is an absolute charmer, with its stone-paved streets, centuries-old churches and countless tapas bars and restaurants.
Andalusia
Andalusia is the Spain you've been picturing: hot, sultry and passionate. It's the swift movement of fingers on a flamenco guitar; it's the artistry and violence of a matador; it's the buzz of drinkers gathered in a city square. Andalusia is a place of deep traditions that hark back to the Romans and Visigoths and Moors.
Each city has an identity of its own. In Seville, once a seat of power, the winding alleyways of the Old Town are lined with more bars and cafés than you think a place of this size could possibly support. Granada, a lively student town, still sits in the shadow of the Alhambra, the ancient Arabic fortress. Córdoba boasts a stunning central building that has served as both cathedral and mosque. And Málaga, one of the oldest cities in the world, basks in the southern sun.
Whether you're attending a flamenco performance, watching a bullfight, eating tapas or simply strolling centuries-old streets, it's impossible not to feel at least a little of the passion that makes Andalusia great.
Don't miss:
The Real Alcazar is a former royal palace in Seville that served as the location for the Dorne water gardens in Game of Thrones. It's one of the world's finest examples of Moorish architecture.
Valencian Community
While many regions in Spain are defined by their history, Valencia – or the Valencian Community – is very much a place that lives in the present. You only have to walk the streets of its eponymous main city to realise this is true: the buildings are works of modern art, from the futuristic Ciudad de las Artes y las Ciencias (the City of Arts and Sciences) – a huge complex of bubble- and wave-shaped buildings designed by local architect Santiago Calatrava – to the former riverbed that has been converted into extensive parklands.
Valencia the province is a one-time kingdom that still has its own language, though as it is also a modern-day hub for students and travellers, Spanish is widely spoken. One of the highlights of a visit to this region is sure to be the chance to sample that most famous of dishes, paella. This is Valencian to the core, to the point that there is really no other place in Spain where you should be eating it.
Don't miss:
The beachfront area of Malvarrosa is the perfect place to try paella. Just remember, this is traditionally a lunchtime dish that's eaten communally  – as in, everyone grabs a spoon and attacks the pan together.
Aragon
Leave city life behind with a journey into the heart of Aragon, a historic and beautiful Spanish region that lacks the metropolises of its neighbours but more than makes up for this with gorgeous medieval villages and mountain landscapes. Aragon nestles between Catalonia to the east and the Basque Country to the west, another one-time kingdom that could be straight out of Game of Thrones with its fortified citadels and weathered plains.
As in so many parts of Spain, the Aragonese have their own language, their own traditional music and dances, their own festivals and their own cuisine. But while there's much to love about the people and their culture, the real appeal of Aragon is the chance to get outdoors and enjoy the scenery. The region is a hub for canyoning, rock-climbing, whitewater rafting and hiking. Those keen for something a little more sedate can, of course, soak up the laidback charm of the capital, Zaragoza.
Don't miss:
Some of Spain's finest wine is produced in Aragon, in areas such as Somontano and Carineña that are known for their reds (in particular, tempranillo and granacha).
Five Spanish cities to see now:
Barcelona
The Catalan capital is a cosmopolitan hub of students, travellers, artists, buskers and wanderers from all origins and walks of life. This is also the home of Antoni Gaudí's most famous works, from La Sagrada Familia to the hilltop Park Güell.
San Sebastian
The jewel in the Basque Country crown is San Sebastian, a city with two beautiful beaches, some lovely architecture and great shopping, all of which are completely overshadowed by the food. San Sebastian's tradition of great cuisine stretches from the fanciest restaurant to the cheapest bar.
Granada
There's much to love about Granada, but in terms of pure enjoyment, go no further than a night out in the bustling Old Town, feasting on tapas and enjoying the sounds and sights of flamenco. There's a tradition in Granada – buy a drink, receive a free plate of tapas – that adds to the convivial air.
Santiago de Compostela
One of Spain's most underrated cities, Santiago de Compostela is the finish line for pilgrims hiking the Camino de Santiago who pay a visit to the main cathedral before relaxing in the city's charming surrounds. The stone-paved streets and centuries-old buildings make it impossible not to fall under Santiago's spell.
Madrid
The Spanish capital is surprisingly underappreciated as a tourist destination, despite boasting one of Europe's best art galleries in the Museo del Prado, plus being the home of two of the continent's most famous football teams and some of Spain's best nightlife. Madrid  is arty, friendly and fun.
---
---
Other Travel Articles You Might Like...