1 November 2017
That rugged, windswept coastline, those cosy pubs and friendly locals... a holiday in Ireland is on the wish list for many people. Read up on these few money tips and you'll be set for adventure before you can say "Is that Guinness ready yet?"
The first tip would be to check out what our friends at Travel Money Oz have to say in their Ireland Destination Guide. They're the hands-down experts when it comes to foreign exchange and can help you make that home-grown dollar work extra hard. 
Second tip, and one that's easy to remember, is this: There are two currencies in Ireland. The Republic of Ireland uses the Euro (€) while Northern Ireland operates on the British Pound (£). These currencies are not interchangeable, so if you're heading north on your road trip from Dublin, you'll need to have some pounds in your pocket by the time you hit Belfast.
Third tip, fourth tip and more: Know What Things Cost
So... how much is a pint? This is just one of the big questions you'll want the answer to while travelling through Ireland (most likely on your first day). Little things can quickly add up and, once you've paid for your flights, accommodation and tours, it's good to know what to budget for day-to-day items such as drinks, food and getting around. We suggest starting with the basics – knowing the cost of everyday items you can expect on your Ireland holiday.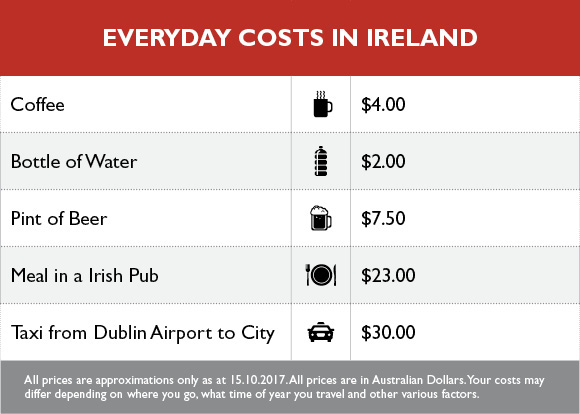 Is Haggling A Thing?
In Ireland, not really. Try haggling in a department store or popular chain store and you'll most likely be on the receiving end of some bemused looks. Flea markets and street markets, however, are another story. Here is where you can unleash the haggler within and try your luck at negotiating what you consider to be a decent bargain. The Irish are quite good hagglers themselves, so good luck.
Know How To Get The Best Rate
For both your Euros and your Pounds, the team at Travel Money Oz can help you get the best exchange rate. They don't have any secret inside information, but what they can do is ensure you're getting a good rate by following (and avoiding!) some of the below steps...
Things Not To Do:
1. Leave your foreign exchange to the last minute and purchase your currency at the airport.
The best way to avoid high commissions and fees, as well as less-than-great exchange rates at the airport is by pre-purchasing your currency for Ireland before you go. You can order in store or online and even set up a Currency Alert which allows you to pick a rate you'd prefer and Travel Money Oz will email you once the rate hits that mark.
2. Depend exclusively on your bank.
Yes, your bank knows money, but there are other avenues for buying foreign currency. With Ireland you'll most likely be in luck but as a rule, your bank may not have your desired overseas currency on hand and often you'll have to wait several days for it to arrive. You may also be charged an additional commission fee on top of the base exchange rate.
3. Put all your money on the one bankcard.
When you travel, it's always wise to carry your money in different formats so you're not caught short if your bankcard is lost or stolen. Try using a combination of methods, including cash, a pre-paid travel money card like a Key to the World Currency Card, and of course you bank cards for backup protection.
That Fantastic Plastic
Both credit and debit Visa and Mastercards are widely accepted throughout Ireland. American Express and Diners Club are less commonly accepted. Remember that foreign transaction fees can add up quickly, so pay in Euros or Pounds (GBP) wherever possible.
Hopefully these tips will help you be fully prepared for an incredible holiday in Ireland. Don't forget to sort your currency out ahead of time... and enjoy the craic!
---
Visit your local Flight Centre store or call 131 600 for more advice and the latest deals on travelling to Ireland.
---
Other Travel Articles You Might Like...