4 January 2012
Flight Centre's public relations manager Deana Puglisi has recently returned from a trip to Maria Island. Deana tells us about her trip and why she loved this gorgeous little island.
Nature lovers can lace up their boots for wilderness experiences, panoramic views of untouched coastlines and a dose of adventure on a well-paced walking holiday in Tasmania.
Often forgotten as a tourist destination, Tasmania has re-emerged itself as a place to engage with nature, indulge in gourmet food and explore a rich cultural heritage.
Maria Island is one of Tassie's hidden gems, located just half an hour by ferry from the mainland. The tiny island offers a postcard setting of white sandy coves and incredibly pure blue waters, unlike anywhere else in Australia.
The Maria Island Walk is the main reason why tourists visit the island. It is a four-day guided walk that has won more Australian Gourmet Traveller Awards than any other program in the world for Best Eco-Tourism Initiative and Best Eco-Adventure.
If that's not credit enough, the walk has been recognised by the Qantas Australian Tourism Awards, the National Geographic Traveller Magazine Awards, The Australian Tourism and Travel Awards and the Tasmanian Tourism Awards as a leader in adventure and eco-tourism.
To put it simply, it is a luxury camping experience where friendly guides lead you on well-supported walking trails. You sleep under the stars in cute and comfortable stand-alone cabins, nestled in the bush at a completely environmentally sustainable camp site.
I had never heard of Maria Island prior to my trip, yet I was drawn to the idea of a holiday that combined getting outdoors to discover Australia's natural playground with a chance to indulge in local produce.
The first day of the trip started early, with a private shuttle transfer from the hotel to The Maria Island Walk headquarters for a meet and greet with our guides, Hannah and Jane.
Naturally with a walking holiday, everything we wish to take to the island must be carried on our backs. This means that bulky suitcases are quickly replaced with heavy-duty backpacks.
After a quick brief and packing session, we leave the city of Hobart in search of eucalypt forests, whale sightings, rare birds and untouched beaches.
When we arrived on Maria Island, my first thought was that we had discovered a secret piece of land that nobody else knew of.
This landmass was in fact no secret at all. For thousands of years it was home to the Tyreddeme Aboriginal people until it was transformed into a penal settlement, following the arrival of European Explorers in the 19th century, and a farming settlement, after the industrial boom of the 20th century. Today, the island is entirely National Park and has no permanent human population, yet still retains a timeless charm.
Lack of electricity and mobile reception gives the place an aura of emptiness and pure serenity, which is ideal for self-discovery.
Feeling completely removed from technology and the buzz of 21st century life on the mainland, makes you really appreciate the simplicity of life. There is truly nothing more cleansing for the body than to inhale the fresh, clean air.
When it comes to the accommodation, comfort is one of their top priorities. The team at Maria Island appreciate that a good night's sleep is essential, so a warm, cosy bed with a sleeping bag, pillow and extra blankets are assured.
Their two eco-camps are tucked in a beautiful bush setting, but just a stone's throw from the beach. On the last night, guests are treated to a real colonial experience, staying in the beautifully restored, heritage-listed home of Diego Bernacchi.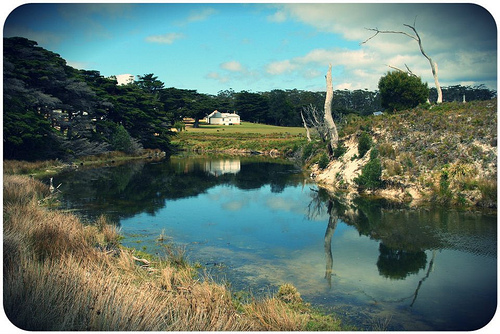 Days are spent exploring the mapped out trails on the island, swimming in the azure waters and climbing the mountains for views that are simply breathtaking.
As for the food, well it is delicious! Cooked right there at the campsite by the guides using fresh Tassie produce!
At breakfast we tucked into freshly prepared pancakes and cinnamon infused fruit compote.
For dinner we were fed a smorgasbord of barbecued quail, lamb cutlets, kangaroo meat and salmon (for the non-meat eaters), accompanied by warm cous cous salad and traditional ratatouille, and finished off with chocolate cake for dessert.
Our packed picnic lunches were just as delicious, including gourmet panini, fruit and even home-baked date and apple cake for afternoon tea.
The success of The Maria Island Walk is a great credit to its founders Ian and Bronwyn Johnstone. The passionate, zealous duo is the driving force behind the family owned and operated business, with a motto to welcome their guests as though they are part of the family.

Other Travel Articles You Might Like...