27 December 2012
Flight Centre consultant, Cassie Van Der Spil, recently attended the red carpet Australian premiere of the latest James Bond film, Skyfall at the iconic State Theatre in the heart of Sydney.
"We got the red carpet treatment and saw the celebs such as Megan Gale. Is was really fun. We walked past Daniel Craig when he was on the red carpet while he was giving his interviews to the journalists. As we walked into the auditorium of the beautiful state theatre, they had an orchestra playing. Once everyone was seated, there were interviews with the Producer, Daniel Craig and the other actors. I was lucky enough to sit behind the ABC film critics, David Stratton and Margaret Pomeranz," said Cassie.
Following the screening, Cassie and her husband retired to the Four Points by Sheraton, a comfortable four-star hotel in the heart of Sydney. Cassie said that they were upgraded to a water view room that overlooked Pyrmont and Darling Harbour, and was delighted that, even though the location was so central, she couldn't hear any external noise in the room. The service was excellent and the room was generously sized.
When Cassie isn't helping out appreciative customers from her Circular Quay store, she enjoys travelling to Greece.
"I've been to Greece for the last two years in a row. I always go to Mykonos, there is so much to do; I could easily spend 10 days there. The food is amazing, the people are fantastic and the weather is terrific," said Cassie.
"I also love the Middle East, especially Dubai and Israel. Jerusalem is such a melting pot of cultures. The beach resort of Eilat on the Gulf of Aqaba is great for sun baking and partying."
Book your next holiday with Cassie Van Der Spil. She can be contacted via email at cassie.vanderspil@flightcentre.com.au.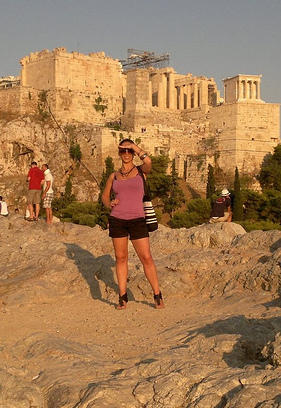 Other Travel Articles You Might Like...