29 November 2016
Abu Dhabi is one of the best places in the world to mix business with pleasure. An ever-expanding business destination, this modern desert gem also flaunts many interesting local attractions and luxurious hotels to spend the night. From sunning yourself on white sand shores to unveiling the local culture in museums and at historic sites, there's plenty to keep yourself occupied between meetings. Here's a on where to eat, where to stay and what to do.
Where to Eat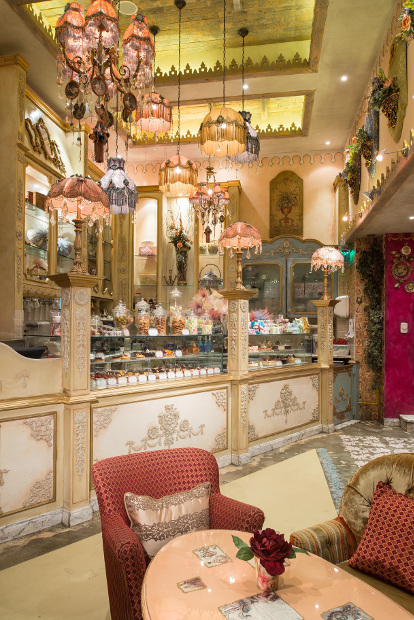 Breakfast
If you're looking to chat with clients over breakfast and want to branch out beyond the obvious more formal breakfast spots, don't look past Shakespeare and Co. It's so popular that it's worth booking a table. Adorned in Chic-Victorian decor, it is full of atmosphere and has both indoor and outdoor seating. The food is standout; the wide-ranging menu includes an English, American and Lebanese set breakfast. There's also a healthy option made up of an egg-white omelette, roast potatoes and asparagus, fresh fruit salad, natural yoghurt, brown toast and honey, a juice, tea or coffee.
Lunch
For a sophisticated business lunch, Shang Palace is the perfect spot. It is the signature restaurant at the Shangri-La Qaryat Al Beri - offering a high end Cantonese dining experience in an elegant dining room adorned in traditional Chinese decor. The service is superior and the food exceptional. The menu ranges from lobster and pecking duck pancakes to dim sum and Sichuan dishes. There are also set menus for larger groups.
Dinner
Enjoy a seafood dinner in a formal ambient environment suitable for business at the award-winning Fishmarket. The flagship restaurant of the InterContinental Abu Dhabi hotel, it flaunts a wonderful setting on the calm waters of the Arabian Gulf. It is renowned for its fresh, high quality seafood dishes cooked with a Thai twist and allows you to choose your seafood fresh from the display. You won't be disappointed.
Where to Stay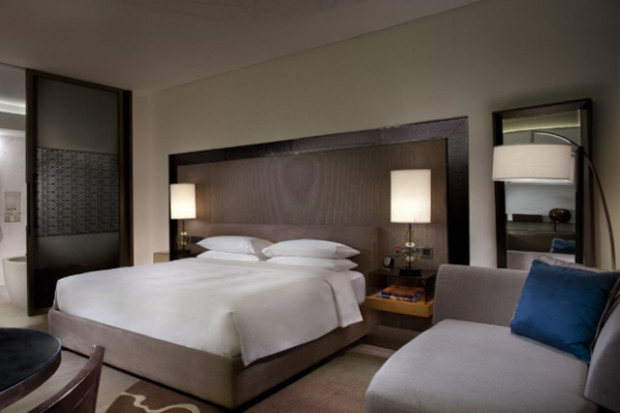 When deciding where to stay in Abu Dhabi, a top choice is the Park Hyatt Abu Dhabi Hotel & Villas. Located on a pristine natural beach and next to the championship Saadiyat Beach Golf Club, it offers a change of pace from the city hustle and relaxing pursuits to consider in your downtime.
The 306 luxuriously appointed rooms include villas, beach view suites and garden view suites and are all generously sized. Enjoy a luxurious king-size bed, spacious work desk, exclusive bath amenities and 24-hour in-room dining as well as a private balcony or terrace.
If you are looking to conduct business onsite, there is a full-service Business Centre available where you can make the most of state-of-the-art business facilities at any time of the day or night. These include WiFi, printing, faxing, photocopying and secretarial services.  The hotel is also able to cater to business travellers looking to host events.
Other benefits of staying at the Park Hyatt Abu Dhabi Hotel & Villas include a limousine service, airport transfers, spa services and four different dining options, from relaxed cafe style eating to Mediterranean flavours and a rooftop bar.
Where to Play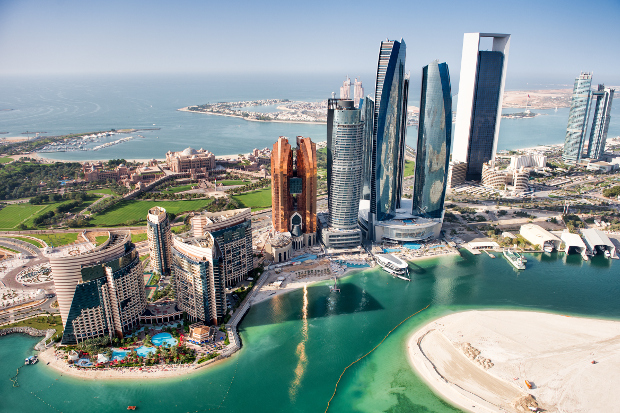 You certainly won't get bored when you're not busy doing business in Abu Dhabi. From fascinating attractions that'll give you true insight into the local culture to glistening beaches and modern luxurious to revel in, there's no shortage of experiences to be had.
Perhaps at the top of the list is the Sheikh Zayed Grand Mosque. No visit to Abu Dhabi is complete without seeing it with your own two eyes. It is an incredible masterpiece of modern Islamic architecture and an extravagant one at that. It boasts over 1000 pillars, 80 marble domes, a gigantic gold-plated Swarovski crystal chandelier and four 107-metre-high minarets. Wander inside to marvel at this extravagant feat.
Another cultural stop is the Qasr al Hosn fort – the first permanent structure in the entire Emirates. Dating back to the 18th century, it was originally built as a watchtower by the Bani Yas tribes but underwent numerous transformations to become a fort, and then a palace, and now the museum it is today. Inside, browse the collections telling the story of Abu Dhabi and the Gulf, including interesting oral testimonies and historic photographs.
For a different look at Abu Dhabi – one that presents a more modern outlook – head to the Le Royal Meridien hotel to get an incredible bird's eye view of this gleaming metropolis as it stands today. On the 25th floor, the restaurant Stratos revolves to offer 360 degree panoramas and non-diners are welcome to enjoy the view. You can linger longer however if you come for lunch or dinner.
Another spot that offers fantastic scenery back down on the ground is the Abu Dhabi Corniche. Flaunting beautiful beaches, dazzling waters and eight kilometeres of manicured waterfront, it's the perfect spot to simply take a relaxed wander and get a breath of fresh air. Bring your swimmers and you can go for a dip too.
If you like the idea of a bit of shopping while in Abu Dhabi, head to the port of Al Meena to explore the colourful local souks. They offer fascinating insight into the daily life of locals. There is the Al Mina Fruit and Vegetable Souk, the Fish Souk and the Carpet Souk, which is brimming with beautiful traditional textiles and designs.
Do you like a little adventure? One of the most memorable experiences in the UAE that involves getting out of the city is a 4WD desert safari. Powering over the sand dunes in the vast stretches of desert, it's a fun and at times heart-pounding ride. Some desert safaris include a traditional desert camp dinner in a traditional themed Bedouin camp set amongst the dunes. 
Other Travel Articles You Might Like...