14 March 2014
For Australian actor Mark Owen-Taylor being offered a role in the block-buster musical Strictly Ballroom is a welcome return to the story that he performed thirty years ago before it exploded into a worldwide phenomenon.
"I was in the little known second staging of Strictly Ballroom for The Sydney Theatre Company before it was turned into a film. I played Doug or Ray as he was known in the play. I knew Baz in the early years working on a few projects together but hadn't seen him for many moons when the call came through to audition for the musical. J.J. Silvers doesn't really have much of a presence in the film so playing the character is a process of evolution during the rehearsal period," said Mark.
"The first read through was a little daunting for me. I had to sing a song in front of people who are at the top of their game in musical theatre. Fortunately the style dictated a certain washed up, past one's prime vibe, which disconcertingly fits my singing style quite well. I wear the one costume for the whole show. It's elegant, stylish, astounding and glitters in all the right places."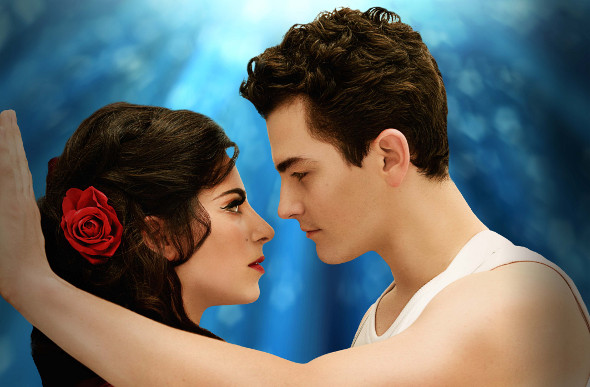 While the 1992 film is now part of the Australian consciousness, its genesis began in 1984 when Baz Luhrmann was studying at NIDA. Two years later, the now much lauded Director re-staged the play for the Czechoslovakian Youth Drama Festival in Bratislava. Following several more productions in Australia, the script was ready to be made into a feature film.
"From a small student play to my first motion picture and now a full-blown theatrical stage musical, Strictly Ballroom has been an almost thirty year journey for me. I have often marvelled at how this story, born so long ago, has been in my life for so many years and has managed to touch, move, entertain and uplift so many different people from so many different backgrounds," said Baz.
"I think the simple truth is that, despite all the sequins, outrageous hairdos and classic Hollywood musical plotting, the simple message that there isn't only one way to cha cha cha, and that within us all we have the true potential to dance through life with our own steps is something that appeals to all of us. The message that life doesn't have to be strictly ballroom is something I hope to have our audiences carry with them as they dance down the aisles."
Carmen Pavlovic, whose company Global Creatures is co-producing the stage production with Bazmark, is thrilled to be part of Strictly Ballroom's next incarnation.
"Our company is underpinned by an ethos of innovation and whether its dinosaurs, dragons, gorillas or ballroom dancers the aim is always the same – to tell great stories in genre busting ways. I have no doubt that Baz Luhrmann will preserve all of the heart and universality that Strictly Ballroom is famous for whilst delivering to audiences something that has never been experienced before. It's a proud and thrilling collaboration for our company to be in partnership with Baz Luhrmann and Catherine Martin. We believe that Sydney is the rightful beginning for Strictly Ballroom's journey back to the stage and to ensure the international success and recognition it deserves," said Carmen.
Mark, who is known to television audiences through such shows as Hey Dad, Sons and Daughters, A Country Practice, Water Rats and All Saints, believes it's the core themes that strike such a chord with audiences.
"Australians tend to carry a healthy scepticism toward those in authority. We like to have a gamble at beating the odds and win or lose we take comfort in giving it our best shot. Strictly Ballroom is all about defying authority, striking out and being true to oneself. Of course as exemplified by the film's worldwide popularity this notion is not isolated to Australians alone," he said.
"The stage show is live and we can't rely on editing tricks so the action has to be one constant flow from the Kendalls, to the dance comp, to the backstage shenanigans. However the real plus to a live show is that you can feel the energy, the pounding beat. The show is such that the audience is part of the action; they are co-contributors. It really is an event. I think it will be quite exhilarating."
After seeing the show, Mark has some great tips for holiday-makers visiting Sydney.
"Go to Circular Quay and grab a gelato, my personal favourite is mango. Facing the Quay, walk a few metres to your right past the guy who breathes fire, and take the glass elevator up to the edge of the expressway. Check out the view as you ascend. Stroll over to the Botanic Gardens and meander through heading up to the NSW Art Gallery. Once in the Gallery feast your senses and you are done."
Strictly Ballroom opens on April 12 at the Sydney Lyric Theatre, The Star.
Other Travel Articles You Might Like...