17 January 2014
Heading south from Brisbane on the New England Highway, Australian country music legend Troy Cassar-Daley is nervous with excitement.
"I have butterflies in my belly right now - driving down to Tamworth. It reminds me of my childhood. The roads are so familiar. I meet people who say the festival is on their bucket. I say, 'Well just tick it off.' You have got to experience Tamworth. It's one of the top ten music festivals in the world. This is a world-class music festival on our doorstep," said Troy.
As a 12 year old growing up in Grafton in northern New South Wales, Troy convinced his parents to take a trip to Tamworth for the music festival. The extended family including his aunts and uncles bundled into three cars and headed off.
"My whole family were singers, we lived and breathed it - we loved country music. I started playing guitar when I was 10 and country music is Tamworth. My parents didn't take much persuading – it was a big adventure. I remember the daisies growing along the road as we drove south and eating apples from a wild tree. It was also a bit of a history trip, because we stopped off at Thunderbolts Rock, just outside of Uralla, which is connected to the bushranger Captain Thunderbolt."
At that time, Australia's formal celebration of country music had only been around for several years. While a talent competition organised by the Tamworth branch of the Modern Country Music Association, which began in 1968, is considered by many as the precursor, the official festival started in 1973 with the Country Music Awards.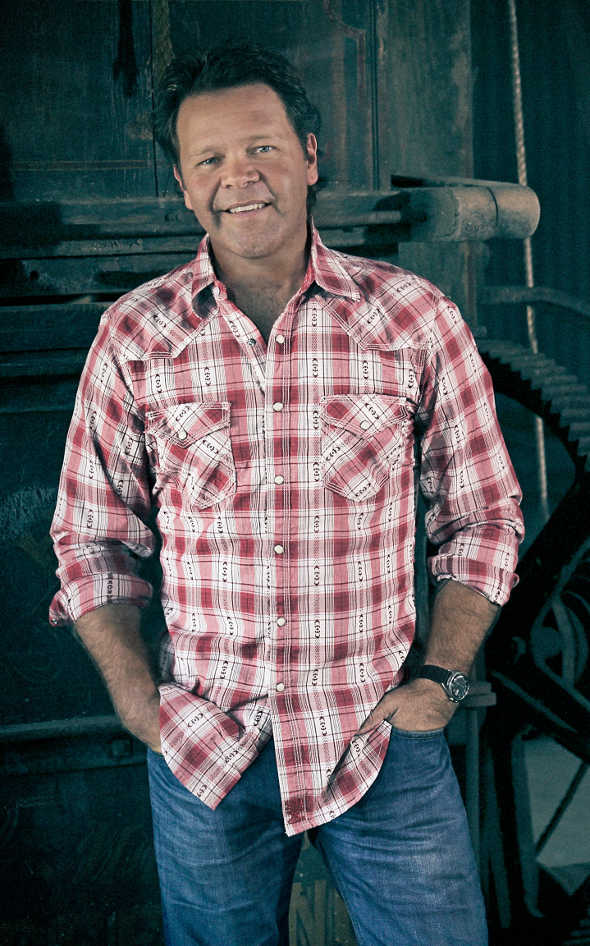 Troy was hooked after his visit as a youngster. He continued to return virtually every year - he missed one year when he had his appendix out. It was his guitar teacher that encouraged him to continue going back and to continue to perfect the craft of performance.
"It was the music. The first time I heard a steel guitar, I was a gonna. I couldn't get enough of it. I felt like I was inside an album: to hear the music live. Tamworth was the most important part of my career. The town was responsible for developing me as an artist. You always took something away from Tamworth each year; I always felt like I was learning. I decided it was the place to ply my trade. So I spent three years living in Tamworth. There were so many musicians who helped me out," he said.
As Troy continued to grow as a musician so too did his legion of fans. The accolades followed including 25 Golden Guitars, which are presented to artists each year in Tamworth in recognition of their contribution to country music. His first nomination was in 1994.
From a mobile phone on speaker, Troy tells Flight Centre that he's just outside Armidale and at this pace, he should roll into town in the next couple of hours. Having arrived home only yesterday from a family holiday, he prepared for the road trip by uploading a bunch of songs to his iPod. These tunes are sure to get him in the mood for the festival, which is held for 10 days including the Australia Day long weekend. This morning he listened to Johnny Cash, Slim Dusty and Casey Chambers when she was with the Dead Ringer Band.
He can't wait to head to his Uncle Pete's place and to catch up with his Auntie Val. After chilling out with family, he has a rehearsal for the opening concert on Friday night – where Troy and fellow country singer Adam Harvey will perform songs from the Great Country Songbook before the Mayor raises the official festival flag.
Troy's feature concert is next Thursday night where he'll be joined on stage by numerous artists who have been pivotal in his career and rising stars of the music scene. Troy remains guarded about exactly who will perform because he wants to keep it a surprise but it's sure to be some of Australia's great country singers.
So what advice does this festival veteran have for Tamworth newbies?
"Some people worry about getting accommodation because there are so many people going to Tamworth but you can get it. I think it's important to pre-book the concert that you want to see. The official guide is online and some concerts sell out very quickly. It's also great to head indoors to the clubs and pubs to get out of the heat. And make sure you take advantage of the free shows," he said.
The 42nd Tamworth Country Music Festival runs from January 17 to January 26.
Other Travel Articles You Might Like...