17 June 2019
Walking from the Girona Railway Station towards the city's walled Old Quarter just a kilometre away, the streets quickly narrow and the pavement disappears to reveal the city's medieval cobblestone streets and towering stone buildings.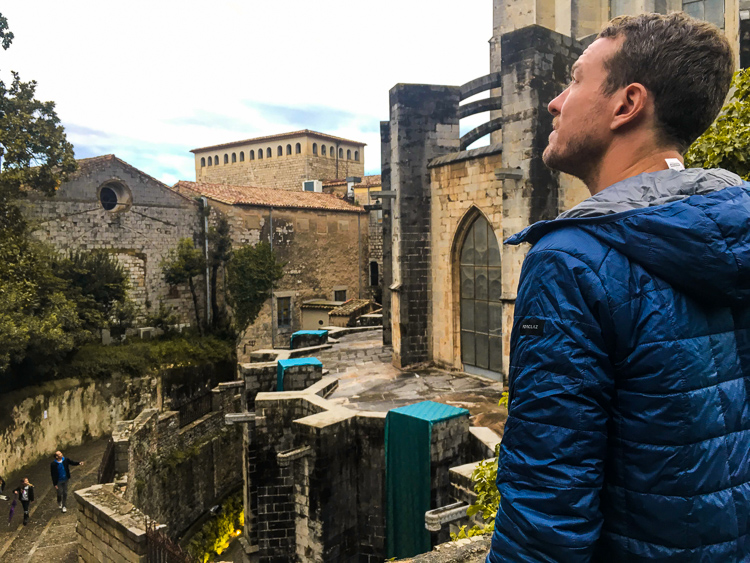 The small city of Girona is just 99 kilometres northeast of Barcelona and is known for its medieval architecture, a fortified Old Quarter aka Barri Vell, and for Roman remains of the Força Vella fortress. Some may recognise these landmarks and the cobbled streets from several seasons of Game of Thrones being filmed here, and it's easy to see why.
The picturesque city is also favoured by holidaying and professional cyclists for the nearby mountains and quieter cyclist friendly roads.
Listed below are some of the best historical sites to uncover walking around Girona, however my favourite thing to do while on holiday both before and after a beautiful day of cycling was to eat EVERYTHING.
All that's needed to find delicious Catalan and Mediterranean flavours is to take a short walk around the city, especially along either side of the Onyar River. Tapas, crepes and anything else your traveller belly desires can all be found just a few steps away.
Local foods to try include Xuixo pastries, sold in the best Girona cake shops; sweet Botifarra, a sweet medieval sausage; Empordà wines and cavas; and plenty of cured local meat. Read on for the best places to eat between all of that sightseeing.
Where to eat:
For one of the best breakfasts in Girona, head to Federal. The Spanish aren't typically known for their breakfasts, but this Aussie owned restaurant sure is.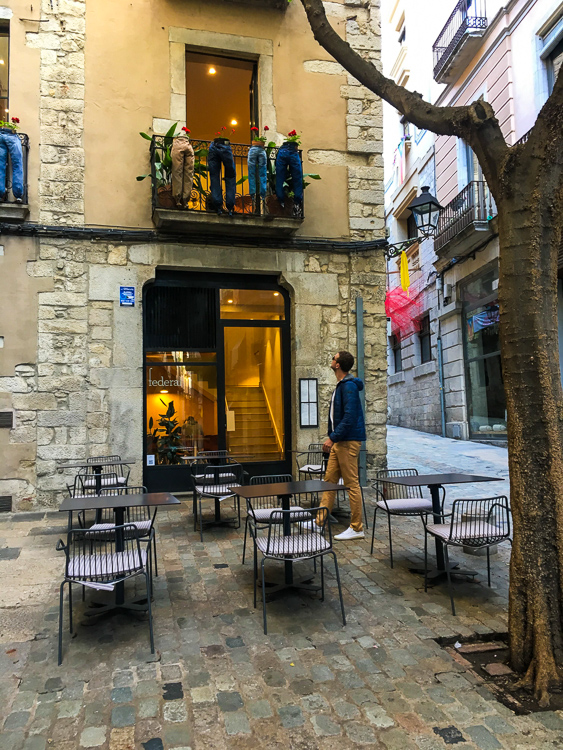 Then for a snack stop on by Volver for a delicious Argentinian empanada.
Just across the lane there's Espresso Mafia, your one stop shop for an afternoon espresso, sidled up next to the rest of the cycling crowd. Or head over to Coffee & Greens for their A+ smoked salmon bagel.
For all of your healthy 'avo on toast but on steroids,' cyclist approved meals head on over to La Fábrica, started by former pro cyclist Christian Meier.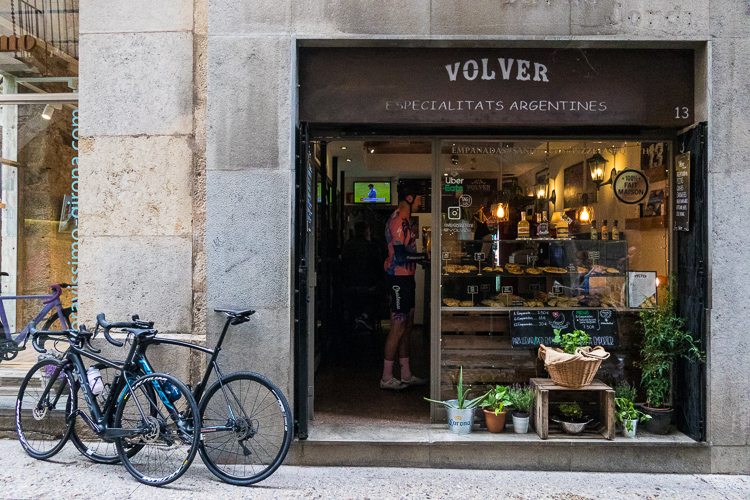 You can't go wrong when choosing where to eat but for dinner head to Plaça de la Independència and walk around. There you can choose from one of the many restaurants that dot the perimeter of the square. Then for dessert, check out the best ice cream store in Girona, La Bombonera.
For a special dining experience:
Voted best restaurant in the world 2013,2015 and 2018 by 'The World's 50 Best', El Celler de Can Roca restaurant holds three Michelin stars and transforms traditional Catalan dishes alongside multi-sensory dining experiences. Perfect for an anniversary dinner or 'just because'. 
Historical buildings and museums to see:
This is a city that boasts more history and grandeur in one tiny laneway than most larger cosmopolitan cities can dream of. From walking the ancient fortified city walls to exploring one of Spain's oldest Jewish Quarters, Girona is a beautiful historical city that has all of the charm but without the masses. Forget the long lines and get ready to discover the city's many inhabitants throughout history, from the Iberians to the Moors.
Walk along the tops of the city walls, Passeig Arqueològic, first built during the Roman period of the 1st century BC. From the top you will see out across the municipal, noticing the four rivers that cross the city.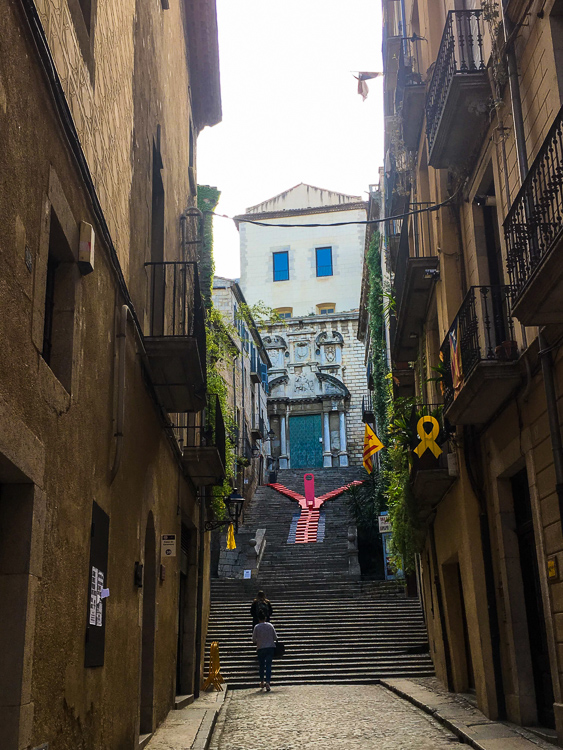 Down below is the old walled area known as La Força Vella, or the Jewish Quarter. The labyrinth of winding alleyways and stairs lead to courtyards used for trade in the height of Jewish rule in medieval times.
Learn more about the history of the city at the Museu d'Història de Girona then head to the Cathedral de Girona. Built on top of a Roman forum, the Cathedral de Girona's Gothic facade implies this building is much younger than it actually is, with foundations that date back to the 5th Century.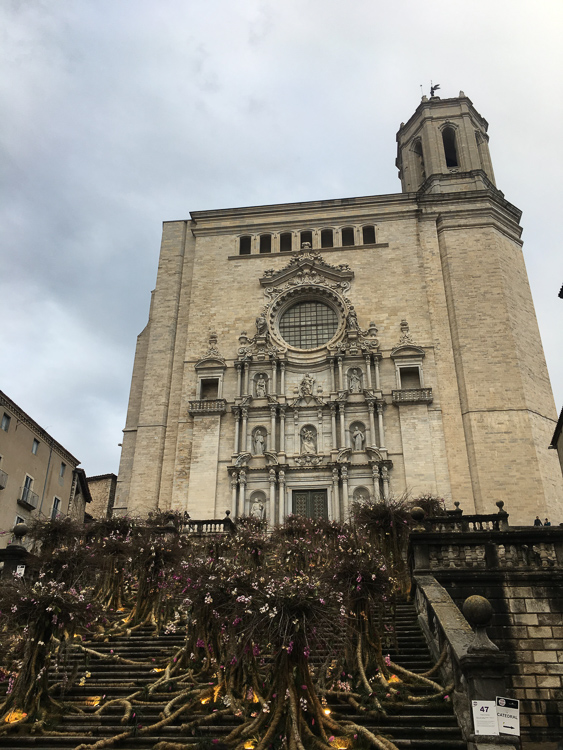 Just a short walk downhill is Basílica de Sant Feliu, the city's other colossal church which features a fantastical truncated bell tower. Above you can see an elaborate floral exhibit on the Cathedral's steps for Girona's Annual Flower Festival in May, a vibrant and colourful time to visit the city.
---
---
Other Travel Articles You Might Like...