17 September 2018
Tumbling towards the River Rhine, where eastern France meets western Germany, Alsace is one of Europe's most idyllic and beguiling regions. A popular destination with river cruisers, it's home to some truly beautiful places - many boasting a rich fusion of Gallic and Germanic flavours (Alsace passed between German and France control for centuries, but has been ruled by the latter since the end of World War II). Whether you're on shore excursions from your ship or exploring the region by yourself, these are some of the highlights.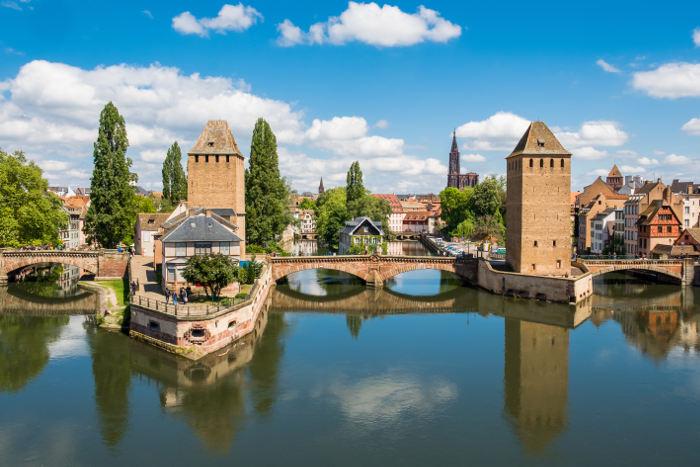 Strasbourg
Founded on an island in the Ill River, Alsace's stunning capital is linked to the "mainland" by more than 20 bridges of varying beauty. Tourists flock to the city's awe-inspiring Notre Dame cathedral - which offers wide-ranging Rhine views from its lofty tower - but the surrounding cobbled streets, especially in the district of Petit France, are equally alluring. For a break from the Middle Ages aura, pop into Strasbourg's modern art museum, which has eye-catching contemporary paintings, sculptures and murals, or travel by tram, decorated with European Union stars, to the European District, home to the continent's parliament and court of human rights. After being fought over for centuries, Strasbourg now symbolises peace and unity.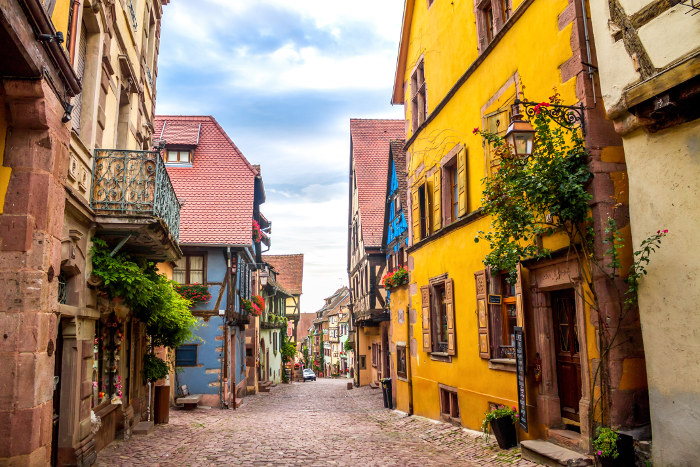 Riquewihr
It sounds German - and looks like something from Hansel and Gretel - but Riquewihr is part of the Beaux Villages of France (a network celebrating France's beautiful villages). It's a joy to amble along Riquewihr's main hilly cobbled thoroughfare, and down its crooked side alleys, past colourful, timber-framed 400-year-old-plus houses. Many host cafes, gift shops selling regional produce and souvenirs and winstubs (traditional Alsatian inns). Some buildings have cellars where you can sample the wines cultivated in the vineyards surrounding this village of 2000 people.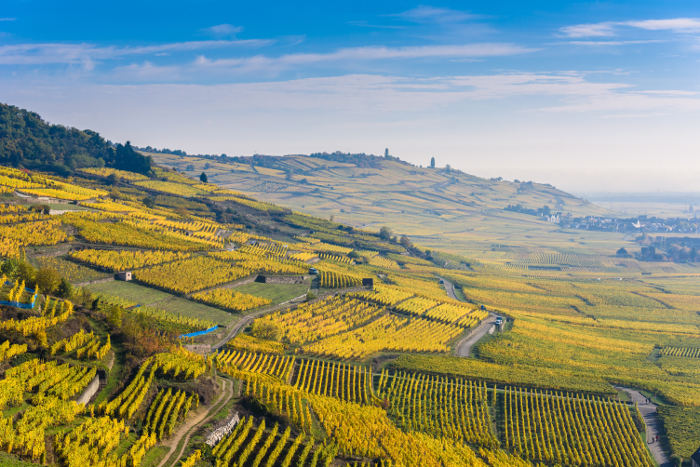 Alsace Wine Route
Coursing over 170km through the gorgeous Alsatian countryside, the Alsace Wine Route is lined with wineries offering tours and tastings, and during October, there are grape harvest festivals. One good pit stop, year round, is the village of Kientzheim, which has museums dedicated to Alsatian wine-growing as well as family-owned producers like Domaine Paul Blanck & Fils. Though pale reds and roses are produced in Alsace, most wine is white, often using Riesling, Gewurztraminer, Pinot Blanc and Pinot Gris grapes, brimming with aromatic, floral and spicy characteristics. Fans of bubby must try Cremant d'Alsace, a sparkling wine seen as an Alsatian version of Champagne. 
Colmar
A 20-minute drive south of Kientzheim is the historic town of Colmar. Fluish with quintessentially Alsatian streets (think: cobblestones, half-timbered medieval buildings and Gothic churches), it has, on its outskirts, a rather surreal and incongruous sight. Perched on a roundabout is a copy of New York's Statue of Liberty. Built by Gustave Eiffel, the original monument was designed by Frederic Auguste Bartholdi, a sculptor born in Colmar, and this replica was unveiled in 2004 to commemorate the 100th anniversary of his death.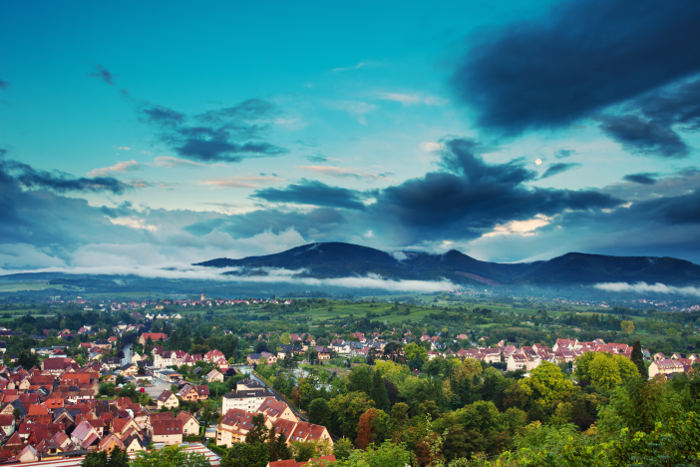 Hautes-Chaumes
Home to the Vosges mountains, criss-crossed with valleys and vineyards, and speckled with chalets, chateaux and ski resorts, Alsace is an ideal hiking destination when the weather's fine (which it often is from April to October). There are more than 17,000km of marked-out trails, with options for all fitness levels and timescales (some routes will take you a few hours; other, more gruelling ones last a few weeks). Tourism Alsace has a raft of itineraries on its website, including a 16km circuit of the mountain lakes and forests of the Vosges' Hautes-Chaumes area. Cyclists will also be in their element in Alsace, especially on the Col du Ballon d'Alsace - a mountain pass that has featured in the Tour de France.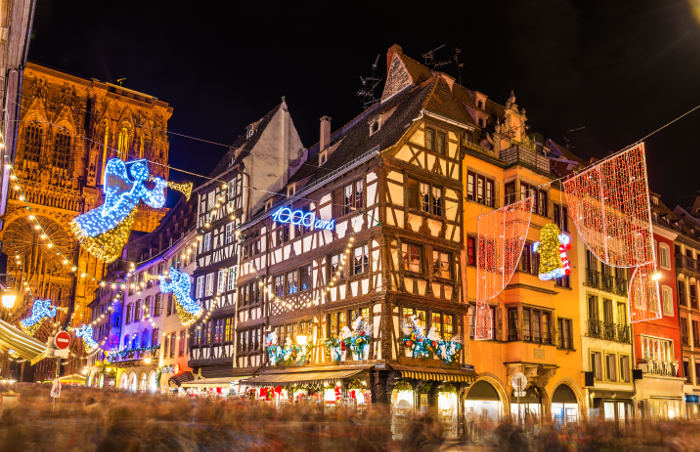 Christmas Markets
While the northern summer is naturally a great time to visit Alsace - thanks to its warm temperatures and copious hours of daylight - winter has its own appeal. Snowbunnies flock to the Alsatian slopes, while festive charm fuels the towns and villages. Strasbourg's Christmas market is touted as the oldest in France, dating to 1570, but quaint alternatives abound, with stalls everywhere - including in the town of Ribeauville - doing a roaring trade in mulled wine and spicy bredele (biscuits). If it's too chilly outside, head indoors and restaurants and winstubs will warm you up with gastronomic delights and hearty Alsatian staples. Try tarte flambee (a bread dough laced with creme fraiche, onions and lardons) or choucroute garnie (sauerkraut-like pickled cabbage with sausages and other charcuterie). 
---
Get the latest earlybird Europe deals on sale here!
---
Other Travel Articles You Might Like...