28 November 2014
Words by Ben Stower
Rock-and-Roll-Hall-of-Famer David Lee Roth once said, "Money can't buy you happiness, but it can buy you a yacht big enough to pull up alongside it." For those of us not world-famous musicians, spending a week-long holiday on a luxury yacht may be as close as we'll ever get to this sentiment.
Yachts come in various sizes, beginning at a compact 12 feet (3.6 metres) and getting as big as cruise liners. Yet they all provide a relaxing chauffer experience where you needn't concern yourself with the trifles of regular life.
For a small fee, ranging from $1,000 to $10,000 or more, you can embrace a life of opulence aboard a traditional sailing yacht or an enormous super yacht.
After a few days of lounging on the deck, pulling into peaceful coves for water sports and dining on professionally-made meals, you may find truth behind David Lee Roth's words.
We've found five renowned luxury yachts encompassing various styles, sizes and locations. These stunning dreamboats are all worthy of at least fantasising about.
Whitsunday Blue
Keep it local on the Whitsunday Blue (aka 'Blue'), a 41-foot (12.5-metre) lagoon-style catamaran yacht that takes a lot of the swaying out of sailing with its wider surface area. There's enough space for eight guests to sleep comfortably across the two double and two queen-sized cabins, and plenty of deck area for laying out.
With a trained hostess on board, you can enjoy gourmet meals in the comfortable dining area, which comes with a wooden table and leather lounges.
With the gorgeous Whitsunday Islands around you and the Great Barrier Reef beneath the keel, you've got a great opportunity for snorkelling, diving and island hopping. These activities and the more leisurely ones are all facilitated by equipment on board the Whitsunday Blue.
Abuelo
Setting sail around Spain and the Balearic Islands, the Abuelo is a contemporary lady of the sea. Its four modern staterooms include two with king-sized beds, while all of them feature televisions and en suite bathrooms.
There's still space inside for a large kitchen and dining area that would more than rival that of most inner-city apartments. It's quite a scene outside on the back deck with additional table and lounges and no walls between you and the ocean.
Onboard items include water skis, inflatable toys, snorkelling equipment and seabobs (you might've seen your favourite international spy using one of these to power their way underwater). Plus, with stop-offs including Ibiza, Mallorca, Barcelona, the Virgin Islands and the Leeward Islands, the only thing there isn't room for is boredom.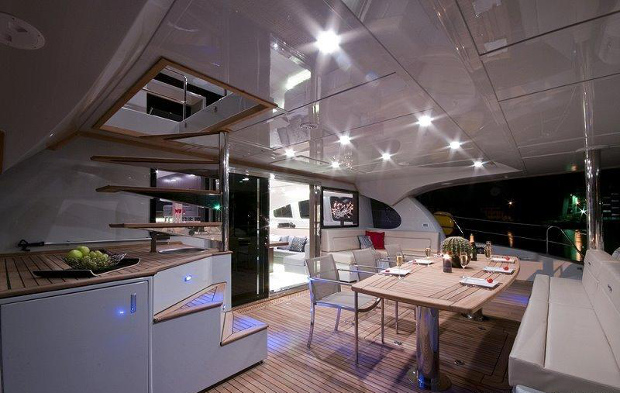 SeaDream I or II
The SeaDream two-yacht fleet is a little different than the others on this list. As super yachts, these vessels rival cruise ships for size, yet the company maintains, 'It's yachting, not cruising". Regardless of what you want to call it, crossing the seas on the SeaDream I or SeaDream II is one of the most luxurious ways to boycott dry land.
As rooms go, even the cheapest Deck 2 Stateroom provides enough space for a queen-sized bed and separated lounge area with writing desk. However, it's the suites – Commodore, Admiral and Owner's – that deliver royal-esque opulence. The Owner's Suite is the pinnacle, with massage shower and enough space to throw your own private cocktail party.
But don't stay hidden away inside your bat cave; there's too much entertainment to be had out on the decks. With a dining salon, golf simulator, Top of the Yacht Bar, Balinese Dream Beds, a piano bar and numerous pools and Jacuzzis, it's welcome aboard sailor.
Andromeda La Dea
With 154 feet (47 metres) of length and only eight passengers (plus eight crew members) to use it, the motorised yacht Andromeda La Dea is almost its own portable island. Having circumnavigated the globe, you can trust this renowned vessel's seaworthiness as it hops between locations (you decide where) including Sicily, Dubrovnik, Athens, Corsica and Monaco.
One of the yacht's most elegant areas is its main salon with cinema-quality surround sound and an actual fireplace. Dining can be done inside at a formal dining table with adjacent wet bar, or alfresco-style at the aft cockpit. The gourmet meals from the award-winning charter yacht team may challenge the scenery for your attention.
Sleeping is taken care of in the form of the VIP stateroom with en suite and queen-sized bed, the guest stateroom with its own entertainment system and a twin guest stateroom, which is popular with families with children.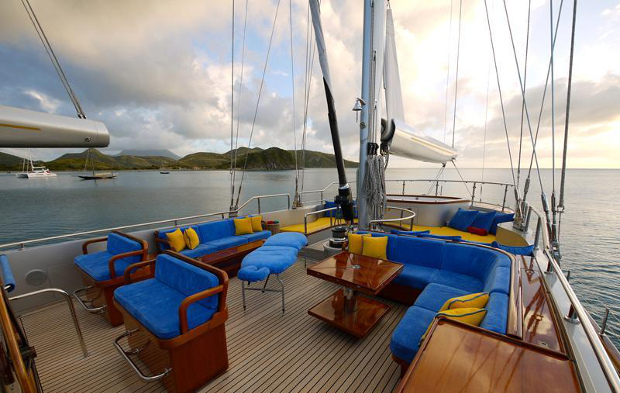 Lady Mariposa
The Lady Mariposa, operating around the Caribbean's cluster of tropical islands, is an understated matriarch of luxury yachting in the area. Its air-conditioned cabins ­– one master with en suite, one single berth, one double berth and one bunk cabin – provide comfortable lodgings for up to six passengers.
While on board you can appreciate some creature comforts such as a home cinema, DVD library, barbeque, Wi-Fi and satellite television. However, with the sun perched above, it would be a waste not to take advantage of the fishing equipment, wakeboard, paddleboard, water skis and snorkelling and scuba diving gear.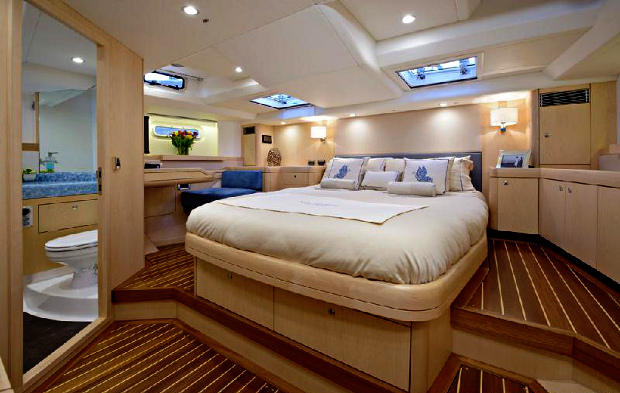 Other Travel Articles You Might Like...
Talk to a First & Business Class Expert