13 November 2014
Words by Ashton Rigg
Crisp white table cloths; desserts that defy gravity; menus fit for a Francophile, sprinkled with mentions of verjuice, amuse bouche and chiffonade.
On any given night, you'll find well-heeled patrons chomping at the bit to take a seat inside these prestigious sit-downs. They are Australia's most celebrated celebrity chef restaurants – the cream of the gastronomic crop.
They have been praised by travel bibles and culinary deities the world over. They pop up on the screens in our living rooms, are splashed across our social media feeds, and top the bucket lists of the epicurious.
Consider booking ahead for a meal your tastebuds will never forget at one of these seven notable nosh spots in Australia's most food-forward cities.
Quay – Sydney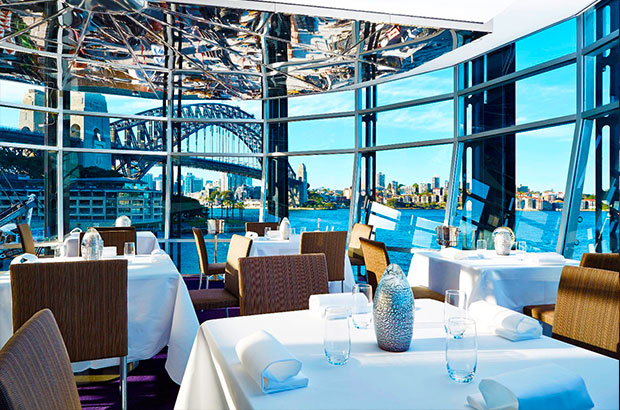 Cuisine: Modern Australian
GFG Rating: 19
Sydney's Quay is one of three Australian restaurants sitting pretty with a whopping 19 chefs hats awarded by the Australian Good Food & Travel Guide. While 13 may be unlucky for some, for Chef Peter Gilmore it represents the consecutive years in which his restaurant has earned the coveted three-hat three-star status.
The sails of the Opera House and the bow of the Harbour Bridge provide an eye-catching backdrop to match an equally appealing menu. Warm up your palate at the Rocks restaurant with raw smoked wagyu or mud crab congee, but be sure to save room for something sweet. The delicate dessert known simply as the 'snow egg' is Gilmore's personal favourite. As the old saying goes, never trust a skinny chef.
The Press Club – Melbourne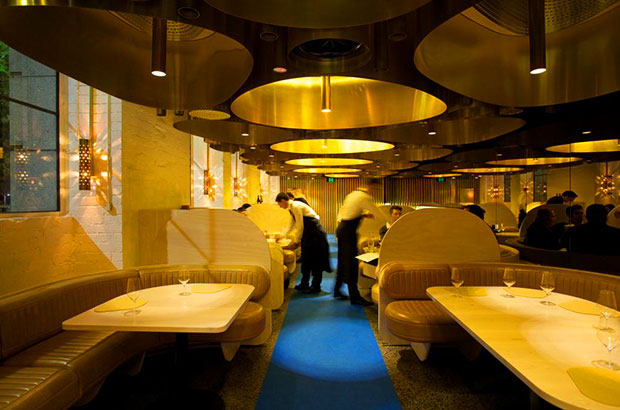 Cuisine: Modern Greek
GFG Rating: 16
If you are one of the lucky 32 guests tucked snugly into the leather booths of The Press Club, do not expect slippery gyros or lazy lumps of dolma. Settled on Flinders Street in Melbourne, The Press Club is unmistakably and unashamedly 'fine dining', offering five- or eight-course degustation menus for dinner, as well as a la carte lunch.
Those who have seen George Calombaris in action will know the chef has a knack for making the complicated look exquisitely simple. Described as 'playful, not pretentious', The Press Club promises not to forget the down-to-earth hospitality and communal vibe of Grecian fare. Opa!
Jamie's Italian – Sydney, Brisbane, Adelaide, Canberra, Perth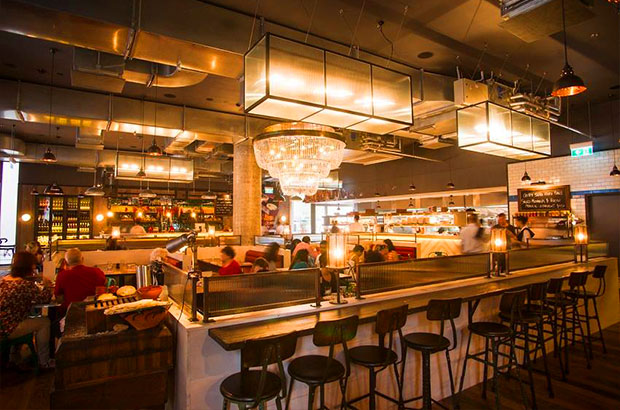 Cuisine: Italian
The most low-key but arguably the best known establishment on this list, Jamie's Italian is as wholesome, consistent and as charming as the man himself. With 30 restaurants worldwide and soon to be six in Australia (Brisbane opens before Christmas), Jamie's Italian is more of an empire than a celebrity chef's bricks-and-mortar setup.
The dishes themselves appear to have sprung to life from the pages of Oliver's cookbooks and how-to shows, drizzled with golden slicks of olive oil and sticky, tangy balsamic. The two Sydney restaurants knead and roll 700 serves of pasta each day, dousing them in spicy Sicilian sauces, traditional ragus, or served alongside the likes of a slow-cooked lamb shoulder.
Vue de Monde – Melbourne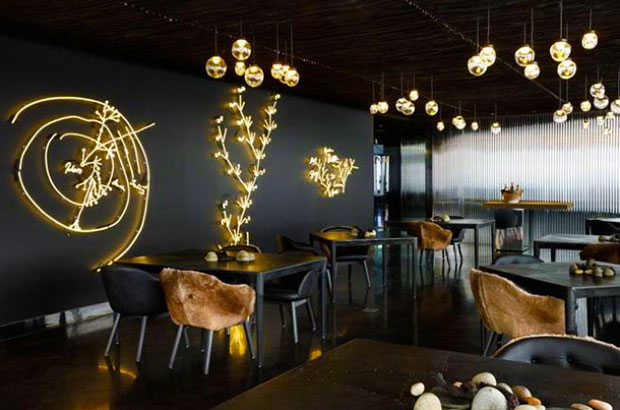 Cuisine: Modern French-Australian
GFG Rating: 18
Don't let Shannon Bennett's long locks fool you. The master chef claimed the inaugural 'Best New Talent' title from Australian Gourmet Traveller back in 2003, and hasn't slowed down since. Vue de Monde has a lofty position, awarding diners with panoramic views from Melbourne's Docklands to the foothills of the Dandenongs.
Choose wisely between a four-course a la carte menu or a 10-course tasting. Touted as food theatre rather than simply sustenance, dining at Vue de Monde is a journey, each pace more tantalising than the next. For something a little more laidback but no less palate-pleasing, try sister establishments Bistro Vue or Cafe Vue on Little Collins Street.
Rockpool Bar & Grill – Sydney, Melbourne, Perth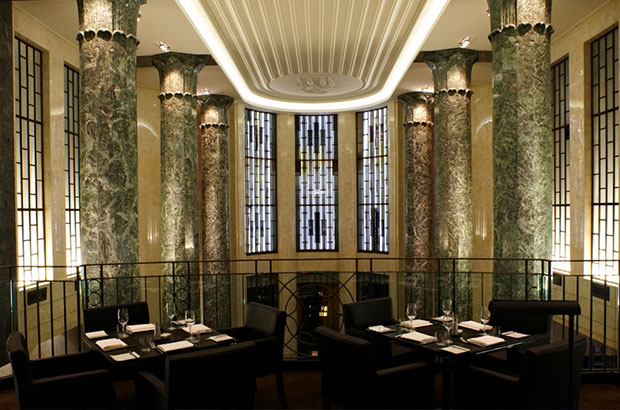 Cuisine: Modern Australian
GFG Rating: 16 (SYD), 17 (MEL), 15 (PER)
With an east-to-west presence, Neil Perry's Rockpool takes the crown as 'Australia's most awarded restaurant group'. Ravenous carnivores and pescatarians will be wholly satisfied at Perry's nouveau-steakhouses, which put a new spin on classic 'surf and turf'. Rockpool Bar & Grill's menus are similar yet different, crossing over with dishes such as spicy mussel and saffron broth and prime cuts of beef.
Perry's kitchen prowess is sky-high – his relationship with Qantas for the past 17 years has shaped the airlines' in-flight dining experience for First and Business guests, with onboard chefs cooking mid-flight as opposed to simply reheating pre-prepared meals.
Aria – Sydney, Brisbane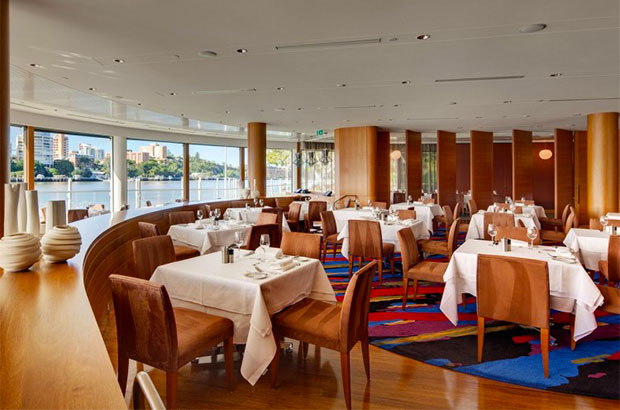 Cuisine: Modern Australian
GFG Rating: 16 (SYD & BNE)
From paddock to plate to the palates of discerning diners, Matt Moran's dual restaurants have been a mainstay on Australia's dining landscape. Impeccably presented, produce-focussed, elegantly balanced dishes are the keystone of Aria. From silken tofu to seared scallops, not a pinpoint of jus is out of place.
Driven by seasonality, current desserts include pumpkin ice cream, blueberry poached pineapple and fig soufflé. The countdown is on for Moran's Opera Bar to re-open and reveal its new look just in time for Christmas, but waterfront dining is still very much on the agenda at Aria Sydney and Aria Brisbane.
Salt grill – Surfers Paradise
Cuisine: Modern Australian
GFG Rating: 12
The well-travelled may be familiar with the tastes of Salt grill from its Orchard Road setting in Singapore and the galleys of P&O cruise ships. Taking residence at the Hilton Surfers Paradise, Luke Mangan's Salt grill bridges the gap between affordable and extravagant, with both a la carte and set degustation menus.
A la carte-ians may begin with garnished caviar or tasty tapas, move on to a salad dressed with soft quail egg and shards of pancetta, or kingfish sashimi accompanied by ginger, eschallot and Persian feta. If you're setting sail on a P&O cruise, you can dine at Salt grill at sea for a fraction of the onshore price.
Bonus: The Fat Duck – Melbourne
Heston Blumenthal is relocating his entire UK outfit to Melbourne for six months in 2015. A 12–15 course tasting menu at the Michelin-starred Fat Duck, nesting at the Crown Towers hotel in Southbank, will set diners back $AU525 per person, not including drinks.
The bad news is, the reservation ballot has already closed and only the most prompt lucky ducks will be able to sample Blumenthal's multi-sensory menu of molecular gastronomy, which includes nitro-poached aperitifs and roast foie gras.
*Good Food Guide ratings correct as at publish date (13/11/14)
Other Travel Articles You Might Like...
Talk to a First & Business Class Expert