22 June 2016
Words by Carlie Tucker
Held as the quintessential island getaway for tourists the world over, Hawaii has cultivated a reputation for fun, sand and sun. Sure there are white (and black and green) sand beaches aplenty, but the charm of this island archipelago goes far beyond sunning and surfing. From the underwater reefs to the tip of the highest volcanos, every inch of her most popular destinations offers an opportunity to experience nature, culture, history, cuisine and hospitality at its best.  
At A Glance:
Official Language: English and Hawaiian
Currency: US Dollars (USD)
Time Zone: Hawaiian Standard Time (UTC -10)
Flight Time: Departing Sydney, the average flight time to Honolulu is approximately 10 hours 38 minutes
Required Visas: Travellers from Australia qualify for the Visa Waiver Program (VWP), but restrictions apply in some cases. You must have authorisation from the Electronic System for Travel Authorization (ESTA) prior to travelling to the USA.
Oahu
The perennially popular Oahu is the most travelled among Hawaii's islands. It's no wonder with capital city Honolulu and famous Waikiki providing plenty to see and do for those that love a little luxury with their travel.  Beachfront resorts of the 5-star variety are a dime a dozen, with many at the centre of sprawling grounds that have everything you could possibly need. You could easily split your time between spa sessions and poolside cocktails, but those that venture beyond the resort will be well rewarded.
Try your hand at surfing along Waikiki Beach (it's where the sport was invented after all), or get to the North Shore to watch the bravest conquer monster waves. Learn about Hawaii's royal past with a trip to Iolani Palace, or stroll along the Chinatown art walk to get your fill of trendy bars and restaurants. Pearl Harbour is a worthy day trip, or take the hike to the top of Leahi (Diamond Head) for stunning views of this volcanic crater and beyond.    
---
Looking for more USA luxury guides?
A Luxury Guide To San Francisco
---
Maui
This little island definitely packs a punch when it comes to natural pursuits. Outdoor enthusiasts can hike, swim, cycle, kayak or surf to their heart's content and still be tempted by a full list of new adventures. As with any Hawaiian holiday, it's best to start at the water's edge. Countless beaches offer the perfect launching point for snorkelling alongside sea turtles, or kayak with the migrating whales at Lahaina. Head inland for a hike or horseback ride up Haleakala for ethereal views over the clouds, or navigate the tight turns of the famous Hana Highway. However you spend your days, make sure you slow things down long enough to watch the sunset when the sky sets alight in a golden blaze quickly followed by reds, pinks and purples.  
As you might expect, 4- and 5-star service is easy to find along the shores of Maui, with plenty of resorts to choose from. Classic luxury can be found at the likes of the Grand Wailea Resort Hotel and Spa, or try the boutique style of the Westin Ka'anapali Ocean Resort Villas.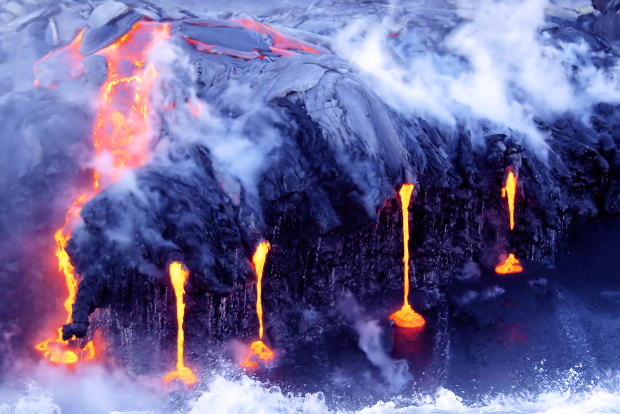 The Big Island
Aptly named, the Big Island is indeed the biggest island in the Hawaiian chain. It also happens to be the youngest with active volcanoes still spluttering molten hot magma from the depths in a slow but steady expansion of its shorelines. Like its neighbouring islands, it's home to a number of swanky resorts that allow luxury seekers to shack up for a night or two while exploring its expanses.
One of the best places to start your Big Island adventure is the Hawaii Volcanoes National Park. Not your typical national park, this stretch of nature is in a constant state of flux with active volcanoes often changing the landscape before your eyes. See the steam fields, witness the power of Kilauea (one of the most active volcanoes on earth) and walk through a lava tube. Change things up by heading for the greener rainforests of the Hamakua Coast, or walk the black sands of Punaluu Beach. The Big Island is also a perfect spot to get your fill of Hawaiian history with historical sites such as King Kamehameha I   and Kailua Village.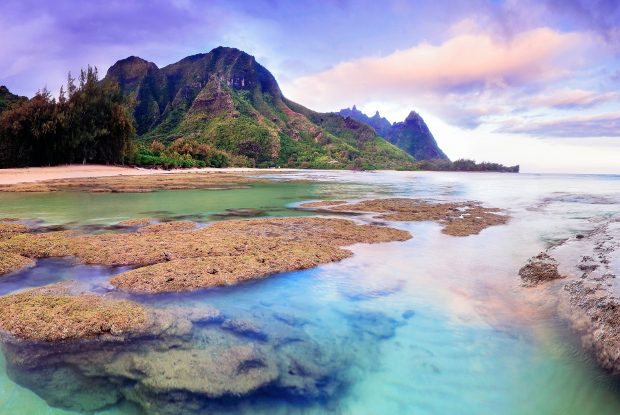 Kauai
Known as Hawaii's 'Island of Discovery', a visit to Kauai is almost like stepping back to a time before humans roamed the earth. It is the oldest island with many sections still only accessible by sea or air. Rainforest clad peaks plunge into the blue ocean waters while snaking rivers fork this way and that before tumbling over jagged cliffs in a stunning waterfall display.
When you're not living in the lap of the luxury of a 5-star resort (and there are a fair share to choose from), a flight or boat ride along the Napali Coast for Jurassic-esque views of the surrounding mountains. Take a hike to the Waimea Canyon to look out over the burnt red rocks, or spot marine life with a snorkelling stint at Poipu Beach. Don't forget to make time to stop off in the charming towns of Hanapepe and Old Koloa Town for a taste of authentic Hawaii.  
Images courtesy of Getty     
Other Travel Articles You Might Like...
Talk to a First & Business Class Expert