12 March 2015
Words by Carlie Tucker
Beckoning to travellers with vibrant diversity, Malaysia is a feast for the senses that draws inspiration from Malay, Chinese and Indian cultures. It's a country that leaves a lasting impression, particularly for luxury seekers hoping for a unique experience.
Of course the big city buzz of Kuala Lumpur is dazzling, but venturing beyond the capital will reward with pockets of luxury in the form of some of Southeast Asia's most beautiful resorts.  From impeccably designed modern getaways to the opulence of its Colonial history, Malaysia is a paradise that strikes the perfect balance between a modern metropolis and a historic hideaway with natural beauty to spare.
At A Glance:
Official Language: Standard Malay
Currency: Ringgit (RM) (MYR)
Time Zone: Malaysia Standard Time (UTC +8)
Flight Time: Average flight time between Australia and Kuala Lumpur is eight hours
Required Visas: Tourists visiting for less than 90 days do not require a visa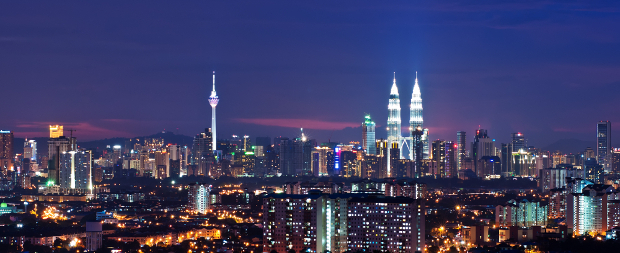 Kuala Lumpur
Kuala Lumpur is often at the top of the list when it comes to luxury travel to Malaysia if not only because most journeys begin and end in this capital city. Far from being just a transport hub, it rewards those that delve deeper into the city's luxury offerings.
From the stainless steel-clad Petronas Towers to the Thean Hou Temple, it thrills with a mix of futuristic vision and traditional mystique. If natural splendour is what you seek, the Batu Caves are worth the short 13 kilometre journey north, or opt for a private tour of the Kuala Gandah Elephant Sanctuary for an up-close animal experience.

The famed Golden Triangle bustles with high-end shopping and entertainment with a sweep of 5-star hotels within close proximity. This includes the Majestic Hotel – a Colonial relic known for its decadent style and first class amenities.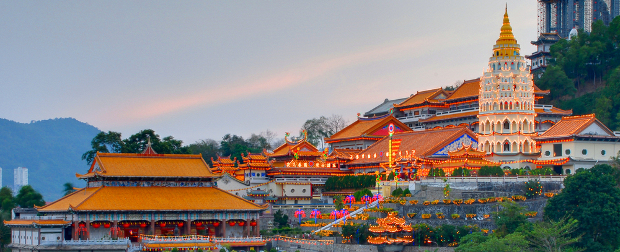 Penang
If you're looking for an escape that provides the quiet tranquility of amazing beaches yet offers the rich cultural tapestry of a Malaysian city, Penang has you covered. The city epitomises the heritage of a diverse population with a hefty dose of easygoing coastal style.
Explore the World Heritage-listed streets of George Town for a peek into Penang's Colonial past before heading to the famous street hawker stalls for a quick (literally) bite to eat. Alternatively, escape the hustle and bustle at Batu Ferringhi beach where luxury resorts front a stunning stretch of coast. It couldn't be easier to repose in the sun's golden rays as the waves lap at your feet.

A stay in the Shangri-La Rasa Sayang will put you front and centre for beautiful ocean views with all of the first class facilities expected of a 5-star property. And, as the sun begins to set, the waterfront comes alive with enticing night markets and delicious food.

Image credit: Bunga Raya Island Resort
Borneo
If you've had your fill of city life, consider an escape to Borneo. The third largest island in the world, it can only be described as a paradise where majestic mountains, the bluest of waters and lush rainforests converge in a staggering display of Mother Nature at her best.
While you're more than welcome to dig your toes into the soft white sand and enjoy the endless water vistas on a relaxed island holiday, Borneo's more adventurous side is well worth a dabble. 
A relatively easy trek up Mount Kinabalu at sunrise won't soon be forgotten thanks to the incredible biodiversity and sensational panoramas tinged with the yellow and pinks of the rising sun. From the highest peak to the deepest oceans, diving at Sipadan Island is considered among the best in the world.  See if you can spot hornbills in Danum Valley or cheeky orang-utans at the Sepilok Orang-utan Rehabilitation Centre.

Staying overnight in Borneo doesn't mean sacrificing all the trappings of a luxury resort. Quite the opposite in fact, as the island is home to a number of decadent hotels. Indulge in a Treehouse Villa at Bunga Raya Island Resort complete with private plunge pools overlooking the leafy canopy.  The resort concierge is also happy to assist in planning all of your once-in-a-lifetime experiences.
Other Travel Articles You Might Like...